Even children not spared
Proper education, counselling, awareness can prevent radicalisation of kids, say experts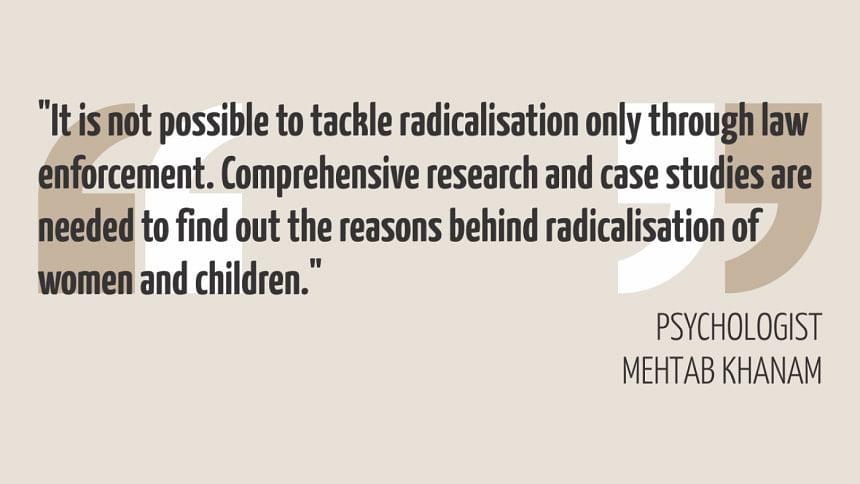 A mother with a kid did not hesitate to detonate her suicide vest while a 14-year-old boy fought a gunbattle with police until his death, turning down the call for surrender. The woman died in the blast and her four-year-old daughter is fighting for life in a hospital.
Their extreme desperation, during Saturday's police raid on a militant hideout in the capital's Ashkona, shows to what extent a woman and a teenager can be radicalised. 
Terror organisations in different parts of the world have long been using women and children in militancy. Especially, research shows, involvement of children in terrorist attacks is on the rise globally.  
In Bangladesh too, banned outfit JMB started engaging women and kids years back. But Saturday's developments were much scary as investigators suspect the mother and the  boy were trained for suicide attack. 
Officials say radicalisation of women and children are done mostly by family members, particularly the males.
For example, Shakira, the woman who blew herself up at Ashkona, was radicalised by her husband Suman, a suspected militant missing for about a month.
Afif Kaderi, the boy who died fighting against police, has a twin brother named Tahrim Kadreri. Both were radicalised by parents. 
Police captured an injured Tahrim after the September 10 raid in Azimpur. He is now at a child correction centre.
Their father Tanvir Kaderi committed suicide during the raid while mother Abedatul Fatema alias Khadiza got arrested.
Khadiza told investigators that she was highly motivated by her husband and she believes that they were on the right path.
After police cordoned off the Ashkona hideout early Saturday, "New JMB" leader Maynul Musa instructed his wife Trisha to wear a suicide vest and blow up herself along with their four-month-old daughter instead of surrendering to law enforcers.
Trisha, however, did not carry out the instruction as the mother in the woman stopped her from detonating the vest.
Analysing the Ashkona incident, head of Dhaka University's criminology department Prof Zia Rahman thinks the patriarchal values are to be blamed.  
"In Bangladesh, women are traditionally guided by patriarchal values and that's why a whole family becomes motivated by the males."
An eminent psychologist, who preferred not to be named, said radicalisation is invading families and women and children are facing the risk of slipping into the world of militancy.
"If parents become radicalised and they discuss such issues within the family, children will certainly be radicalised. If children have strong role models at home like grandparents, apart from their parents, they might not accept whatever idea comes from parents."
She added, "The children who grow up as militants are more dangerous."
Experts say tackling radicalisation of women and children will be a big challenge for the government and law enforcers.
Awareness campaign, education reforms and counselling are the vital ways to check all forms of radicalisation in the society, they added.
"It is not possible to tackle radicalisation only through law enforcement. Comprehensive research and case studies are needed to find out the reasons behind radicalisation of women and children," psychologist Mehtab Khanam told The Daily Star yesterday.
She also said psychological counselling in schools is necessary. "But who will take the initiative when parents and teachers are not aware of the issue?"
Putting emphasise on proper parenting, Mehtab Khanam said, "The distance between parents and children is getting wider. Children say parents do not understand them while parents say they are busy with jobs and other stuffs."
Mahmudur Rahman, professor of clinical psychology at Dhaka University, said there is no mechanism in Bangladesh to assess extent of radicalisation of women and children.
Psychologists also suggest overhauling the education system and infusing liberal values into kids' lessons.
TERRORISING TRENDS
A study in February for Combating Terrorism Centre at West Point military academy that examined Islamic State propaganda on child and youth "martyrs" between January 2015 and 2016, found three times as many suicide operations involving children over the year.
"They represent an effective form of psychological warfare -- to project strength, pierce defence, and strike fear into enemy soldiers' hearts," the study said.
"Islamic State is mobilising children and youth at an alarming rate," it added, according to a report of Reuters in August.
Those tactics are mirrored in West Africa where UN officials have tracked a rise in attacks like the one carried out by a girl as young as ten who last year exploded a bomb in a busy market place in the Nigerian city of Maiduguri, killing 16 people.
In Bangladesh, Shakil Ahmed alias Sohel alias Mollah Omar, a bomb expert of Jama'atul Mujahideen Bangladesh (JMB), was killed during a raid on a Comilla den in March 2006. His wife along with two minor children died in a suicide blast.
In another chilling incident, Sharmin, wife of JMB's another explosive expert "Boma" Mizan, tried to kill herself along with their two kids by exploding bombs at their Mirpur flat as Rab members approached it for a raid in May 2009.
Additional Deputy Commissioner of Counter Terrorism Unit of DMP Sanwar Hossain said "Neo JMB", an offshoot of JMB, had no female unit.
"But from the recent trends it seems that the organisation is engaging females, particularly family members and close relatives, in terrorist activities, including suicide attacks," the official told The Daily Star .
He also said the "Neo JMB" is engaging females as law enforcers already have information about male militants.
HOW IT'S BEING TACKLED GLOBALLY?
In Britain, an "educate against hate" website was launched as part of a renewed drive against extremism, according to BBC.
The website holds information for schools and parents to tackle the "spell of twisted ideologies". The government promises a "tougher approach" to preventing illegal, unregistered schools.
Besides, a charity has trained its counsellors to help parents who fear their children are being radicalised.
In Denmark, the government's strategy aims at re-educating radicals and integrating them back into society, whether they are caught before travelling abroad or when they come home, according to The Independent.
In Singapore, greater emphasis is placed on community response. That includes mobilising and training Singaporeans to guard against attacks and to maintain social harmony and unity.
The government is also stepping up efforts against extremist propaganda online, according to an article of The Straits Times on April 25, 2016.
Community groups are developing materials to help religious leaders counter hardline ideology, and reaching out to parents through seminars on how to foster critical thinking and protect their children against radical teachings.