Err-dogan!
Turkish president's Nizami reaction only exposes his double standard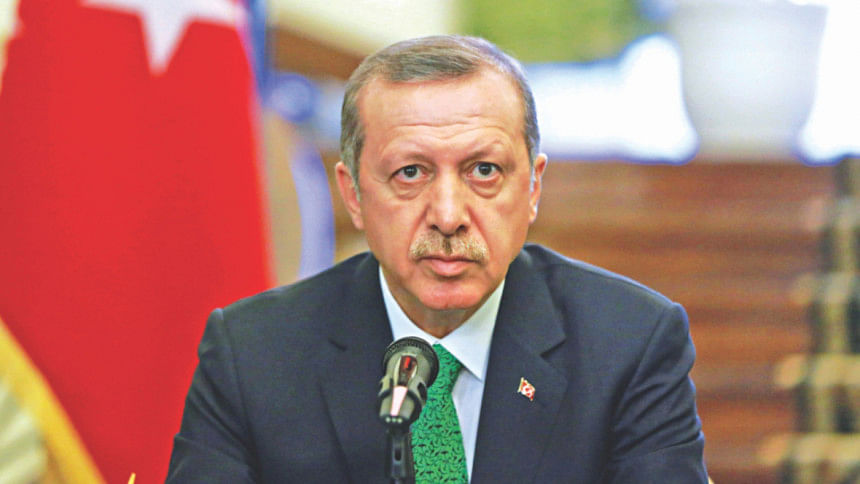 Turkish President Recep Tayyip Erdogan did not like Europe's stance on the execution of Jamaat-e-Islami chief Motiur Rahman Nizami for committing crimes against humanity in 1971.
The reason is simple. The European countries did not denounce Bangladesh government for the execution of Nizami like Erdogan did and is continuing to do so.
On Sunday in a televised address, he blasted Europe for their "silence" and said: "If you are against political executions, why did you remain silent to the execution of Motiur Rahman Nizami.
"Have you heard anything from Europe? ... No. Isn't it called double standards?" Erdogan said.
The question we would like to ask is: who is doing politics of double standard?
These examples should give an answer.
Saudi Arabia in early January this year executed 47 convicts, including a prominent shia cleric.
The execution sparked international outrage. Iraq, Iran and Bahrain strongly denounced the execution.  
Western governments issued a blunt rebuke to the Saudi authorities over the execution. Both USA and the European Union said the death sentence was a violation of free speech and due process.
What did Erdogan do? He refused to condemn Saudi Arabia, saying it was an "internal legal matter" of the kingdom.
"The executions in Saudi Arabia are an internal legal matter. Whether you approve of the decision or not is a separate issue," Erdogan said in a televised speech.
The Turkish president in previous month of the execution visited Riyadh for talks with King Salman and the political elite, in a new sign of Ankara's warm ties with the kingdom.
Erdogan however did not consider the execution of Nizami as an "internal legal matter" of Bangladesh.
Immediately after execution of Nizami on May 10, Erdogan denounced the execution. According to him Nizami has no "earthly sin".
He went further calling his ambassador to Dhaka for consultation.
So, we note, in case of Saudi Arabia it is an internal matter, but in case of Bangladesh it is not and the Turkish president thinks nothing of intervening in the matter. If this is not "double standard then what is?"
It is well known that Turkish economy with its large current account deficit is highly dependent on Gulf money. Is that why the difference of views in the two instances?
His outburst against Europe is equally outrageous. 
There is a fundamental difference between European countries and Turkey in case of holding trial of war criminals in Bangladesh.
European countries have supported trial of war criminals, let alone making move to save any war criminal.
The European Parliament passed three resolutions supporting the trials in March 2013. They however stressed the need for accountability and justice for the crimes committed during the Liberation War of Bangladesh.
The resolutions also strongly condemned the violence of Jamaat-e-Islami supporters against law enforcement officers and against those who supported the verdicts of the war crimes tribunal.
European Parliament member Jean Lambert, who forwarded the resolution had mentioned about EU's support to Bangladesh efforts to try war criminals and expected that trials would confirm to the highest standards possible.
Peter Custers, president of International Committee for Democracy in Bangladesh, reminded that the EU had passed at least three resolutions supporting the war crimes trial and hoped that the EU would continue its support to bring justice
Since then the EU has been closely observing the trials. 
What did Turkey do?
Since the beginning of the trials of top Jamaat leaders including Ghulam Azam, Nizami, Ali Ahsan Mojaheed and Abdul Quader Mollah, Turkey has been making various efforts in favour of the Jamaat leaders.
Turkish foreign ministry's statement issued on May 10 condemning Nizami's execution also acknowledged it by saying "We have in the last three years repeatedly called upon the leaders of Bangladesh at the highest level to suspend the execution of death sentences."
Erdogan's predecessor Abdullah Gul in December 2012 also sent a letter to then Bangladesh President Zillur Rahman requesting him not to pursue the trial of war criminals. Gul requested clemency for former Jamaat chief Ghulam Azam and the other accused.
His letter intensified tension between the two countries as Ankara summoned Bangladesh ambassador to Turkey a day after Dhaka summoned Turkish ambassador in Bangladesh.
Bangladesh foreign ministry stated that the letter from Turkish president is "not acceptable" and it is a "clear interference" in the internal affairs of Bangladesh.
By blasting Europe on Sunday and accusing them of doing politics of double standard, Erdogan proved his lack of knowledge about the facts of our independence struggle and Jamaat's role in it.
By making the claim that "we believe Nizami has no earthly sin" Erdogan also exposed his ignorance about Nizami's personal role in 1971.
Nizami, the then chief of Islami Chhattra Sangha, was chief of infamous Al Badr, a paramilitary force raised by Pakistan army during Liberation War of Bangladesh in 1971.
The Al-Badr, as part of General Tikka Khan's scorched earth policy, made a list of intellectuals and picked them up around mid-December when they felt Pakistan was losing.
They shot and bayoneted the best minds of the country--writers, teachers, editors, physicians and intellectuals on December 14, 1971 at Rayer Bazar and Mirpur.
Nizami was sentenced to death for masterminding the killings of intellectuals, murders of 450 civilians and rape in Bausgari and Demra, Killings of 52 people in Dhulauri, killings of 10 people and the rape of three women in Karamja in Pabna.
He was also sentenced to life imprisonment on charges of involvement in the killing of Kasim Uddin and two others, and Sohrab Ali in Pabna, and torture and killing at the Mohammadpur Physical Training Centre in Dhaka, the Al-Badr torture centre where many intellectuals were taken before being killed.
What Nizami did in 1971 was not an "earthly sin?"
Turkey's outcry is surprising why it is hell bent against trial of war criminals may relate to its own part of action against the Armenians that may consider to be an act of genocide.
We seriously protest the role of the Turkish president, who appears not to be satisfied by his own protest, but is ready to condemn others for not supporting his stance. His "double standard" thesis stands on very "thin ice" and he may better serve his credibility by putting an end to his support of Bangladeshis war criminals.