'Early' the concept
Voting begins early in the morning, ends hours before time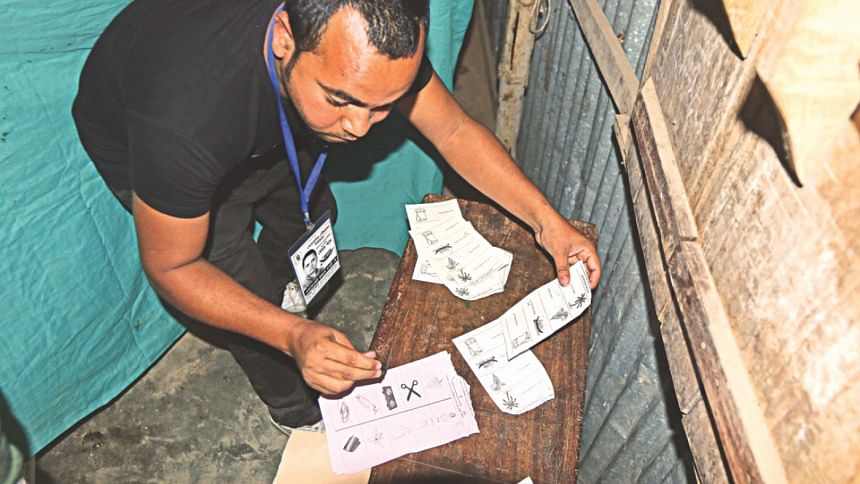 Ballot-stuffing in at least 30 centres began soon after voting began in the morning and continued till it ended in the afternoon in yesterday's municipal polls.
In some centres, votes were cast even before the polling booths were officially opened at 8:00am. Leaders and activists of the Awami League and supporters of the ruling party's candidates captured some polling centres and drove out voters and agents of rival candidates to stuff ballots in favour of their candidates.
They had free entrance and movement inside the voting centres and in some cases controlled the voting.
In several places, election officials and law enforcers were seen helping the AL men rig the vote.
To cover up all these irregularities, polls officials, cops and members of other law enforcement agencies restricted the access of the media to the polling stations in many municipalities. In some centres, ballot-stuffing by law enforcers took place even in presence of the media.
In many centres, voters were given ballot papers for councillors only while ruling party men themselves cast votes for their mayor candidates.
At Kabirpur Govt Primary School in Jhenaidah, for example, polling agents of boat symbol were seen stuffing ballots in front of police personnel around 11:00am.
Police first intercepted The Daily Star correspondent when he was entering the centre. Later, cops took away the ballot papers and asked the boat symbol agents to return to their seats.
Some women voters returned home without voting as they were not given the ballot papers.
In fact, vote rigging took place in all the five polling booths of the centre. A constable was heard asking women to vote for boat.
AL men and supporters of the party's mayor candidate Shahiduzzaman Selim captured two centres -- Dudshar and Sugarcane -- Kotchandpur municipality and started voting for boat symbol around 8:40am.
Following complaints of BNP-supported mayoral candidate, presiding officers of the centres looked into the allegations and found those true. Later, 300 ballots of Dudshar centre and 50 votes of Sugarcane centre were cancelled.
Sheikh Sajjad Hossain, presiding officer of Dudshar centre, said some outsiders entered the centre forcibly and cast votes for boat.
In Shailakupa municipality, Rajib Hasan, son of AL mayor candidate Kazi Ashraful Azam and his men stormed the City College Centre to stuff ballots. Proof of it was later found when presiding officer informed that 900 votes, out of 1,500 votes, were cast by 10:00am.
Hasan and many BCL and Jubo League men were freely moving inside the centre while BNP mayor candidate Khalilur Rahman was not allowed to enter.
A group of journalists went to PTI New Admin and Academic Building centre in Munsiganj around 3:25pm and found a man stashing ballot papers inside a ballot box at a polling booth on the first floor. He fled when journalists came.
Some women alleged they were waiting in line for long but were not allowed inside the booth for voting.
In Bhola, presiding officer Nazrul Alam was seen giving ballot papers to AL men for stuffing at Abdul Jabbar College centre. He fled sensing the presence of newsmen.
AL-backed councillor candidate and his supporters also stuffed ballots on the first floor of Charnoabad Govt Primary School centre.
Supporters of ruling party mayor candidate Bipul Hawlader stuffed ballot at two Mozahar Uddin Biswas Degree College and Fazil Madrasa centres in Kalapara municipality.
Voting began smoothly at Biswas Degree College centre, but a group led by former BCL general secretary of Putuakhali district Shahanur Rahman Sujon stuffed ballots for Bipul for about an hour from 9:45am.
Split in groups, they entered all the six booths of the centre, snatched away ballot papers from polls officials, put seals on boat symbol and put them in ballot boxes as the on-duty police members looked on. A number of journalists were present at the time, but nobody cared.
Earlier, one of them went to the room of the presiding office and snatched all the ballot papers.
The story of Fazil Madrasa centre was, however, different. Journalists, including the Patuakhali correspondent of The Daily Star, found a ballot book where supporters of AL-backed councillor candidate Mahbub Alam and put seals on his symbol, 'panjabi'.
Assistant Presiding Officer GM Nazrul Islam expressed helplessness to The Daily Star, saying that some cadres threatened him with dire consequences if he did not hand the ballot books over to them.
The Daily Star correspondent witnessed casting of fake votes and ballot-stuffing at two polling centres at Sonargaon municipality in Narayanganj.  
Around 3:30pm, when fresh vote casting started after a suspension for more than one-and-a-half hours for irregularities, AL candidate's agents were seen stuffing ballot boxes with the help of an assistant presiding officer at booth-4 of Sahapur Talimul Quran Madrasa centre.
An agent of AL mayor candidate Fazle Rabbi asked this correspondent to go out of the booth. The agent then openly put seals on several ballots for the party candidate and stuffed them in a ballot box.
This continued till five minutes after voting ended at 4:00pm.
Several men cast fake votes at the same centre. Two of them were handed over to the police by the presiding officer.
Around 1:50pm, supporters of the AL candidate were seen stuffing ballot boxes at Vattapur Model Government Primary School. As a photographer of this newspaper took snaps of this, they got angry and forced him out of the booth on the first floor of the building.
Later, more men of the candidate joined the stuffing. Police were reluctant to prevent them. The AL candidate was inside the centre for more than an hour.
In Jessore Sadar municipality, AL men captured all the 55 stations. In the MM College centre, all the 2,719 male votes were cast by 2:00pm (that's more than seven votes per minute).
Presiding Officer Mustafizur Rahman completed the vote count even before the voting hours ended.
On hearing the news, Additional District Magistrate Sohel Hasan rushed to the centre to ask the presiding officer how this could happen and why he counted the ballots during the voting hours.
At the Institute Govt Primary School centre, The Daily Star correspondent found AL men guarding the entrance and barring all voters, except the ruling party supporters, when voting began at 8:00am. Inside all the eight booths, ruling party men were busy stuffing ballot boxes.
The AL men took away the accreditation card of The Daily Star correspondent and forced him out of the centre with the help of police around 9:35am.
At Purbo Kaliya Govt Model Primary School centre in Narail's Kaliya municipality, some people were putting seals on ballot papers around 8:30am. Polls officials and members of police and BGB looked on as silent spectators.
On information, the returning officer suspended voting for two and a half hours.
In Magura sadar municipality, an 80-year-old woman expressed grievances as she could not vote.
"They took away the ballot paper from my hand and said they would cast the vote on my behalf," she said while coming out of Kadirpara Govt Community Parimary School centre around 12:45pm.
"This is the birthplace of our candidate. We promised him some extra votes from this centre," said Arab Ali, an agent of boat symbol, while stuffing ballot boxes.
Similar incidents also took place in three out of six municipalities in Jamalpur. The three municipalities are Jamalpur Sadar, Sarishabari and Dewanganj.
In Sarishabari, all votes were cast even before the voting began, alleged BNP mayor candidate Foyazul Kabir Talukdar Shahin.
In Sadar municipality, voting ended by 11:00am and in Dewanganj by 11:30am, according to voters, BNP candidates and AL rebels.
Hafizur Rahman Badsha, Jatiya Party's mayor candidate there, could not cast his vote. When he went to Jamalpur Zila School Centre at 9:30am, he saw his vote had been cast. He then boycotted polls.
In Gopalganj, many voters alleged they could vote although they waited in long queues for a long time.
"Agents of the Awami League-nominated candidate told us to cast votes for councillors only. They [the agents] said: 'We will cast your vote for mayor'," alleged a voter at Amena School centre.
The picture was similar in all the 19 polling centres there, voters said.
With the help of police, supporters of boat symbol cast about 500 votes in Janardandi Govt Primary School centre and 800 votes in Kastagar Govt Primary School centre in Madaripur between 3:00am and 4:00am yesterday.
Madaripur Deputy Commissioner Kalamuddin Biswas admitted it and said voting was cancelled there.
When votes were being counted in various centres of Thakurgaon Sadar municipality, AL men confined the DC to his office for about four hours from 7:15pm, sensing BNP candidate's win there. They allegedly forced the DC to suspend voting of five centres, eventually changing the results.
At Haji Enayet Ali High School centre in Tarabo municipality of Narayanganj, there was hardly any voter in the morning. Around noon, a large number of voters lined up. In a live coverage, a Jamuna TV reporter asked some voters to show their voter ID cards and tell their fathers' names, but they failed.