Don't allow injustice
PM tells policemen not to let anyone exert influence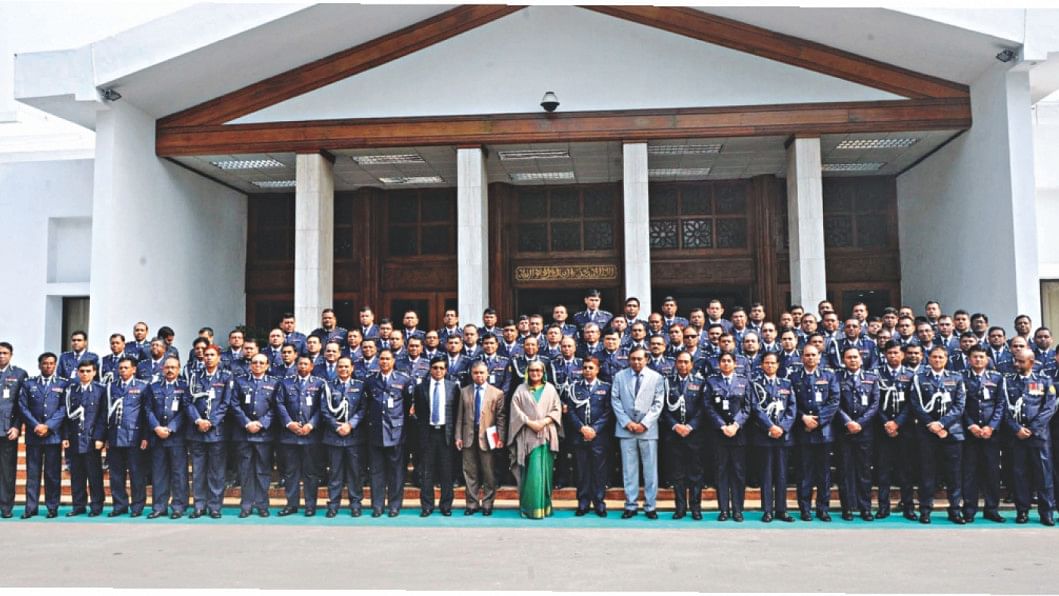 Prime Minister Sheikh Hasina yesterday asked the police officials to take strong action against those committing crimes and injustice, no matter how influential they are or what political affiliation they have.
"There are some people who often tend to exert influence with their political identity. My specific order to you in this regard is that you must never allow any injustice, no matter how influential those people are," she said.
"Even if anyone from my party tries to exert influence, communicate with me as I have given [cops] such access and scope," the PM told top police officials while addressing them at her office on the occasion of Police Week 2016.
Mentioning that there have been incidents of smuggling and human trafficking in Bangladesh due to its geographical location, Hasina asked the policemen to remain alert to make sure that militancy and terrorism cannot re-emerge.
Steps have been taken to ensure exchange of information and boost coordination among the intelligence agencies, the premier added.
Hasina directed the home ministry to take up a big project to address various problems of the police in phases. The project would involve construction of buildings at police stations, separate accommodation and barracks for the female cops and installation of CCTVs at the divisional headquarters of police.
She thanked the members of the force for their role in curbing terrorism and militancy which has made maintaining the country's economic progress possible.
The PM instructed the police officials to ensure proper security for the local and international tourists in Cox's Bazar, tea gardens and hilly areas. "The most important things are gaining the trust and confidence of the common people and discharging duties with utmost honesty and integrity."
Home Minister Asaduzzaman Khan, Senior Home Secretary Mozammel Haque Khan, Dhaka Metropolitan Police Commissioner Mohammad Asaduzzaman Mia and Deputy Inspector General (Rajshahi range) of police Iqbal Bahar spoke, among others.
IGP AKM Shahidul Haque delivered the welcome address while Additional IGP Mokhlesur Rahman gave the vote of thanks.