Digital Security Act: Editors demand discussions with stakeholders
Urge govt not to finalise it hastily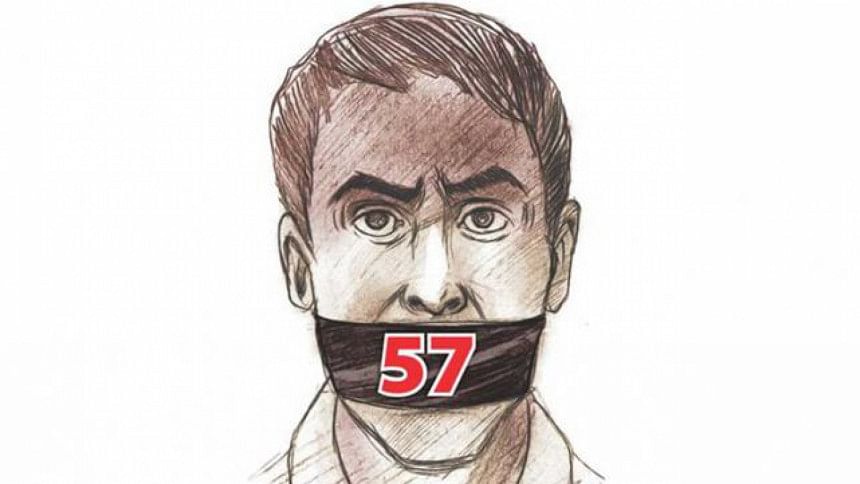 The Shampadak Parishad has voiced deep concern over the inclusion of the controversial Section-57 of the ICT Act and some strict provisions in the draft of the Digital Security Act 2018.
Terming the draft law a harsher one, the Parishad, an organisation of editors of the country's national dailies, has demanded that the government drop all controversial sections from the draft act.  
The Parishad also demanded that the draft be finalised following discussions among all stakeholders, saying the law should not be enacted hastily.
The nature of crime and the provision of punishment for "digital spying" mentioned in Section-32 of the proposed law will hurt freedom of speech and the fundamental spirit of democracy. It will also create an environment that may stifle press freedom, the organisation said in a press statement yesterday.
The statement was issued after a meeting of the Parishad with its President and Samakal Editor Golam Sarwar in the chair at The Daily Star Centre in the capital.
According to the proposed law, if anyone collects and keeps secret information of any government office in his or her computer or digital and electronic devices, it would be tantamount to digital or computer spying.
And the person will face harsh punishment -- a maximum of 14 years in jail or a fine of up to Tk 25 lakh or both. If that person commits the crime again, he or she will face life imprisonment or a maximum fine of Tk 1 crore or both.
In Section-57 of the ICT Act, four issues -- hurting religious sentiment, damaging the country's image, hampering communal harmony, and causing deterioration of law and order -- were incorporated without any specific explanations, the Parishad pointed out.
Following repeated misuse of the section, journalists and civil society members raised strong demands for repealing the law, it said.
In the name of revising the law, those four issues were put in separate sections of the proposed law with separate provisions of punishment, mentioned the statement.
The law minister had assured that sections 54, 55, 56, 57 and 66 of the ICT Act will be revoked through the enactment of the digital security law. But the controversial elements of Section-57 were tactfully included in sections 25, 28, 29 and 31 of the proposed digital security act, it added.
The meeting was attended by The Daily Star Editor and Publisher Mahfuz Anam; Chief Editor of Manabzamin Matiur Rahman Chowdhury; News Today Editor Reazuddin Ahmed; The Financial Express Editor AHM Moazzem Hossain; Acting Editor of Sangbad Khandaker Muniruzzaman; New Age Editor Nurul Kabir; Bhorer Kagoj Editor Shyamal Dutta; Bangladesh Pratidin Editor Nayeem Nizam; Naya Diganta Editor Alamgir Mohiuddin; Acting Editor of Jugantor Saiful Alam; Banik Barta Editor Dewan Hanif Mahmud; The Independent Editor M Shamsur Rahman; Daily Azadi Editor MA Malek; Daily Inquilab Editor AMM Bahauddin; Korotoa Editor Md Mozammel Haq; Dhaka Tribune Editor Zafar Sobhan; and Prothom Alo Editor Matiur Rahman.