Six-year-old's wait for father ends in trauma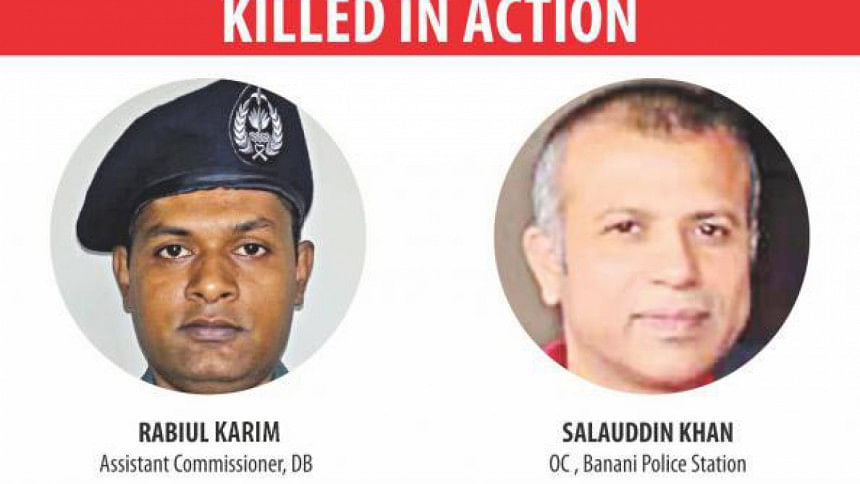 Sajidul Karim Sami was waiting impatiently for his father to come back home yesterday with an Eid dress for him. His unborn sibling perhaps was waiting too to meet the man who he or she would fondly call "father".
Rabiul Karim, 34, assistant commissioner of the Detective Branch of police, did set out for home but not to shower joys on his six-year-old son, Sami.
Neither would he listen to the movements of the foetus growing in his wife's womb.
His lifeless body wrapped in a shroud was awaiting burial.
The detective was killed at Holey Artisan Bakery in Dhaka's diplomatic zone of Gulshan on Friday night while fighting to rescue his country from the grips of terror.
He bled excessively during the attack, said Sohel Mahmud, assistant professor of the forensic and medicine department of Dhaka Medical College, who conducted the autopsy of Rabiul.
Splinters hit him in the right chest, the doctor said.
He joined the police through 30th BCS (Bangladesh Civil Service) after his master's in Bangla from Jahangirnagar University.
During his probationary period, he served as assistant superintendent of police (ASP) in Netrakona in 2014. Before joining the DB, he worked in the Rapid Action Battalion.
The news of his death cast a shadow of grief over his village home in Manikganj sadar upazila.
Relatives, well-wishers and villagers gathered there yesterday morning to console his elderly mother Karimun Nesa and eight-month pregnant wife Umme Salma.
Both of them were put on a saline drip as they were losing consciousness frequently.
Sami still did not know about what happened to his father and believed that his father would come back with an Eid-dress.
Rabiul was the elder son of late Abdul Khalek, a retired official of Care Bangladesh, of Katigram village in Manikganj.
His younger brother Shamsuzzaman Shams said their father passed away nine years back.
Rabiul, who set an example of patriotism on Friday, established a kindergarten named "Kabi Nazrul Bidyasiri" at his village in 2007 to fulfill his father's dream.
He also set up a school named "Blooms" for physically-challenged children at the village. He used to bear all the cost of the school where 36 students study.
"My brother went to our village home on Thursday and distributed clothes among relatives and villagers. He was supposed to go home today [Saturday]. Unfortunately, we are now carrying his body there," Shams said.
Rabiul will be buried at his village Katigram after his namaz-e-janaza, he added. 
Local people shocked at the tragic death said Rabiul was very polite and was liked and praised by the people of the area for his excellent performances in sports and participation in festivals.
His friend Shamima Sumi said Rabiul was the role model for his friends. He was very much committed to his village's welfare.
People there are now proud of Rabiul who sacrificed his life in the greater interest of the country, said Selim Hossain Biplob, chairman of Krishnapur union parishad of Manikganj upazila. 
Meanwhile, doctors said Banani Police Station Officer-in-Charge Salauddin Khan, who was also killed in Friday's attack in Gulshan, had suffered splinter wounds in his throat.
He had bled excessively, said Dhaka Medical College Forensic and Medicine Department's Assistant Professor Sohel Mahmud, who performed the autopsy on the body.
The 49-year-old police officer left behind his wife Remkim, and two children and a host of well-wishers.
Born in Bankpara village of Gopalganj Sadar in 1967, Salauddin joined police as a sub- inspector in August, 1991. He was posted to Banani Police Station last year.
His elder brother Raziuddin Ahmed said Salauddin's body would be buried at Banani graveyard in the capital.