Arzu Killing In 'Shootout'
Court orders judicial probe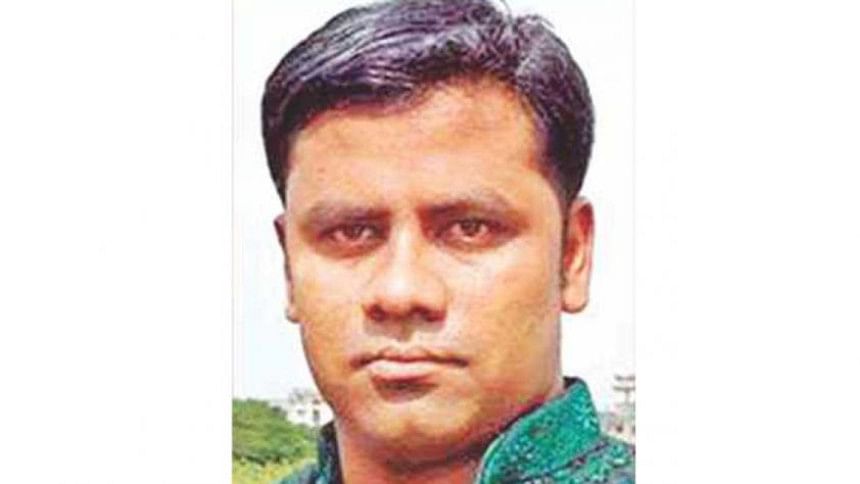 A Dhaka court yesterday ordered a judicial inquiry into the death of Chhatra League leader Arzu Miah in a "gunfight" with the Rapid Action Battalion.
Metropolitan Magistrate Shahrier Mahmud Adnan passed the order after scrutinising the documents produced by the complainant -- Masud Rana, brother of the BCL's Hazaribagh chapter president Arzu.
The court also ordered that the case be sent to the court of Chief Metropolitan Magistrate (CMM) Sheikh Hafizur Rahman for further course of action.
Court sources said the CMM might form a one-member probe body comprised of a magistrate on Sunday.
Nur Khan, director of rights body Ain o Salish Kendra (ASK), termed the court decision "rare" and "a sign of progress".
"We have seen in the past that petitions against Rab officials remained pending. In this case, the court ordered an inquiry," he said.
Khan said they had previously demanded judicial inquiry after extra judicial killings, but he couldn't recall whether those had yielded any results.
Arzu was the prime accused in a case filed with Hazaribagh Police Station for beating dead 16-year-old Raja on August 17 on allegations of stealing a laptop and mobile phones, according to locals.
Hours after Raja's death, Arzu was picked up by some Rab-2 personnel from Hazaribagh Park area, Rana told journalists. The next day, he was killed in what the elite force said was a gunfight.
Rana filed the case on Friday accusing three Rab officials -- Rab-2 Commanding Officer Lt Col SM Masud Rana, and Deputy Assistant Director Shahidur Rahman and Inspector Wahid of the Rab unit's Shia Masjid camp -- of abducting and killing his brother.
A Rab source named Ratan and three to four unnamed people were also accused in the case.
Following this, the Rab-2 CO was withdrawn from the unit and attached to the force's headquarters on Sunday.
After yesterday's court order, Masud Rana said he wanted justice for his brother's "murder".
"The case was filed not against any force or group, but against those who we think abused power," he told The Daily Star over the phone.
Contacted, Deputy Director Maj Maksudul Alam of the Rab's media wing refrained from making any comment on the court order, saying it was a judicial matter.
TAPOSH INSPIRED FILING THE CASE
Arzu's family initially didn't want to file any case after the killing though local BCL leaders pressed them for it, said the family members and the locals.
The BCL men insisted that Arzu was innocent and he was not accused in any case but the one filed for Raja Miah's death.
A day after the incident, local lawmaker Sheikh Fazle Noor Taposh visited Arzu's residence in Hazaribagh.
There, locals told the AL lawmaker that the Rab men had killed Arzu being "influenced" by any drug racket. They also said it was not a gunfight, but a cold-blooded murder.
Convinced by them, Taposh, also a nephew of Prime Minister Sheikh Hasina, asked the family to file a case and assured them that he personally would look into the killing, said a local whishing anonymity.
On August 22, the MP publicly accused the Rab of killing Arzu and demanded proper investigation into the incident.
"We will not tolerate killings of our leaders and activists in the name of so-called gunfights and those responsible for the killings will be brought to book," he said at a special prayer for Arzu.
'RAB TO STAY'
Law Minister Anisul Huq yesterday said the Rab would remain operational as it was now.
"Through its activities, the Rab has proved to people its necessity," the minister told reporters after a meeting with visiting UK Minister of State for International Development Desmond Swayne in the capital.
If anyone is murdered in the name of crossfire, actions will be taken against those responsible, he said. "The current government does not indulge in extra-judicial killings."
Between August 18 and 21, four leaders and activists of the ruling Awami League and its front organisations were killed in "shootouts" involving police and the Rab.
According to the ASK, 72 people have died at the hands of law enforcers in "shootouts" in the first six months of this year.
As many as 1,612 people were killed in such incidents between January 2004 and August 2015. Of them, 610 have been killed since 2009 when the Awami League-led government assumed power.
Though the High Court has so far issued three rules on extra-judicial killings, it could not come up with a final decision.
"This was primarily because extra-judicial killings are not recognised under any law of the country," said Manzill Murshid who himself had filed a writ with HC in 2006 challenging the legality of such killings.