Thai Meet on Migrant Crisis
Good start but no major breakthru'
Myanmar decries 'finger pointing'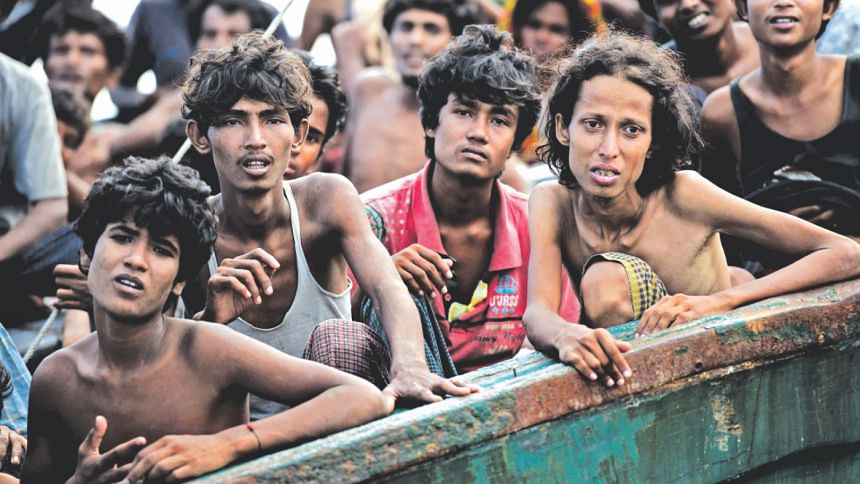 A regional conference called to address the swelling tide of boat people in Southeast Asia ended yesterday with no major breakthroughs, as Myanmar criticised those blaming it for fuelling the crisis and warned that "finger pointing" would not help.
But delegates agreed on one thing at least -- the need to keep talking.
The meeting in Bangkok was attended by representatives of 17 countries directly or indirectly affected by the growing crisis, along with the United States and Japan and officials from international organisations such as the UN refugee agency and the International Organization for Migration. That so many countries, including Myanmar, participated was considered progress in itself.
"The most encouraging result was the general consensus that these discussions need to continue," said IOM Director-General William Lacy Swing. "It cannot be a one-off."
Southeast Asia has been beset for years by growing waves of desperate migrants from Bangladesh and Myanmar. In the last several weeks alone, at least 3,000 people have been rescued by fishermen or have made their way ashore in Indonesia, Malaysia and Thailand.
Some are Bangladeshis who left their impoverished homeland in hope of finding jobs abroad. But many are Rohingya Muslims who have fled persecution in Buddhist-majority Myanmar.
At the start of the meeting, the UN's assistant high commissioner for refugees responsible for protection, Volker Turk, said there could be no solution if root causes are not addressed.
"This will require full assumption of responsibility by Myanmar toward all its people. Granting citizenship is the ultimate goal," he said. "In the interim ... recognising that Myanmar is their own country is urgently required (as well as) access to identity documents and the removal of restrictions on basic freedoms.
"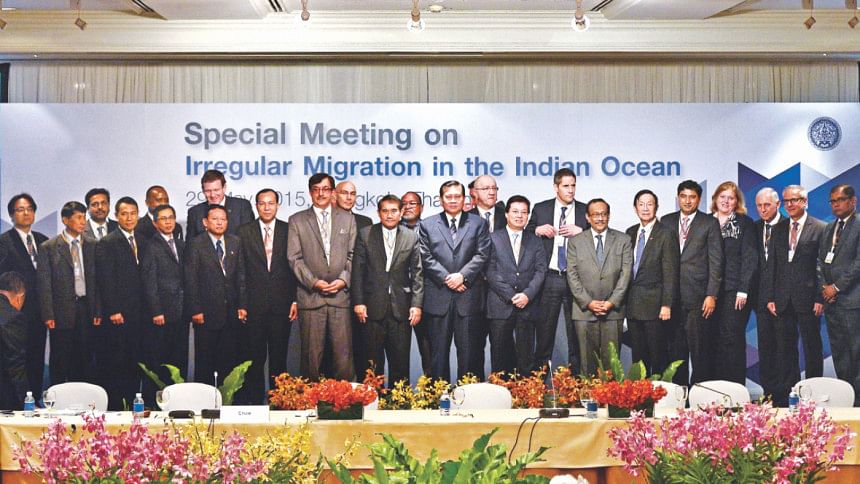 Htin Linn, the acting director of Myanmar's Foreign Affairs Ministry, shot back in a speech afterward, saying Turk should "be more informed." He also cast doubt on whether "the spirit of cooperation is prevailing in the room. ... Finger pointing will not serve any purpose. It will take us nowhere."
The word "Rohingya" did not appear on the invitation for the meeting, after Myanmar threatened to boycott the talks if it did, and most people who spoke at yesterday meeting avoided saying it. Myanmar's government does not recognise Rohingya as an ethnic group, arguing instead they are really "Bangladeshis".
An official summary of the meeting included a list of proposals and recommendations that were "put forward," including ensuring the UN has access to migrants and addressing the issue's root causes. It was not clear that any of them had been agreed on, however, or that they would be implemented.
There were small signs of progress. Thai Foreign Minister Thanasak Patimaprakorn said Bangkok agreed to allow the US military to operate flights out of Thailand to search for migrants stuck on boats -- one week after Washington put in a request to do so. And the US pledged $3 million to help the IOM deal with the crisis, while Australia pledged $4.6 million toward humanitarian assistance in Myanmar.
IOM Director-General William Lacy Swing said more than 160,000 people have fled into Southeast Asia since 2012, 25,000 of them this year.
Most countries in the region view the boat people as a burden, and refugees have been ping-ponged back and forth between Southeast Asian nations that have long tried to push them away.
However, Malaysia and Indonesia agreed this month to provide Rohingya with shelter for one year. It is unclear what will happen after that, though both countries have called on the international community to help with resettlement and the US has offered to take some in. Thailand has offered humanitarian help but not shelter.
"No country can solve this problem alone," Thanasak said at the start of yesterday's conference.
There were also pledges of money to help deal with the crisis from the United States, Australia and Japan.
"This is a very good beginning," Volker Turk, Assistant High Commissioner for Protection at the UNHCR, said after the meeting. "There is a strong paragraph on root causes in the agreement... There is a sense of opening from Myanmar that I welcome. There was a discussion about Rakhine State."
THE FINAL STATEMENT
The final statement from the meeting included a paragraph that called for addressing factors in the areas of origin of migrants, including "promoting full respect for human rights" as well as investing in economic development. It did not mention Myanmar by name.
Myanmar signed off on the agreement, Htein Lin, director general at Myanmar's Ministry of Foreign Affairs and head of the country's delegation told Reuters after the meeting.
"It's not only about Rohingya, in your terms - in our terms, not only for Bengalis," he said.
"The language (in the document) speaks for itself. For Myanmar, root causes are development and a sense of security for all people living in Rakhine state and the rest of Myanmar."
In his opening remarks to the meeting earlier, he had sharp words for those that blamed Myanmar for Southeast Asia's migrant crisis.
"You cannot single out my country," he told delegates. "In the influx of migration, Myanmar is not the only country."
One delegate said Myanmar had pushed for other participants not to use the term "Rohingya" and that most were respecting Myanmar's request.
Htein Lin said nobody had raised "the Rohingya question".
[Reuters, AP]