Cost of Supporting Rohingyas: Dhaka now saddled with $1.2b a year
Experts say the figure may rise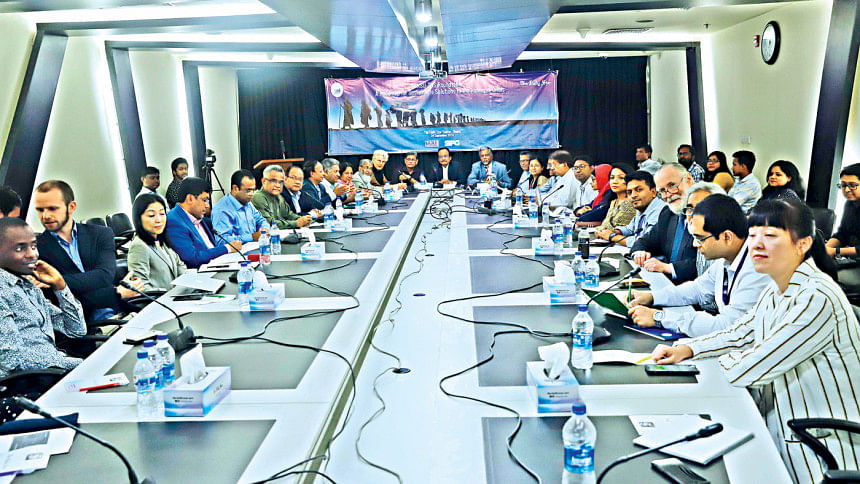 RECOMMENDATIONS
♦ UN, China, ASEAN must play stronger role
♦ Dhaka should adopt a robust and creative diplomacy
♦ Engage Myanmar's civil society, media, and retired military personnel
♦ Bangladesh needs a clear policy on handling Rohingyas
♦ Ensure education, health, and social protection for Rohingyas
Bangladesh's economy is burdened with an estimated $1.21 billion a year for supporting the Rohingyas and the cost may go up with their population growth, inflation, and decline in foreign funding, experts said yesterday.
The refugees are providing cheap labour and are involved in small businesses in Cox's Bazar and these are driving wages down and shrinking job opportunities for locals, they said at a roundtable, adding that the cost of living for locals has also gone up.  
They feared that damage to forests and other natural resources could also impact tourism in Cox's Bazar, home to some 12 million Rohingya, including 743,000 who fled a brutal military crackdown in Myanmar's Rakhine state since August 2017.
Two repatriation attempts – one on November 15 and the other on August 22 – failed as the Rohingyas refused to return without guarantee of citizenship and safety in Rakhine where the conflict flared up since early this year.
 "Even if repatriation starts, it will take many years to complete. Thus, the Rohingya presence is likely to create serious fiscal burden on Bangladesh," said Prof Abdur Rob Khan of the department of political science and sociology at North South University.
The roundtable titled "A roadmap for sustainable solutions to the Rohingya crisis" was jointly organised by NSU and The Daily Star at the latter's conference hall.
Based on some 100 papers presented at an international conference it organised in July, NSU yesterday presented six policy briefs on peacebuilding, diplomacy, health, environment, economy, and gender.
The repatriation will take 12 years, assuming 300 Rohingyas are sent back a day, and population growth and inflation rates stay on the existing trend, a study by the Centre for Policy Dialogue presented at the roundtable said.
In that case, almost $9.2 billion will be required to support the refugees, it said.
It said hosting the Rohingya for the first five years with no repatriation would require over $7 billion. 
Analysts said foreign funding already seems to be going down as only 38 percent of the $920 million budget for the Rohingyas this year has been committed. 
"Bangladesh has a small economy. Yet, we have sheltered the Rohingyas. The question is how long can we continue with the burden," said M Jashim Uddin, associate professor of political science and sociology at NSU.
It is a security threat for Bangladesh and the region, he said, adding that all countries of the world want a solution, including Myanmar's close allies.
The problems are Myanmar's constant denial of international human rights tools and UN Security Council's failure to take concrete actions against the atrocities in Myanmar. There are allegations of genocide, ethnic cleansing, and crimes against humanity, he said.
"Without a strong UN role and China's active mediation, there is little chance of repatriation of the Rohingyas," Jashim said. 
Security analyst Brig Gen (retd) Shahedul Anam Khan said locals were angered by Rohingyas getting involved in crimes like drug trafficking, arms smuggling, and taking away job opportunities. Regional militant groups were also showing interest in the Rohingyas, he said.
Extremists would have massive recruitment opportunities if the crisis in Myanmar's Rakhine state was prolonged, he said.
Shahedul, also associate editor of The Daily Star, suggested dialogue between members of the civil societies, the media, and retired military officials of Bangladesh and Myanmar with continued diplomatic moves. 
Former ambassador Humayun Kabir said Bangladesh has been reasonably successful in highlighting the Rohingya crisis globally after the 2017 influx but has yet to make a breakthrough in terms of repatriation.
He said Bangladesh's highlighting of the crisis before the global community has to be translated into influence on Myanmar to address the crisis. Economic sanctions by the US, EU, Canada, and other powerful countries and unions could have some impact, he added.
Kabir said radicalisation was observed among Myanmar's general and military people and nationalism outside Myanmar was quite strong too. Muslims across the globe were under pressure, he said, adding, "So, how they will deal with the Rohingyas is a question." 
Noting the growing nationalism in some countries, NSU Vice-Chancellor Prof Atiqul Islam asked if it was a sign of the "cycle of civilization going backwards". 
Former foreign secretary Shamsher Mobin Chowdhury suggested stronger role of the UN, China, and Asean countries in influencing Myanmar to take back its nationals.
The Rohingyas are demanding citizenship, which is legitimate, but that is not Bangladesh's job to ensure, he added.
Brig Gen (retd) M Sakhawat Hussain said Bangladesh has kindly sheltered the Rohingyas when they were facing genocide but it cannot throw them out of the country now.
A strong and steady diplomatic approach, involving the international community, is the best way, he added. 
Analysts said as long as the Rohingyas stay in Bangladesh, their health, education, and social protection need to be guaranteed. 
Maheen Sultana of Naripakkha said even though Bangladesh was not a party to a UN refugee convention, it could use its domestic laws to curb crimes in Rohingya camps, including child marriage, which is widespread. 
She said the Rohingyas, including the women, should have a voice in the negotiations regarding repatriation.
NSU Prof Biswas Karabi Farhana suggested taking care of the damaged forests by planting indigenous trees and checking high rates of surface and ground water pollution in and around the refugee camps.
NSU Prof Salahuddin M Aminuzzaman moderated the discussion addressed also by former ambassador Shamim Ahmed, Dhaka University Prof ASM Ali Ashraf, NSU teachers SK Tawfique M Haque, Mahbubur Rahman, Kamal Uddin Ahmed, Bulbul Ashraf Siddiqi, NSU Director of External Affairs Katherine Li, and UNHCR Senior Protection Officer Haruno Nakashiba.