Blatant abuse of power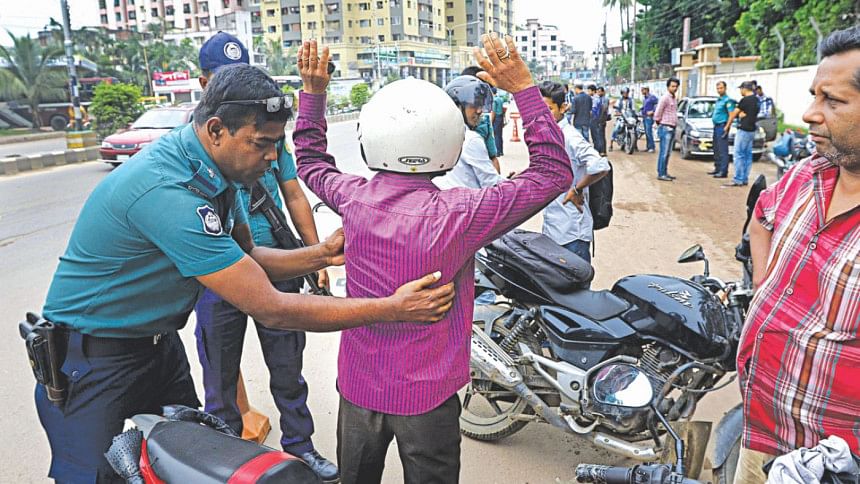 Incidents of police arresting people facing no criminal charges run counter to a Supreme Court verdict against the police's century-old discretionary powers of arrest on suspicion.   
Police legally lost their discretionary powers three weeks ago when the SC upheld a High Court verdict against the arbitrary use of their sweeping powers.
The High Court in its judgment in 2003 had recommended bringing necessary changes to the laws to limit the arbitrary use of police powers. Issuing a 15-point directive, it asked the government to comply with the instruction immediately to stop cops from making arbitrary arrests on suspicion.
But the arbitrary use of powers by cops has been evident in the arrests of Milon Hossain in Natore, Mohammad Sekandar in Chittagong and Shimul Ahmed and Sohanur Rahman in Rajshahi during the ongoing special drive against militants.
All the youths were innocent in the eyes of law prior to their arrests. Even the policemen who picked them up admitted that none of them were facing any specific cases. They were detained on suspicion. Cops arrested them in exercise of their discretionary powers of section 54 of Code of Criminal Procedure. This newspaper ran a report yesterday about the ordeal they faced following arrests.  
Like Milon and Sekandar, there are many more who have been victim of the ongoing special drive. Many incidents remain unreported by media. 
Another youth Zahidul Islam in Kustia had to experience brutal use of police powers as he was picked up on suspicion of having engaged in anti-government activities. This shocked Zahid's father as he and all his family members are diehard supporters of the ruling Awami League. [Read the details in our today's report about it.]
Why police are so enthusiastic about arresting people facing no criminal charges? It is for money? Picking up people on suspicion has long been a means for policemen to make money. It's one of the major sources of corruption. This practice has been named "arrest trade". 
This is allegedly happening again in the ongoing special drive. The strategy is -- pay money to buy freedom or face cases for serious crimes.
Milon of Natore was released only after his uncle gave a police official Tk 5,500. His uncle agreed to pay the money as the cop threatened to implicate Milon in a motorcycle theft case. 
Zahid's father alleged he had to bribe cops Tk 10,000 to ensure that his son was not framed.   
All these incidents show how some policemen were ignoring the SC's latest verdict and paying no heed to people's fundamental rights.    
Police said they arrested around 12,000 people in the last four days. The police chief claimed that no innocent people were picked up. But the reality is that many people facing no criminal charges have been arrested. 
If the drive goes on, the number of arrestees would surpass all the previous figures.
According to media reports, around 12,000 people were detained in June 2008 and carted off to prison in the first eight days of a special drive during the tenure of the caretaker government.
Over 15,000 people were rounded up in an eight-day dragnet ahead of the April 30, 2004 deadline set by then opposition AL to topple the BNP government.
On both occasions, a large number of political activists were put behind bars in connection with cases filed by opponents with political motives.
In the ongoing drives, many grassroots BNP leaders and activists have been arrested. It's true that they are facing cases, but most of them have been accused of street violence during anti-government agitations.
Assuming office in January 2009, the previous AL-led government withdrew more than 7,000 cases filed against its leaders and activists during the tenures of the past BNP and caretaker governments. Most of the cases were filed for street violence during anti-government agitations.
The BNP did the same thing in 2001. The BNP-led government withdrew around 6,000 cases. And if the party returns to power, it is most likely to withdraw all the cases filed in last few years against its leaders and workers. 
The records of filing and withdrawing cases against political opponents say the main problem lies in our conflicting political culture and tendency to strip away rule of law by the influential people. In such a political culture, the country's apex court's verdict is not honoured properly.
Now, the crucial question is: Can only a record number of arrests improve law and order and ensure rule of law?  Or will this cause harassment to many common people and allow a lot of cops to make money ahead of the Eid?