Rampal Plant: Construction to continue
The construction work on Rampal power plant will not be suspended despite the advice of Unesco, State Minister for Power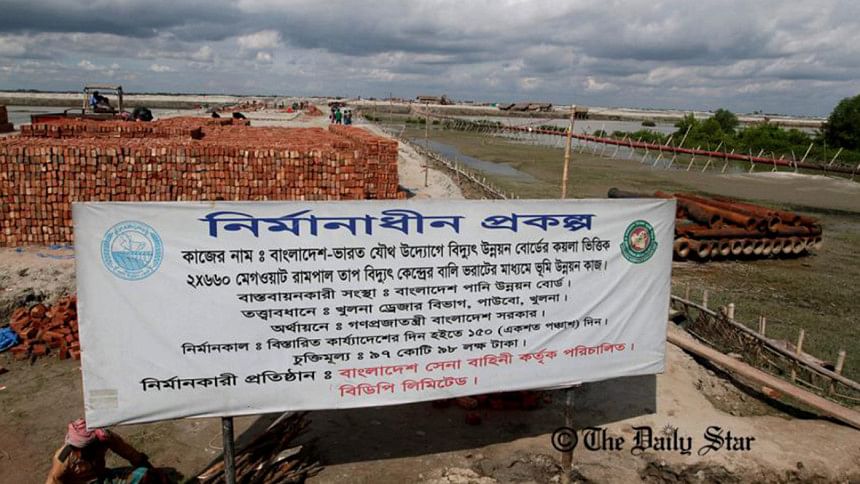 The construction work on Rampal power plant will not be suspended despite the advice of Unesco, State Minister for Power and Energy Nasrul Hamid said yesterday.
"The construction work on Rampal power plant will continue as no decision has been taken yet by the government to stop it," he told reporters after attending a workshop on the environmental impact of Siddhirganj power plant.
Power Cell organised the workshop titled "Cumulative Impact Assessment of Siddhirganj Power Hub" at Bidyut Bhaban in the city.
The remarks of the junior minister came against the backdrop of a Unesco report that suggested the government should cancel the Rampal project. The scheme was undertaken to build a 1320 MW coal-fired power plant at a site near the Sundarbans.
Bangladesh and India are jointly implementing the project despite strong opposition from local environmental groups. Indian power company BHEL has been awarded a contract to set up the plant.
The state minister said the government will come up with its response to the observations and queries from Unesco, and then it will make a decision considering the future situation.
Nasrul said the government will conduct an environmental impact assessment study for each of the power hub to find the right solution to mitigate the impact of power plants on environment.
The government has planned to boost power generation to 40,000 MW by 2030 from the existing 10,000 MW, he added.
"We'll have to conduct a study to determine the impact on environment before taking up any project," he told the workshop.
Officials of ERM, a consulting firm which conducted the cumulative impact assessment on Siddhirganj power plant, made a presentation on their study report.