Christian trader killed in Natore
SITE Intelligence says IS claims responsibilty
Unknown assailants yesterday hacked to death a Christian grocer in Baraigram upazila of Natore, the latest in a series of attacks on religious minorities.
Sixty-year-old Sunil Gomez was alone in his shop at Bonpara Christian Palli in the upazila around noon after offering Sunday prayers, said family members and locals.
The assailants hacked him there, leaving him dead, said Shymol Kumar Mukharjee, superintendent of police in Natore.
There were hacking marks in his neck, said police.
Law enforcers picked up Sabuz Hossain, 35, a tenant of Sunil, on suspicion over the killing.
The area where Sunil, father of two, lived for years is predominantly Christian. His grocery shop was adjacent to his house, said locals.
Hours after the incident, global terror outfit Islamic State (IS) claimed responsibility for the killing, according to SITE Intelligence Group that monitors terrorist activities.
Apart from this one, as many as 13 more attacks since the beginning of this year had suspected militant links.
Inam Ahmed, inspector of the Criminal Investigation Department in Rajshahi, who visited the crime scene, said the attack had similarities with previous militant attacks on free thinkers and people belonging to differing faiths.
Sunil's wife Jasinta Gomez had gone to her father's house in Pabna to see an ailing relative.
His daughter Swapna Gomez, 32, lives in an adjacent village while his son Swapan Gomez died several years ago in an accident.
Swapna said her father had 10 decimals of land on which he had built the house. A portion of the house was rented out to tenants.
"My father had no enmity with anyone," said a crying Swapna.
She told BBC Bangla Service that her father went to a local market to buy goods for his shop around 11:00am and came back around 45 minutes later.
Abdul Hai Talukdar, officer-in-charge of Detective Branch of Police in Natore, said the motive behind the killing was unclear.
Family members said they found some money in his hand after the attack.
Shukhi Begum, a tenant of Sunil, said she was asleep in her room when the incident took place and that she did not hear any screams or noises.
Swapna last night filed a case with Baraigram Police Station, accusing unidentified criminals, said Shafiqul Islam, assistant superintend of police, Baraigram circle.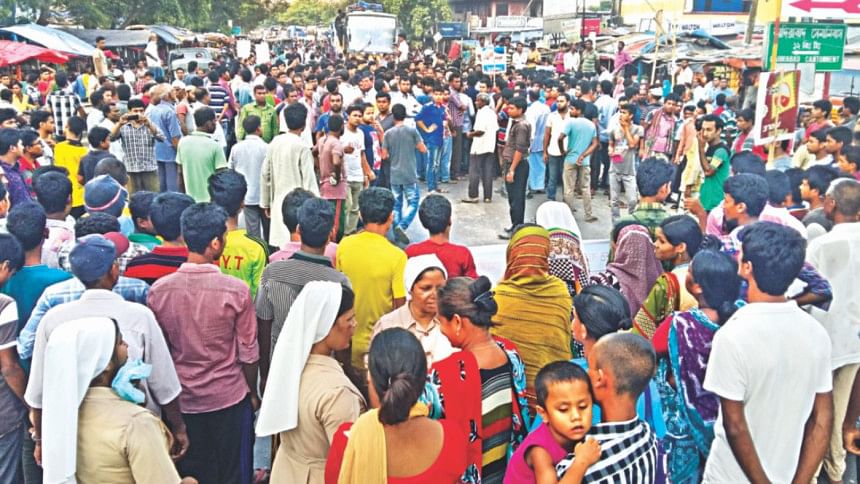 IS CLAIM
Referring to Amaq News Agency, the media wing of IS, SITE Intelligence on its website posted: "IS fighters in Bangladesh killed a Christian in Bonpara village...."
In the same post, IS also claimed responsibility for the killing of a Buddhist monk in Bandarban.
Shwe U Chak was found dead, with his throat slit, inside his Kyang (temple) in Naikkhangchhari upazila on May 14.
The Daily Star could not independently verify the claims.
Asked about the IS claim over Sunil murder, Natore SP Shyamol said there was no presence of the terror outfit in Bangladesh.
He, however, said they would verify the claim during investigation.
PROTESTS
Protesting the killing, local Christian community held a rally around 04:30pm at Bonpara Bazar and blocked the Bonpara-Pabna highway for about half an hour.
They demanded immediate arrest of the killers and threatened to wage tougher programmes otherwise.
Speaking at the rally, Benedict Gomez, secretary of Bonpara Parish Council, said criminals hacked another Christian Gabriel Costa in the past.
But police were yet to find the attackers, he alleged. If the criminals were caught, Sunil Gomez might not have been killed, he added.
KM Zakir Hossain, mayor of Bonpara municipality, said Sunil was a gentleman who never quarrelled with anyone.
Sushanta Ghosh, secretary of Bangladesh Hindu Buddha Christian Oikya Parishad, Natore unit, condemned the killing.
 [Our Natore correspondent contributed to this report.]