Child Nutrition, Growth in Bangladesh: WB to give $1b in 3yrs
PM thanks WB for showcasing nation's success; WB president lauds the progress in reducing child malnutrition, stunting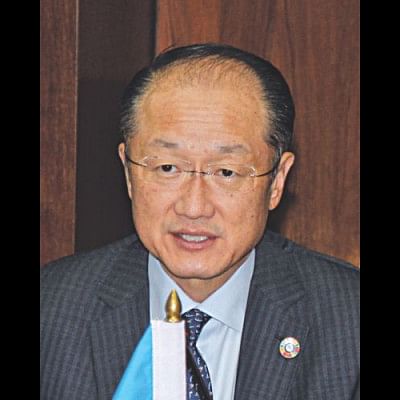 The World Bank yesterday pledged to provide Bangladesh with $1 billion over the next three years to combat malnutrition of children.
"Bangladesh has made great progress in reducing child malnutrition and stunting. But we believe that they can do even better. So we are going to increase our support for child nutrition and to prevent the child stunting," World Bank President Jim Yong Kim said at a joint media briefing with Finance Minister AMA Muhith in Dhaka.
Despite the success in reducing maternal and child mortality, and improving child nutritional status, the number of stunted children here is among the highest in the world, according to the WB.
Among children under five, some 5.5 million are stunted, out of whom poorer children bear a disproportionate burden of stunted growth.
The WB's investments in children's early years in Bangladesh will support programmes to ensure child nutrition and include a conditional cash transfer programme targeted at 600,000 poor families in 43 sub-districts, it said in a statement.
Kim on a two-day visit here observed End Poverty Day in Dhaka yesterday. 
He said the WB wants to increase its investment in Bangladesh to improve nutrition and cognitive development of children in their early years.
Adequate nutrition prenatally and in the first two years after birth can prevent devastating permanent effects on cognitive and brain development and thus improve the long-run earning potential of children.
"Rapid brain and physical development, social relationships, and environments work together to create phenomenal advances in children's capabilities during this time frame.
"Investing in the socio-economic environments of particularly poor children during their early childhood years can help increase their earning ability and lift their households out of poverty," Kim said.
The WB's financial assistance announced by Kim this time represents almost a 100 percent increase in investment compared to the previous three-year period. 
Praising Bangladesh's record in reducing poverty at the meeting with the finance minister, Kim said the world could learn much from how Bangladesh had improved the livelihoods of tens of millions and empowered women despite facing persistent challenges, including those related to governance and climate change.
At a programme jointly organised by the WB and the government yesterday, Prime Minister Sheikh Hasina said her government's development works have a human face and strive to protect poor and vulnerable groups and improve their livelihoods, reports UNB. 
Social safety net programmes coupled with inclusive growth approach played a catalytic effect in this regard.
Hasina thanked the WB for showcasing Bangladesh's success as, she said, the recognition will inspire the nation to further strengthen its development efforts.
At the briefing, Kim said, "Competing in today's digital economy requires a workforce with well-developed intelligence, which is why the World Bank wants to increase its investments to end stunting in Bangladesh as soon as possible."
The major reason behind Bangladesh's success in reducing poverty over the last 30 years is that it has focused on investing in people, he said.
Many countries in the world focused more on investing in roads, in IT, and in what some people call hard infrastructure. "Bangladesh has made special focus on ensuring that its people are more educated and have access to basic necessities," Kim added. 
"The WB is a very important partner of Bangladesh. We get largest chunk of assistance from this institution. Hopefully we will continue to be the recipient for some more years, at least for the next three years for sure," Muhith said.
In the last 45 years Bangladesh received almost $24 billion from the WB, which flowed into almost every sector including education, health, transport and communication, he added.
Addressing a function later on the day to mark International Day for the Eradication of Poverty, Kim said nearly 800 million people around the world lived on less than $1.90 a day in 2013. That is a reduction of about 100 million people in just one year from 2012. Half of the world's extreme poor now live in Sub-Saharan Africa, and another third live in South Asia.
"There are still far too many people surviving on far too little but Bangladesh's impressive record in dramatically reducing extreme poverty gives us hope that this trend will continue and that other countries can do the same," he said.
"Bangladesh offers us many lessons in ending extreme poverty, and one of the most important is that innovation plays a critical role."
To reach its goal to become a middle-income country by 2021 and to end extreme poverty by 2030, Bangladesh must sustain its economic growth, create more and better jobs, focus on energy and transport infrastructure, make progress in improving the quality of health and education, and improve governance, including strengthening of anti-corruption measures.
The WB is looking forward to working with Bangladesh to promote private sector investment by strengthening governance and improving the investment climate, its president said.
Foreign direct investment is less than 1.7 percent of GDP in Bangladesh, far below than that of most countries. Foreign direct investment in Vietnam, for instance, is 6.1 percent of GDP.
"Strengthening governance will help lead to more jobs in infrastructure, diversify exports, and ensure the health and safety of workers," Kim said.
Presenting a keynote paper, Paul Romer, senior vice-president and chief economist of the WB, said that when growth speeds up, income inequality can increase temporarily.
But this type of inequality arises because the benefits that all can ultimately share diffuse slowly, he said. At first, only a few people have access to the chance to learn from new ideas. As others gain access, they learn too. During this second, catch-up phase, the diffusion of ideas increases growth as it equalizes income.
"The experience in Bangladesh shows that it is possible to diffuse new ideas quickly enough to avoid even this temporary increase in inequality," he said.
TALKS OVER PADMA BRIDGE
Asked about the WB's withdrawal of financial commitment for the bridge and Bangladesh's commencement of building the construction with its own fund, the president of the global financial institution said "We understand the importance of the bridge and we continue to discuss it. But the government has begun work on it.
"Let me just say this: the development and growth of Bangladesh in all its aspects is extremely important to World Bank. We are aggressively looking for as much funding as we can possibly find to support Bangladesh.  We did not have a chance to talk about it earlier."
Regarding the issue, Muhith told reporters that almost all the money earmarked for the bridge has already been committed to different other projects in Bangladesh.
"You know he [Kim] took over the presidency at a time when we had some problems with the World Bank. And I personally believe that [because of] his true intervention that we at last resolved the problem and went forward.
"And for the next cycle, we expect a higher commitment from the WB."