Vaults of vile riches
Rab seizes Tk 5.05cr in cash, 8.5kg gold, six firearms from houses of AL leader and Wanderers Club casino shareholder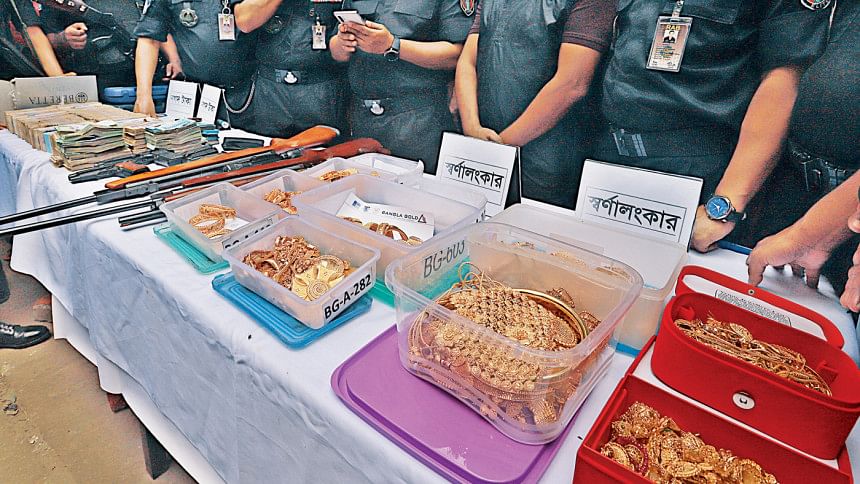 Amid the clampdown on gambling, Rab members got a tip that five vaults were sold from English Road area recently and the buyer is a top casino businessman. The tip led the elite force to three houses at Banianagar and Narinda in Old Dhaka.
In the subsequent raid yesterday, Rab found Tk 5.05 crore in cash, around 8.5kgs of gold worth Tk 4 crore and six firearms stashed in five vaults in those houses.
Rab said Dhaka Wanderers Club's casino shareholder Enamul Haque Enu and his brother Rupon Bhuiyan own the money, gold and firearms.
Enamul is Gendaria Thana Awami League vice-president and his brother Rupon is the joint general secretary of the unit.
Enamul bought the gold as the five vaults had no more room to keep the proceeds from the casino operation, Rab said.
Neither brother was at home during the raid.
"Enamul's wife is giving us misleading information about her husband. She said her husband went to Thailand two months back, but we have information they met a few days ago," Rab-3 Commanding Officer Shafiullah Bulbul told journalists after the raid.
Enamul's family claimed the firearms are licensed.
The commanding officer said Enamul had been bringing the profit from his casino to the Banianagar house for the last one and a half years. But because such amount of money requires a lot of space, he started buying gold ornaments.
Together, the two brothers own 15 houses, and they used their firearms to terrorise people in the area, said the Rab-3 chief.
Plainclothes Rab members surrounded their six-storey building at Banianagar in Sutrapur around 11:30am yesterday.
Later they raided two apartments on the first and the fourth floors and found three vaults there.
The vaults were stashed with Tk 1.05 crore in cash, 730 tolas of gold ornaments (about 8.5kgs) and five firearms -- two pistols, one shotgun and two air guns.
Rupon's brother-in-law Mohammad Apu lives with his family on the first floor. Enamul often lives in the fourth-floor apartment of the building with his family.
Enamul's wife Sathi, who goes by only one name, said Rab found nothing in their apartment. Whatever they found was in the first-floor apartment, she claimed.
Around 3:00pm, Rab members went to the house of Enamul's employee Abul Kalam at Narinda in Dholaikhal, around half a kilometre off Enamul's house.
The Rab members found a vault there stashed with Tk 2 crore and a pistol inside.
Kalam's daughter, aged around 25, said her father worked as an employee at a construction materials supply shop of Enamul for the last one year.
She said that on September 21, Enamul brought the vault to their house and asked her father to keep it in their home. Enamul just said the vault contained Tk 2 crore. He did not say anything about the pistol.
"We requested Enamul not to keep the vault in our home. But finally, we had to give in as he is my father's employer and an influential man," she told The Daily Star after the raid.
Asked about her father's whereabouts, she said he went out of home for Fazr prayers and did not return.
Later, the Rab members raided the house of a man named Harun, Enamul's friend, on Sarath Gupta Road in Narinda and recovered around Tk 2 crore from a vault.
Locals said the two brothers had been hanging their posters all around the neighbourhood for the last six to seven months, boasting about their link with the Awami League.
When the two brothers would move around the area, six to seven Jubo League men would accompany them. They also carried arms sometimes, according to locals.
Only 15 years ago, Enamul and Rupon had a small lathe machine workshop on Nawabpur Road in the old town.  
The Rab-3 CO said their drive on any form of illegal gambling will continue.
The elite force started the drive against illegal casinos, bars and spa centres on September 19 and already arrested Dhaka city South Jubo League Organising Secretary Khaled Mahmud Bhuiyan, construction mogul SM Golam Kibria Shamim and AL leader and Kalabagan Krirachakra president Shafiqul Alam Firoz.
During the drive, around 200 others were arrested while some of the casinos were sealed off. 
Meanwhile, police sources yesterday said they traced two of the three people who went to an apartment in the capital's Segunbagicha where 15 Nepalis involved in casinos lived.
Scrutinising the video footage, the law enforcers came to know that the one seen with a walkie-talkie is an assistant programmer of an intelligence agency while another one is a constable of the same agency.
The footage showed that three plainclothes men entered the building -- Summit Hasan Lodge, where the Nepalis were living -- at 10:48pm last Wednesday, introducing themselves as policemen.
A while later, the three came out of the building with a bag. Soon, the 15 Nepalis also came out and then went into hiding.
Dhaka Metropolitan Police (DMP) Monirul Islam told reporters yesterday they had no evidence that policemen helped the Nepali nationals to flee.