Canada should welcome Rohingya refugees
Suggests Trudeau's special envoy to Myanmar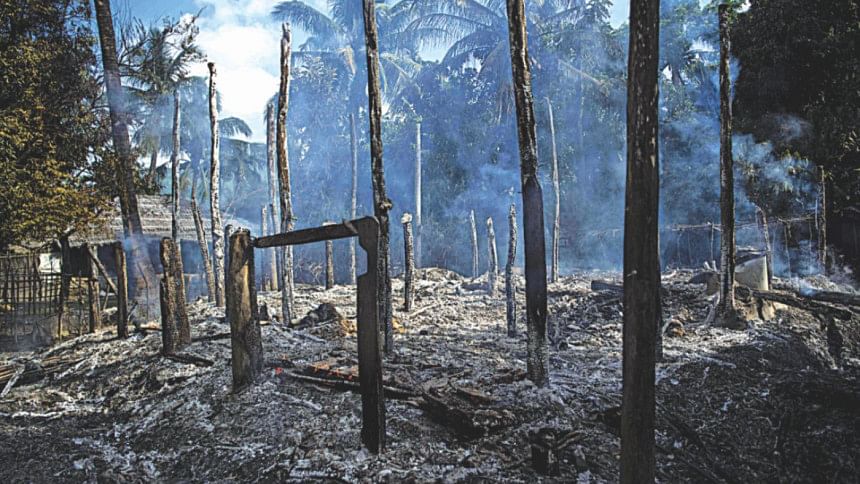 Canada should welcome Rohingya refugees and encourage other nations to do the same, Prime Minister Justin Trudeau's special envoy to Myanmar said in his final report.
"Canada should signal a willingness to welcome refugees from the Rohingya community both in Bangladesh and Myanmar and should encourage a discussion among like-minded countries to do the same," Bob Rae said in the report, presented at a press conference in Ottawa on Tuesday. 
However, he said, this in no way lessens the obligations of Myanmar to accept responsibility for the departure in such violent circumstances of the Rohingya population from their homes.
Rae also said Canada should take a leadership role in responding to the Rohingya crisis by ramping up humanitarian aid, development efforts. It also should lead an international effort to investigate and collect the "clear evidence" of crimes against humanity in Myanmar.
He recommended that Canada maintain targeted economic sanctions against individuals responsible "for the abuses of human rights and the crimes against humanity in Myanmar."
"But one thing is certain: if we fail to try, the results will be far worse than if we make the necessary effort," he said, according to Canadian broadcaster CBC.
Rae was appointed special envoy to Myanmar by Trudeau on Oct 23 and has travelled to Indonesia, Bangladesh, Myanmar, Vietnam and the UN in New York, holding discussions with officials, leaders and non-governmental organisations.
Shortly after release of the report, Trudeau thanked Rae for his insights, professionalism, and recommendations, and said Canada will continue to work closely with the international community and the United Nations on a path forward.
"This report brings much needed awareness to the grave humanitarian crisis and gross violations of human rights faced by hundreds of thousands of people, including Rohingya communities, other religious and ethnic minorities, and women and girls," he said in a news release. 
"We share a global responsibility to respond to this crisis and meet the needs of those displaced and most vulnerable," Trudeau said.
The renewed commitment of Canada comes when experts fear uncertainty of repatriation of the Rohingyas, some 700,000 of who fled atrocities in Myanmar's Rakhine state, though Bangladesh and Myanmar signed a repatriation deal.
The conditions for their return, including safety, citizenship and reintegrating in their original homes, are still elusive.
The UN Security Council also remains divisive over taking any concrete actions against Myanmar.
Rae, a lawyer and former interim Liberal leader, suggested Canada develop a multi-year funding plan beginning this year for a response that focuses on humanitarian assistance, education and supporting infrastructure. He estimates the annual costs of such a plan to be about $150 million for the next four years, CBC reports.
Rae said as Canada should welcome the Rohingya, he did not detail how many more refugees he hoped Canada would accept.
At the same time, he suggested Canada work with Myanmar to create safe conditions for the return of refugees, saying any future return must be "conditional" on proof that their safety and rights will be protected.
He said Canada should establish a Rohingya Working Group within the government, chaired by a senior deputy minister, to ensure a "whole-of-government" response, and urge allies to establish an international working group to pursue joint efforts.
TAKE CLEAR STANCE
Rae urged Canada to take a clear stand and press for justice and accountability for the tragedy unfolding in the region, reported Canadian online news site Thestar.com. 
Although Myanmar hasn't signed the treaty granting jurisdiction to the International Criminal Court, there are ways for the international community, via the court or the UN, to investigate events over the last several years, and prosecute those responsible, Rae said.
"What we do, or don't do, in response to the Rohingya crisis will be a litmus test for Canada's foreign policy," he said.
Rae said the situation has all the hallmarks of a "possible genocide" and the world doesn't need to dwell on legal definitions before acting to prevent it from happening.
He said "it is clear that a strong case exists for the presumption that a number of crimes against humanity have been committed in Myanmar," including abuses and forced deportations by the Myanmar military, militia and other groups and individuals, all fuelled by deliberate campaigns of hate and contempt distributed on social media.
"The lesson of history is that genocide is not an event like a bolt of lightning; it is a process, one that starts with hate speech and the politics of exclusion, then moves to discrimination, then policies of removal, and then finally to a sustained drive to physical extermination," he wrote.
Amnesty International Canada Secretary General Alex Neve said Rae's report offers a roadmap for global leadership to address the urgent and long-standing human rights crisis, and called on the Liberal government to adopt the recommendations without delay.