Bounty on 8 assaulters
From CCTV footage, police release photos of those involved in Baishakh sexual assault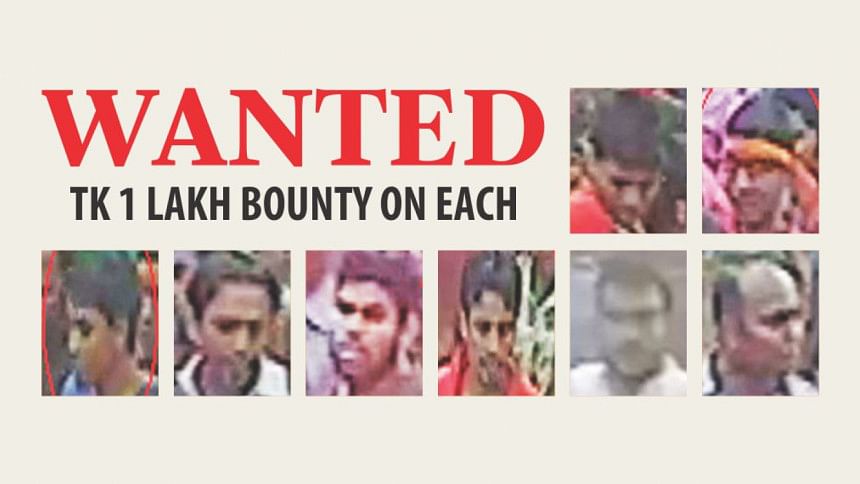 Police yesterday released photos of eight men who sexually assaulted women during the Pahela Baishakh celebrations and declared cash rewards for information leading to their capture.
They were identified from the footage of CCTV cameras installed around the Dhaka University campus where the assault took place.
Announcing Tk 1 lakh reward for information on each of them, Inspector General of Police AKM Shahidul Hoque said identities of the informants would be withheld for their safety. 
"From the CCTV footage, we have identified eight miscreants who tried to assault women on Pahela Baishakh. But we don't know their whereabouts," he told a press briefing at the police headquarters.
On the evening of April 14, the Bangla New Year, at least 20 women were sexually assaulted for over an hour under the nose of police.
While the police personnel deployed in the area did nothing to catch the culprits during the assaults, one officer released two men caught and handed over to him by public. And despite huge public outcry following the incident, police kept denying that women came under sexual assaults.
On April 18, police for the first time admitted that women were indeed sexually harassed.
A police inquiry team recently recommended action against three police officers -- Inspector Saidul Haque Bhuiyan, Sub-inspector Ashraful Islam and Assistant Commissioner Shahidur Rahman -- for negligence in duty.
But the authorities are yet to take any action against them.
Talking to The Daily Star yesterday, the IGP said he sat with the investigators in two phases for three to four hours and identified six alleged molesters from one camera.
Other investigators identified two others from the footage.
Liton Nandi, Dhaka University unit president of Bangladesh Chhatra Union who along with some others rescued several women, said that these eight are only a section of the sex offenders.
He added some 25-30 men in several groups preyed on women.
"Those identified are seen in the footage molesting women and you see them again and again," said Nandi, who also sat with the investigators to help them identify the culprits.
The incident sparked a wave of protest across the country, demanding the immediate arrests of the culprits and action for the police failure.
Last week, police used brute force to crash a similar demonstration near the police headquarters in the capital. The attack left 34 people injured.
There, several cops assaulted at least one female protester, Ismat Ara.