Blasts Rattle Brussels
Around 35 killed in terror attacks on airport, metro station; Islamic State claims responsibility; it's violation of Islamic teachings, says leading Muslim body Al-Azhar
A series of explosions claimed by the Islamic State group ripped through Brussels airport and a metro train yesterday, killing around 35 people in the latest attacks to bring bloody carnage to the heart of Europe.
Two huge blasts, at least one of which prosecutors said was likely caused by a suicide bomber, rocked the check-in hall at Zaventem Airport, strewing the scene with blood and mangled bodies and sending hundreds of terrified travellers fleeing in terror.
The fact that extremists were able to hit high-profile targets in Brussels, Europe's symbolic capital, just months after Islamic State (IS) group militants killed 130 people in Paris, will raise fresh questions about the continent's ability to cope with the terror threat.
More than 200 people were wounded in the bloodshed, which came just four days after the dramatic arrest in Brussels of Salah Abdeslam -- the prime suspect in the Paris attacks -- after four months on the run.
Belgian authorities had been on alert after Abdeslam, Europe's most wanted man, told investigators he had been planning an attack on Brussels.
An online news agency affiliated with IS said the group was behind the attacks.
"Islamic State fighters carried out a series of bombings with explosive belts and devices on Tuesday, targeting an airport and a central metro station in the centre of the Belgian capital Brussels, a country participating in the international coalition against the Islamic State," the Aamaq news agency said.
Hundreds of flights and trains were cancelled as security across Europe was tightened after the bombings, which Belgian Prime Minister Charles Michel branded "blind, violent and cowardly".
"This is a day of tragedy, a black day," Michel said. His spokesman announced three days of national mourning.
VIOLATION OF ISLAMIC TEACHINGS
Sunni Islam's leading seat of learning, Al-Azhar, said yesterday's attacks in Brussels "violate the tolerant teachings of Islam," and urged the international community to confront the "epidemic" of terrorism.
"Al-Azhar strongly condemns these terrorist attacks. These heinous crimes violate the tolerant teachings of Islam," the Cairo-based Al-Azhar said in a statement.
"If the international community does not unite to confront this epidemic, the corrupt will not stop from committing heinous crimes against the innocent."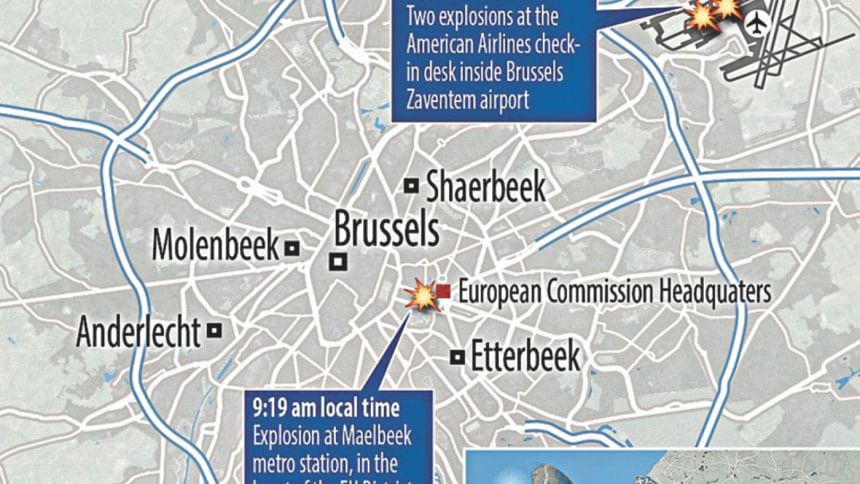 THREE SUSPECTS WANTED
Shortly after the airport blasts hit at around 8:00am (0700 GMT), a third explosion rocked Maalbeek metro station, in the heart of the city's EU quarter, as rush-hour commuters were making their way to work.
There are fears more suspects could still be at large in Brussels, home to the headquarters of both NATO and the European Union, Belgian Foreign Minister Didier Reynders warned.
Belgian authorities published surveillance camera images showing three male suspects pushing trollies with suitcases past the check-in area. Two have dark hair and one is wearing a hat.
Pierre Meys, spokesman for the Brussels fire brigade, told AFP at least 14 people had been killed at the airport, while Brussels mayor Yvan Mayeur said "around 20" died in the underground blast.
Witnesses described horrific scenes at the airport, with victims lying in pools of blood, their limbs blown off. There were chaotic scenes as passengers fled in panic.
"A man shouted a few words in Arabic and then I heard a huge blast," airport baggage security officer Alphonse Lyoura told AFP, his hands bloodied.
An army team later blew up a suspect package at the shuttered airport, with media reporting police had found an unexploded suicide vest.
Authorities later said a third bomb had failed to explode at the airport.
Airports across Europe swiftly announced they were boosting security, while across the Atlantic, New York and Washington ordered security personnel to crowded areas and train stations.
Britain is advising its citizens to avoid all but essential travel to Brussels, Prime Minister David Cameron's spokeswoman said.
'WHOLE OF EUROPE HIT'
Leaders across Europe reacted with outrage to the attack on the EU's institutional capital, urging closer counter-terror cooperation on a continent that has been on high alert for months.
"The whole of Europe has been hit," said French President Francois Hollande.
British Prime Minister David Cameron warned of the "very real" terrorist threat faced by countries across Europe, declaring: "We will never left these terrorists win."
US President Barack Obama said Washington stood with Belgium in the face of the "outrageous" attacks.
Security was also beefed up at Belgium's nuclear plants and at EU buildings in the French city of Strasbourg, home to the European Parliament.
It has been a week of drama and bloodshed in Brussels. Last Tuesday saw a shootout in the city's south that saw a Kalashnikov-wielding man killed and four police officers wounded.
DEBATE OVER AIRPORT SECURITY
Twin explosions in the departure hall of Brussels Airport prompted several countries worldwide to review or tighten airport security on Tuesday and raised questions about how soon passengers should be screened when entering terminals.
In the United States, the country's largest cities were placed on high alert and the National Guard was called in to increase security at New York City's two airports.
The Obama administration was expected to announce new measures to tighten US airport security.
A United Nations agency is already due to review airport security following the downing of a Russian airliner in Egypt by a makeshift soda-can bomb in October last year. Islamic State has claimed responsibility for smuggling the bomb on board.
Other recent incidents have also raised questions about how planes are protected. Last month, a bomber brought a device onto an airliner in Somalia and blew a hole in the fuselage. A year ago, a disturbed pilot deliberately crashed a Germanwings airliner killing 150 people, exploiting anti-terrorist cockpit defenses to lock himself at the controls.
But there has been less attention focused on how airports themselves are secured, before passengers check in for flights, despite a number of attacks.
"It strikes me as strange that only half of the airport is secure. Surely the whole airport should be secure, from the minute you arrive in the car park," said Matthew Finn, managing director of independent aviation security consultants Augmentiq.
European countries reviewed overall security at public locations after November's attacks by bombers and gunmen in Paris, in which 130 people were killed and hundreds injured, but made no specific changes to airport security.
The relative openness of public airport areas in Western Europe contrasts with some in Africa, the Middle East and Southeast Asia, where travellers' documents and belongings are checked before they are allowed to enter the airport building.
In Turkey, passengers and bags are screened on entering the terminal and again after check-in. Moscow also checks people at terminal entrances.
"Two terrorists enter the terminal area with explosive devices, this is undoubtedly a colossal failure," Pini Schiff, the former security chief at Tel Aviv's Ben-Gurion Airport and currently the CEO of the Israel Security Association, said in an interview with Israel Radio.
[From AFP, Reuters]