Birthday of Bangabandhu today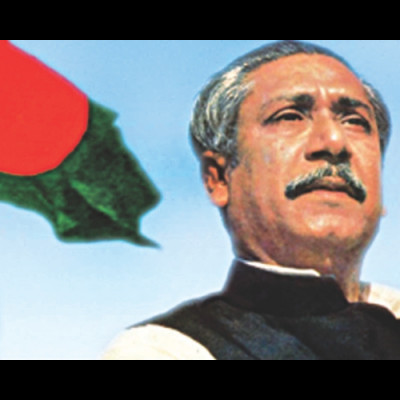 The 96th birth anniversary of Father of the Nation Bangabandhu Sheikh Mujibur Rahman is being celebrated across the country today with due respect.
On this day in 1920, the architect of the nation was born at Tungipara of Gopalganj.
Through his dynamic leadership, Bangabandhu had organised the Bangali nation to fight against exploitation and repression by the Pakistani rulers. The movement culminated in independent Bangladesh through the nine-month Liberation War in 1971.
On August 15, 1975, the great leader along with most his family members was assassinated by a cabal of army men.
The day is being observed as National Children's Day .This is also a public holiday.
Meanwhile, President Abdul Hamid and Prime Minister Sheikh Hasina yesterday issued messages marking the day.
The president said, "We'll have to build our young generation with the spirit of noble qualities so that they can materialise Bangabandhu's dream of transforming the country into Sonar Bangla [Golden Bengal]. We have to put in our sincere endeavour to flourish the intrinsic values of our children from their very childhood."
He urged all to make united efforts for building a happy and prosperous Bangladesh and ensuring a bright future for children.
Hasina in her statement said, "The charismatic leadership and personality of Bangabandhu had brought the whole nation under one umbrella. As a result of which we got the independence and sovereign Bangladesh, and the Bangali nationalism flourished."
The PM will place wreaths at the portrait of Bangabandhu at Bangabandhu Bhaban in the capital's Dhanmondi at 7:00am.
The president and the premier will pay homage to Bangabandhu by placing wreaths at his grave at Tungipara at 10:00am.
Hasina will also join a cultural programme, a children's gathering and discussion at Tungipara. She will also inaugurate a book fair and distribute sewing machines there.
Besides, the ruling Awami League, its associated bodies, socio-cultural and political organisations chalked out elaborate programmes to mark the day.
The programmes of the ruling party include hoisting of the national and party flags atop Bangabandhu Bhaban and AL offices across the country at 6:30am and placing of wreaths at the portrait of Bangabandhu at Bangabandhu Bhaban at 7:00am.
The ruling party will organise a discussion at Bangabandhu International Conference Centre at 3:00pm tomorrow. The PM will preside over the programme.