'BCL men' attack DU protesters
Expulsion of 34 admitted without tests demanded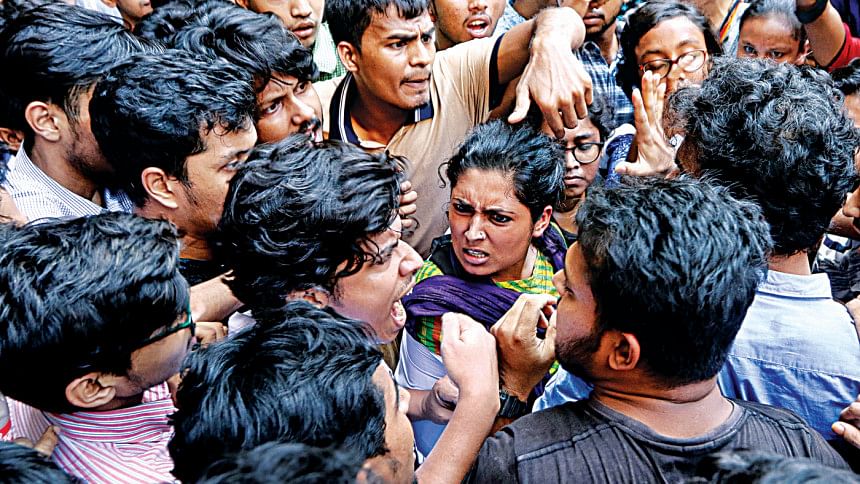 Dhaka University students laying siege to the office of the business faculty dean were attacked allegedly by Chhatra League men yesterday.
The protesters, mostly quota reformists and activists of left-leaning organisations, were demonstrating in front the dean's office demanding his resignation and expulsion of 34 BCL leaders who got admitted to a master's programme without admission tests.
On September 8, the Prothom Alo reported that 34 leaders of Bangladesh Chhatra League got admitted to a programme under the business studies faculty ahead of the Ducsu polls without going through any admission test. Eight of them were elected to the Ducsu and hall unions.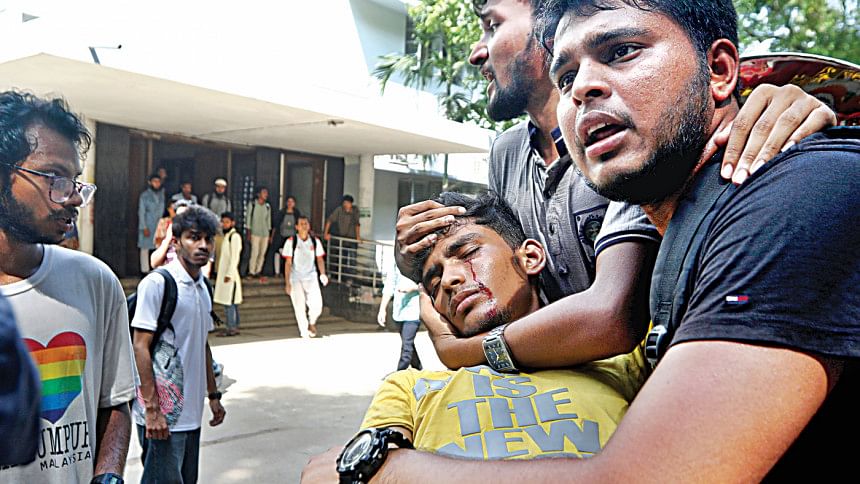 As left-leaning student organisations and quota reform activists started demonstrating on the campus following the report, the dean claimed that those who completed graduation and post-graduation from the DU didn't need admission tests.
Yesterday, activists of different left-leaning student bodies and Bangladesh Sadharan Chhatra Adhikar Sangrakkhan Parishad -- the platform that spearheaded the quota reform protests -- laid siege to the dean's office around 1:00pm.
They demanded expulsion of those who got admitted without tests, their removal from Ducsu posts and another election to the posts, and resignation of the business faculty dean, and the DU VC and Ruqayyah hall provost over allegations of corruption in recruitment.
Around the same time, a group of BCL activists, mostly close to DU unit President Sonjit Chandra Das and General secretary Saddam Hussain, went to the business studies faculty premises with a banner of General Students of Dhaka University.
They initially tried to drive the protesters away and eventually swooped on them, leaving one of the agitators injured.
Asif, a second-year student of linguistics, suffered a cut below his eye.
According to video footage published in different media outlets, Abu Younus, organising secretary of Bijoy Ekattor Hall BCL; Imam Ul Hasan, scholarship affairs secretary of Kabi Jashimuddin Hall BCL; and Mehedi Hasan, office secretary of Hazi Muhammad Muhsin Hall BCL were leading the attack on the protesters.
Witnesses said BCL activists, who are mostly first and second year students, took part in the attack.
Some of them are Sohel Rahman Shastri, vice-president of Social Welfare and Research Institute BCL; Redaun Dipu, member of Ekattor hall BCL; Ashik Omi, member of A F Rahman hall BCL; and Mosabbir Maruf and Safwan Chowdhury, members of Ziaur hall BCL.
The agitators later marched to the proctor's office and demonstrated in front of it, alleging that members of proctorial body were present during the attack, but did nothing.
Ducsu Vice-President Nurul Haque Nur joined them, but the proctor was not at his office.
After a while, the protesters went back to the business faculty and held a rally in front it.
Nurul alleged that the university administration used BCL cadres to suppress students' protests.
Nurul, accompanied by some protesters, later met the business faculty Dean Shibili Rubayat Ul Isalm.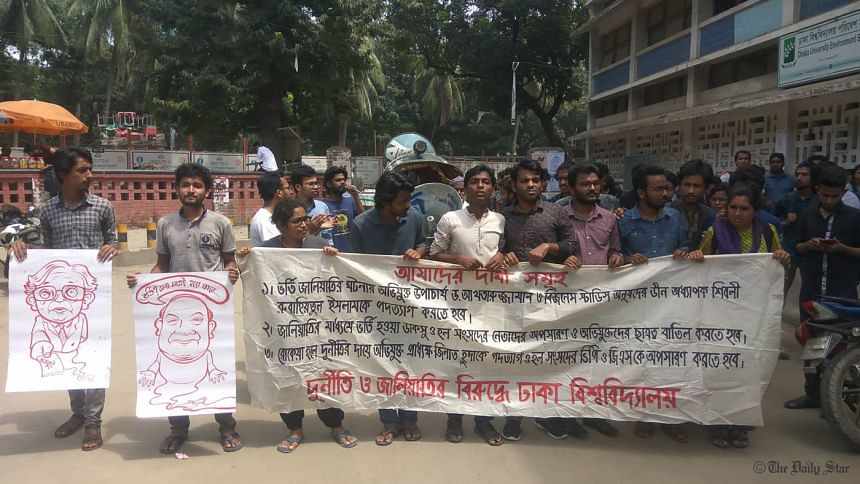 After the meeting, DU Chhatra Union General Secretary Ragib Naeem said, "Shibili Rubayat Ul Isalm said he was unaware of the incident of attack. He said that we are not his students. We also told him that he is not our teacher."
Contacted, DU BCL General Secretary Saddam Hossain said, "Chhatra League has no connection with this incident. This is an unwanted incident that happened between two groups of students."
DU Proctor Prof AKM Golam Rabbani said both the groups were asked to remain calm by the proctorial body. The incident took place because of their tendency of "crossing the line".