Economic crisis in Lebanon: job losses, low pay hit expats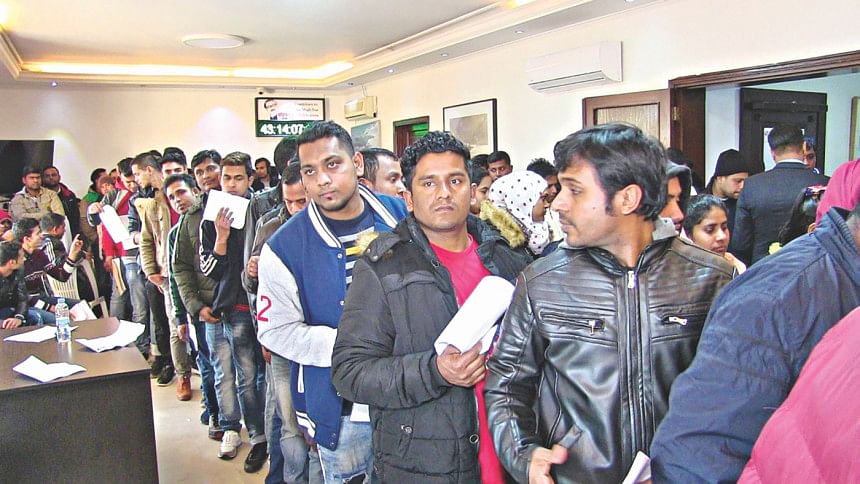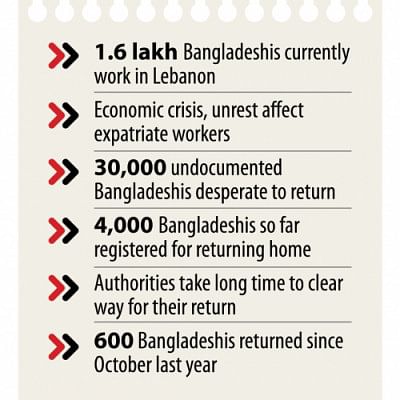 Around 1.6 lakh Bangladeshi migrant workers are passing days in uncertainty in crisis-hit Lebanon as most of them have either lost their jobs or remained unpaid over the last few months.
Of the Bangladeshis, some 30,000 are undocumented, mostly women who work as house help. Many of them are desperate to return home, but the Lebanese authorities were making delay in giving them the go-ahead, said officials and migrants in the West Asian country.
Lebanon's mismanaged economy has been stagnant for nearly a decade. The crisis has deepened in recent months with an acute dollar shortage leading banks to restrict foreign currency withdrawals in the heavily dollarised economy, reports Al Jazeera.
Scores of businesses have closed down and thousands of employees have been laid off or had their working hours and wages slashed. Meanwhile, prices of everyday goods have gone up.
Last year, the World Bank estimated that up to half of Lebanon's population could fall into poverty, up from 30 percent in 2018. Unemployment, "especially among youth, is already high and could further rise sharply", it cautioned.
Lebanon is also reeling from a political crisis. Thousands have been taking to the streets for over three months demanding a productive economy, an end to corruption and the ouster of sectarian leaders who have ruled the country since its civil war ended in 1990.
Those protesters brought down the government of prime minister Saad Hariri on October 29.
The crisis has meanwhile hit hard the migrants.
"My factory was shut in October. Now I am living with some Syrian refugees. I hardly find work on three or four days every month. That's how I'm surviving," said Rana Ahmed, who went to Lebanon in August 2016.
Forty-year-old Rana, who used to work as a machine operator at a factory in Nahar Ibrahim area, some 47 kilometres north of the Lebanese capital Beirut, said he became an undocumented worker last year.
On February 2, Rana paid the Lebanese authorities some $300 in fines for staying illegally in the country for nearly a year.
"I took the money from my family in Brahmanbaria. After paying the fine, I was registered with the Bangladesh embassy to return home. But the Lebanese authorities are now taking a long time to complete the necessary paperwork.
"Whenever I am cleared to go, I will have to bring money from home again to pay for my air ticket," Rana, father of two daughters, told The Daily Star over phone yesterday, adding that some 15,000 Bangladeshis live in Nahar Ibrahim area.
Several other migrant workers in Lebanon echoed Rana's statement and said the situation in the West Asian country was precarious for the Bangladeshi migrants who mainly work at factories and people's homes.
"I sold my ancestral land to come here. I don't know what will I do now," said a Bangladeshi migrant, wishing not to be named.
Babu Saha, a Bangladeshi journalist based in Beirut, said, "Many Lebanese employers are not renewing the work permits of their employees. As a result, the workers are becoming undocumented."
With their low or no income, the migrants are not being able to send money home, he said.
Contacted, Abdullah Al Mamun, first secretary at the Bangladesh embassy in Lebanon, said it was true that many migrants were losing jobs while many were being paid low wages.
He said the US dollar went up in value in recent months amid the crisis. "Foreign workers are usually paid in US dollars, but now they are being paid in Lebanese Pound which is highly devalued."
For example, he said, $100 equaled to 1.5 lakh Lebanese Pound in October last year, but it is now almost 2.2 lakh.
The employers, however, were paying employees in line with the previous rate.
So when the migrants try to send money to Bangladesh, they have to buy dollars at a higher rate. It means they were sending much less than before, Mamun said.
He also said many migrants were not getting salaries regularly. "In such a situation, they are not happy to work here anymore and want to leave for home."
Asked, he said some 600 undocumented workers had returned to Bangladesh since October last year. He, however, could not tell the total number of Bangladeshis who went home since the crisis unfolded.
He said there were some 30,000 undocumented Bangladeshi workers in Lebanon and many of them were desperate to return home.
Many were visiting the embassy every day for registration. After the registration, the Lebanese authorities investigate the cases and give the workers the green signal to leave the country. "The investigations take some time," said the first secretary.
Currently, the embassy authorities were facing pressure in dealing with the situation.
"After a pause, we resumed the registration on February 2. On that day some 1,600 workers entered the embassy premises and created chaos. Many of them came back again the next day," Mamun told this daily over phone on Wednesday.
He said the landowner of the embassy building issued a legal notice a few days ago, saying he would sue the embassy authorities if it allowed such a crowd to gather again.
In the face of the situation, the embassy authorities have decided to suspend the registration, he said, adding that they had registered the names of some 4,000 Bangladeshis.
On Wednesday, the embassy authorities held a meeting with the Lebanese interior ministry's general security division and requested them to complete the necessary procedures as quickly as possible.
"The Lebanese officials assured us of looking into the matter," he said.
Speaking on the issue, Shakirul Islam Shakil, executive director of migrant rights body Ovibashi Karmi Kalyan Programme, said despite the crisis, recruiting agencies in Bangladesh continued to send workers to Lebanon.
"I think the government should not allow any more Bangladeshis to go to Lebanon until the crisis is over," Shakil said.