New tests find lead in milk
Food Safety Authority reports to HC after testing pasteurised milk of 11 companies in six labs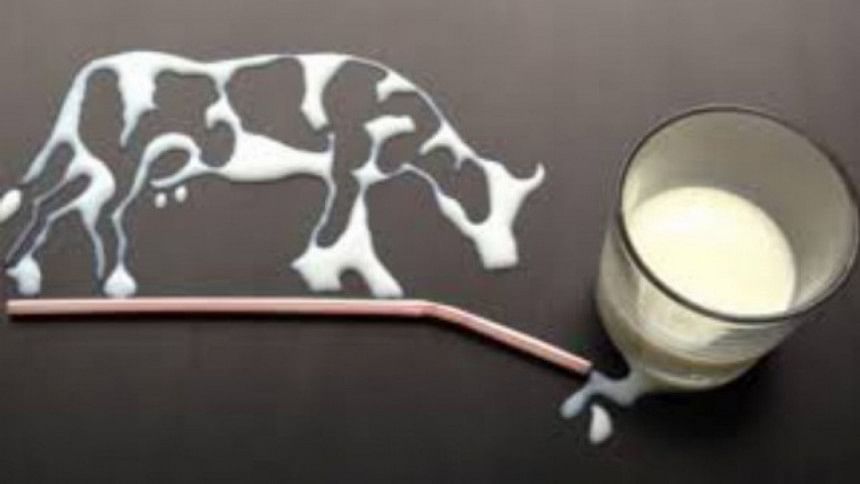 ♦ HC asks BFSA, BSTI to report what actions taken to check adulteration of milk, curd and cattle feed.

♦ No drug store can sell antibiotic for cattle without prescriptions from registered veterinary doctors.
Amid concerns about the quality of the packaged and non-packaged milk available in the market, Bangladesh Food Safety Authority (BFSA) has now detected lead, a harmful heavy metal, in pasteurised milk of 11 brands.
The companies are Milk Vita (state-run), Aarong Milk, Pran Milk, Dairy Fresh, Igloo Milk, Farm Fresh, Aftab Milk, Ultra Milk, Ayran Milk, Pura Milk and Safe Milk -- all registered with Bangladesh Standard and Testing Institution (BSTI).
The BFSA carried out a series of tests last month at the laboratories of six government and nongovernment organisations -- Bangladesh Atomic Energy Commission, Bangladesh Agricultural Research Institute, Bangladesh Council of Scientific and Industrial Research, Plasma Plus, WAFFEN Research and International Centre for Diarrhoeal Disease Research, Bangladesh.
The tests also found lead and cadmium, another heavy metal, in raw cow milk available in various markets in the capital, said BFSA lawyer Faridul Islam, who placed the test report before the High Court yesterday.
The samples of the packaged milk were collected from various markets in the capital, while the samples of raw milk were collected from 50 selling points in the city.
It comes just two weeks after Dhaka University researchers found detergent and antibiotics for humans in packaged milk of some of the top brands who boast of their "superior" quality in advertisements -- Milk Vita, Pran, Aarong, Igloo and Farm Fresh.
The antibiotics include levofloxacin, ciprofloxacin and azithromycin that are used mainly to treat bacterial infections in humans. 
After the DU researchers published their findings, Kazi Wasi Uddin, additional secretary to the fisheries and livestock ministry, threatened them with legal actions if they failed to publish their study in a peer-reviewed journal.
A subsequent second test by the DU researchers on the same samples reconfirmed their findings, said Prof ABM Faroque, director of Biomedical Research Centre at DU, who led the research.
Experts say lead in milk may come from cattle feed and contaminated soil and can affect liver, kidney and bones. 
According to the World Health Organisation, there is no known level of lead exposure that is considered safe for human body.
"If the soil is contaminated, lead can enter into animal bodies through feed. The other source may be processed cattle feed. If the feed is contaminated, milk will be too," said Mohidus Samad Khan, an associate professor at Buet's chemical engineering department.
BAN ON ANTIBIOTICS SALE
Receiving the BFSA report, the HC ordered the government to stop sale of antibiotics for cattle without prescriptions from registered veterinarians. 
The court also expressed its frustrations over the authorities' failure to ensure safe food, including milk, and ordered the BFSA and BSTI to report back to the court on their actions against adulteration of milk, curd and cattle feed by July 28. The court will hear the matter again that day.
The bench of Justice Md Nazrul Islam Talukder and Justice KM Hafizul Alam noted that food adulteration was a "public health issue and not an issue of politics".
"A government secretary has reportedly criticised the Dhaka University researchers who detected harmful substance in milk. But why? Tell us if milk has anything to do with politics. We should all work shoulder to shoulder to ensure safe food and sound health of the citizens," Justice Nazrul said.
The court also wondered how milk contaminated with lead and cadmium can be found in markets, and asked the BSTI and BFSA to ensure safe food for the sake of public health.
"Someone claims there are hazardous substances in milk while another says milk is safe," the court observed, referring to a recent BSTI report that claimed packaged milk was safe to drink.
However, the BSTI testing standards were set years ago and are way below the international standards. Also, the nation's sole quality control authority has no mechanism to detect pesticides and antibiotics. In addition, BSTI tests milk only against nine parameters when developed countries do so against 23-30, experts and BSTI officials say.         
During yesterday's hearing, BSTI lawyer Sarkar MR Hassan told the court that they formed a committee to set an international standard of food consumption.
The HC took the issue of milk contamination so seriously that in February it ordered the Anti-Corruption Commission to investigate adulteration of milk, curd, and fodder and take legal action against those responsible.
The court had also asked the BFSA to form a probe committee to identify the individuals and businesses involved in adulteration of dairy products and fodder in three months.
It had also issued a rule on the authorities, including the BFSA chairman, members of Central Food Safety Management Coordination Committee and the BSTI chairman, to explain why their inaction and failure to prevent food adulteration should not be declared illegal.
At the same time, the court had asked them to explain why production, transport, and preservation of adulterated milk, curd, and fodder in shops, departmental stores, and open market should not be declared illegal.
The rule directed the respondents to explain why they should not be ordered to remove those from the market and bring those responsible to justice.
The February 11 order came after the National Food Safety Laboratory found excessive level of lead, pesticide, antibiotics and bacteria in raw cow milk. The study also detected high levels of chromium in cow feed.
Yesterday's report by the BFSA was as part of the HC directive.
In a separate development, some eminent citizens yesterday called on the government to ensure quality milk.
The government should not show any leniency in this regard, they said in a statement, signed by cultural personality Nasiruddin Yousuff Bachchu.
"It's a legal and moral duty of the authorities concerned to produce milk maintaining a proper standard," the statement said. 
The other signatories are National Professor Anisuzzaman, cultural personalities Hasan Imam, Ramendu Majumdar, Ferdousi Majumdar, Ataur Rahman, Mamunur Rashid, Hasan Arif, Sammilito Sangskritik Jote President Golam Kuddus, poet Mofidul Haque and cartoonist Rafiqun Nabi.