Trade future hinges on bilateral FTAs
Analysts, businesspeople say citing the country's probable elevation to middle-income status in 7/8 years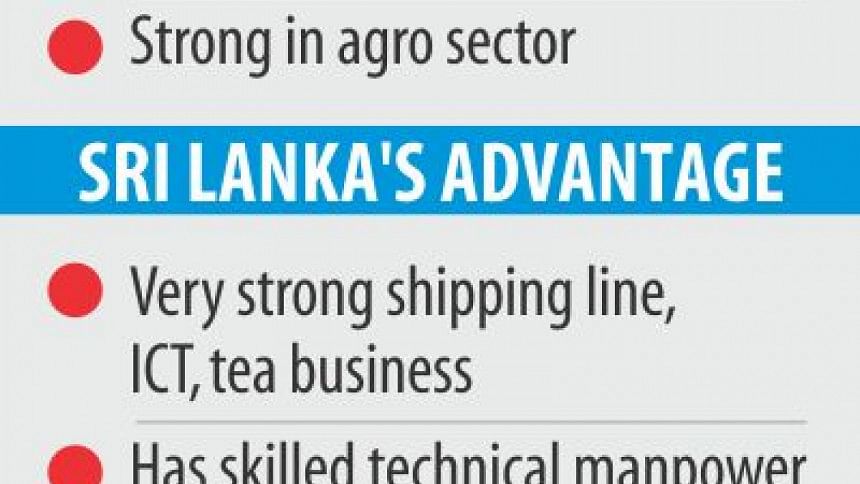 Bangladesh's future trade benefits will largely depend on bilateral free trade agreements (FTA) as the country may lose duty-free facilities once it graduates to a middle-income nation in seven-eight years, analysts and businessmen yesterday said.
This is the backdrop to businesses' welcoming the government move to sign first ever FTA with Sri Lanka to boost bilateral trade cooperation.
 "FTA with Sri Lanka can be a good test case and learning for Bangladesh," said Khondaker Golam Moazzem, research director of the Centre for Policy Dialogue (CPD).
"The deal must include not only trade in goods but also services for greater benefits."
The government should engage technical professionals and the private sector in assessing the pros and cons of the deal that the two countries agreed on Friday to sign this year, Moazzem said.  
Presently, as a least developed country, Bangladesh gets duty-free market access to European Union, Canada, Australia, Japan and some other countries.
The country also gets duty-free access to Indian and Sri Lankan markets under the South Asian Free Trade Agreement (Safta). But the access is limited to a number of products.
Bangladesh has to go for bilateral FTAs for trade benefits once it becomes a middle-income country, the CPD research director said.
Without FTAs, Bangladesh will lose competitive advantages to other countries, such as India, Pakistan and Vietnam having FTAs with a number of countries.
Businesses welcome the proposed FTA with Sri Lanka, but they say the agreement has to cover all major areas of cooperation, such as trade in goods, services and investments ensuring mutual benefits.
To explain this, Shafiul Islam Mohiuddin, president of the Federation of Bangladesh Chambers of Commerce and Industry (FBCCI), said Sri Lanka is in an advantageous position in value added apparel industry, shipping lines and deep-sea port, financial services, ICT and skilled technical people in different sectors. On the other hand, Bangladesh enjoys advantages in the apparel sector, skilled workforce in the garment sector, agricultural products, processed foods and migrant workers,
Bangladesh would be immensely benefited if the FTA is signed with Sri Lanka, as a portion of its exports and imports of goods are done through the Colombo port.
"We can take this advantage of shipping line if the FTA is signed," Mohiuddin said, adding that Bangladesh could also be benefited from Sri Lanka's globally-ranked financial institutions and ICT services.
The FBCCI chief also advocates for such trade agreements with other countries, as the economy is growing and getting more connected with the global economy.
Earlier, Bangladesh tried to negotiate FTAs with India, Malaysia and Turkey but failed.
Once the country is graduated to a middle-income nation, the bilateral FTAs and regional trade blocs like the Bay of Bengal Initiative for Multi-Sectoral Technical and Economic Cooperation (BIMSTEC) will ensure duty benefits.
Abul Kasem Khan, president of the Dhaka Chamber of Commerce and Industry (DCCI) echoed the views of Mohiuddin regarding the FTA with Sri Lanka.
"Apart from goods and services, we want reciprocal investment under the FTA."
For an instance, Sri Lanka is in a strong position in the hospitality industry, tea business and logistics services. Sri Lankan investors can invest in those sectors in Bangladesh. 
Every year, billions of US dollars are flying out of the country through illegal channels and are invested in another country.
"If the Bangladesh government allows investment of such money through legal channels in Sri Lanka, both the countries would be benefited a lot," Abul Kasem said. Bangladeshi investors can also set up factories and export to other countries from Sri Lanka if the FTA is signed.
Before the signing of the FTA, both the countries will conduct feasibility studies to analyse the positive and negative lists of goods and services and their value addition capacity, said Md Shafiqul Islam, additional secretary to the commerce ministry.
Sri Lanka, as a developing country, has put 925 products in the negative list under the South Asia Free Trade Area deal.
"So, we don't enjoy duty benefits from Sri Lanka in [trading in] major goods. We have to study to analyse the benefits," Shafiqul said.
In the fiscal 2016-17, Bangladesh exported goods worth $42.25 million, up from $30.45million a year ago, according to the Export Promotion Bureau.
Bangladesh mainly exports woven garments, knitwear, home textile, agro products, frozen food, leather and leather products, footwear, raw jute, jute goods and bicycle.
In the fiscal 2015-16, Bangladesh imported goods worth $45.0million while imports in the previous fiscal year amounted to $44.10 million, according to the data of the FBCCI.