Bangabandhu satellite project wins int'l award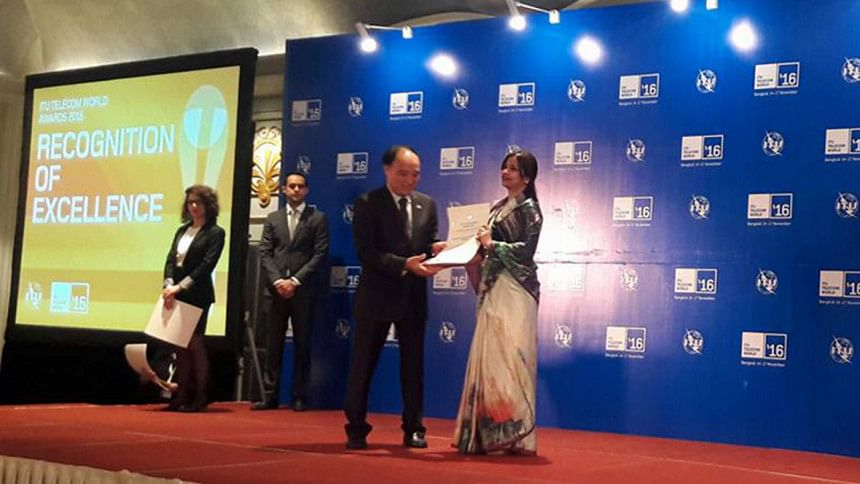 Bangabandhu Satellite Project has got the prestigious "Recognition of Excellence" award from the International Telecommunication Union (ITU).
State Minister for Post and Telecommunications Tarana Halim received the award on behalf of the government at the concluding ceremony of the four-day ITU Telecom World 2016 in Bangkok on Thursday night, officials said here yesterday.
The ITU in its award certificate said it was pleased to recognise Bangabandhu Satellite Project for its excellence in providing and promoting innovative ICT solutions.
The Bangabandhu-1 Satellite is scheduled to be launched in December 2017.
Shahjahan Mahmood, chairman of Bangladesh Telecommunication Regulatory Commission, said the ITU awarded the project for its prospective impact on the country's socio-economic development.
READ ALSO: Bangladesh receives Bangabandhu-1 Satellite replica
Last year, Prime Minister Sheikh Hasina received the "ICT Sustainable Development Award" from the ITU. The premier had dedicated the award to the young people of Bangladesh.
The ITU this year also announced six major awards, recognising excellence and innovation in ICT solutions. The winning entries are Global SME Award - BRCK, Kenya; Host Country SME Award - ServisHero, Thailand; Thematic Award (eGovernment) - Nile Centre for Technology Research (NCTR), Sudan; Thematic Award (eHealth) - Neofect, Republic of Korea; Thematic Award (eEducation) - Academic Bridge, Rwanda and Thematic Award (Disaster Prevention/Recovery Communications) - Mastercard, United States.
The ITU is the UN's specialised agency for information and communication technologies.
Some 250 exhibitors, including 107 exhibiting tech-SMEs and 60 partners and sponsors took part in the ITU Telecom World 2016. Over 330 leaders from 90 countries joined the event in the capital of Thailand.