Grand finale of Teer BRANDrill held
Bangladesh University of Professionals (BUP) declared winner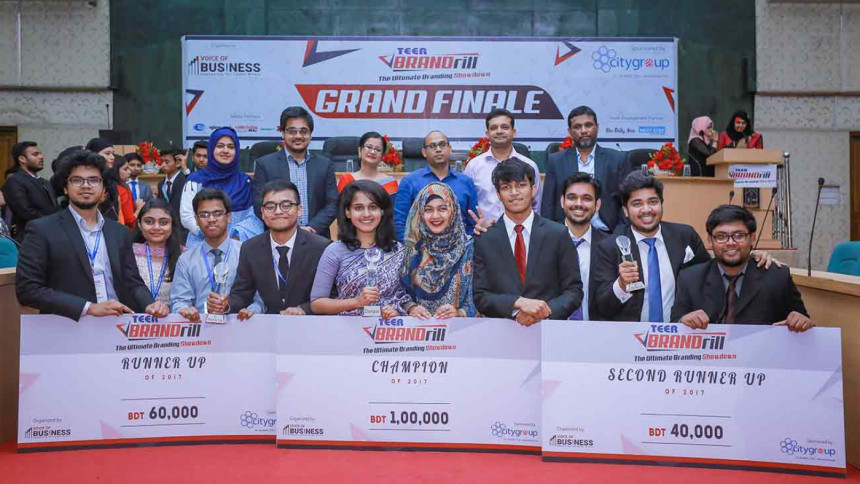 The grand finale of the Teer BRANDrill-2017 took place on March 12 at the Nawab Ali Chowdhury Senate Building in the premises of University of Dhaka.
After a hairbreadth competition among 10 qualified teams, the second string from Bangladesh University of Professionals (BUP) was declared the winner of the 1st ever nationwide Branding Competition in Bangladesh and awarded with BDT 1lakh, according to a press release.
The 1st runner up team was 'Forza' from Institute of Business Adminstration, University of Dhaka and the 2nd runner up team was Crime Master Gogo from North South University. Both the teams got awarded BDT 60,000 and 40,000 respectively along with certificates and crests, according to the press release.
More than 200 teams from 20+ universities spanning seven divisions took part in Teer BRANDrill-2017.
The whole competition was separated into three different levels along with a workshop incorporating different hurdles of branding, the press release read.
The competition kicked off with online case submission round on February 11, where around 700 students participated. Among them, 50 best teams got through to the 2nd round for their outstanding branding ideas.
Before commencing on the 2nd round of the competition a workshop was held for the participants with a view to providing them with a better perception on Branding.
The workshop was followed by the TVC making round. After that, the teams presented their TVC from where only 10 teams made it to the finale.
In the grand finale judges were Executive Director of Sales & Marketing of City Group Ltd Shoeb Md Asaduzzaman, General Manager of Marketing Communication of bKash Ltd Mohammad K Haque and Associate Professor Department of Marketing Md Ismail Hossain. Chief Patron of VoB and Dean of Faculty of Business Studies Professor Shibli Rubayat Ul Islam was the Chief Guest. A number of corporate bodies from different sectors embellished the finale as special guests.
During the first session of Teer BRANDrill-2017, the aim was to aid personal development of business students by making them more aware of personal branding.
"A competition of such stature will help to develop and enhance branding knowledge of young Business minds,'' said Shoeb Md Assaduzzaman.
Voice of Business, the largest student run publication and business club from the Faculty of Business Studies, University of Dhaka is presently in its 10th year. Since its inception in 2007, VoB has created opportunities for the business students for skill development and knowledge enhancement through connecting with prominent business leaders of the time.
This year VoB organized ''Teer BRANDrill 2017', a branding based competition on behalf of the Faculty of Business Studies, University of Dhaka on a national level covering universities from all over Bangladesh with the intention of giving business students a clear conception and better understanding of branding.