23.5mm rainfall triggers waterlogging in Chattogram city streets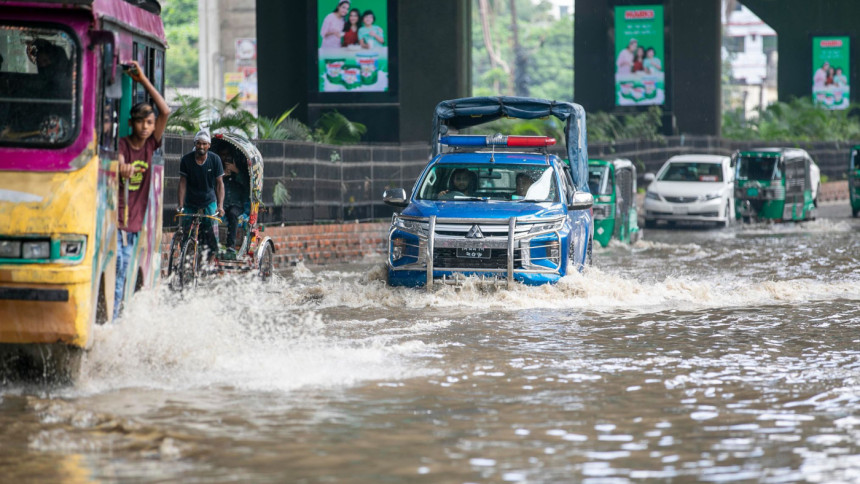 Office-goers had to endure flooded streets on the first working day after Eid-ul-Fitr holiday today (May 5, 2022)following torrential rain in Chattogram city since morning.
Low-lying areas of the port city went under knee- to waist-deep water due to heavy rain coupled with tidal surge in the morning.
Contacted, Sheikh Farid Ahmed, an officer of Chattogram Met Office, said they recorded 23.5mm rainfall in 24 hours till 12:00 noon today.
The met office forecasted more rain in the next 24 hours, he said.
Commuters in Chattogram city, especially those who started for office, suffered the most as they had to wade through filthy water overflowing from the roadside drains.
"We had to suffer due to waterlogging on Eid day last year and this year; the same thing happened on the third day of Eid," said Imtiaz Ahmed, a resident of Shulak Bahar area who was going to office in the morning."I failed to hail a rickshaw or other vehicle and so, I'm walking through this dirty water."
Many areas including Muradpur, Sholoshohor Gate No. 2, Kapasgola, Chawkbazar, DC Road, KB Aman Ali Road in West Bakalia, Chandgaon, Halishahar and Agrabad went under knee- to waist-deep water.
Minhaj Uddin, a resident of Rahattarpool area, said, "Dirty water from the drain is overflowing on the road as the concerned staffers from Chattogram City Corporation (CCC) did not clean the drains."
"We suffer every year in rainy season due to waterlogging but no effective initiative has been taken by the CCC to address it," he added.
Echoing the same, Jamal Uddin, a resident at West Bakalia DC Road, said the dirty water not only flooded the roads but also entered his house, which marred the Eid celebration of the family.
CCC Mayor Rezaul Karim Chowdhury could not be reached for his comment over the issue despite repeated attempts.