When the municipality pollutes river
Mymensingh city authorities yet to formulate any waste management mechanism in 22 years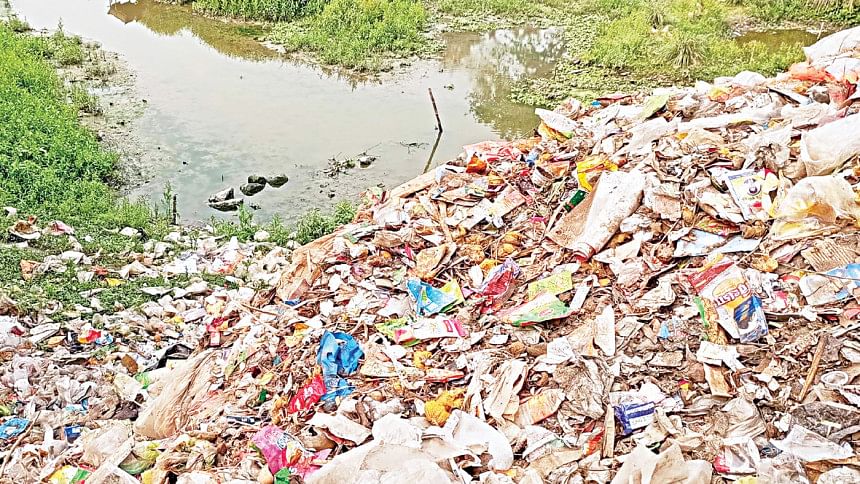 Mymensingh's Akhalia river, which was once a great source of water for agriculture and local fishes in Phulbaria upazila of the district, is now in a dire state due to pollution.
Although the municipal authorities are supposed to save the river, municipal staffers dump daily garbage collected from the city into the river bank, alleged locals. The municipality, established in 2001, is yet to implement a proper waste management system.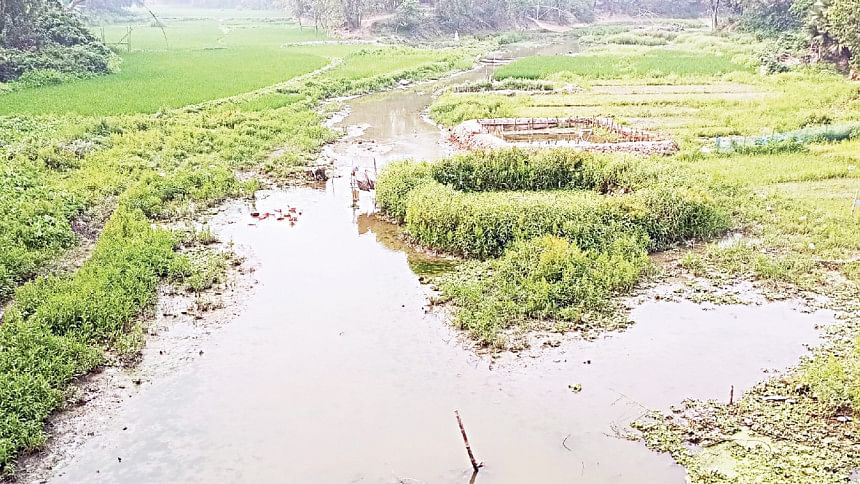 Seeking anonymity, locals have alleged that the garbage is being dumped on the bank at different areas of the river for years and none are checking this menace. Furthermore, influential quarters are actively trying to grab the river land in many ways, they added.
Not just Akhalia, several rivers flow through this upazila, including Khiru, Banar and Bajua.
All of these rivers have been influenced by the egregious carelessness of responsible officials. In recent years, vested quarters have become increasingly organised in their attempts to seize land, said environmentalists.
The situation has become so severe that the deterioration of ecological balance, environment, and nature will surely affect the locality in the future if the river is not protected from pollution and grabbing right now, they added.
AB Siddique, a municipality commissioner, suggested the upper echelon of the local administration take the initiative to involve people belonging to all professions and political leaders to address this issue.
Md Ibrahim Khalil, conservation officer of the municipality, admitted that around 12 tonnes of garbage are produced in the municipality every day, and most are left beside the river in the absence of any permanent garbage stations.
He said they are trying to find a permanent address for the garbage soon and that the municipal authority has already selected a dumping ground at Kushmail outside the municipality.
Advocate Nazrul Islam Chunnu, convener of Jonoudhygh, a citizens' forum, said the dumping of garbage into the river by municipal authority is a gross violation of environmental laws. The public representatives are assigned to keep the environment alive but they are destroying it ignoring the possible consequences, which will lead to health hazards.
Md Nahidul Karim, upazila nirbahi officer (UNO) in Phulbaria, said the upazila administration has asked the municipal authority to stop garbage dumping into the river. They conduct regular drives to evict the grabbers but the menace is yet to be controlled fully, claimed the UNO, who is also the president of Nodi Rokhha Committee's upazila unit.