Living amidst polluted waters
Sylhet flood victims contracting various skin diseases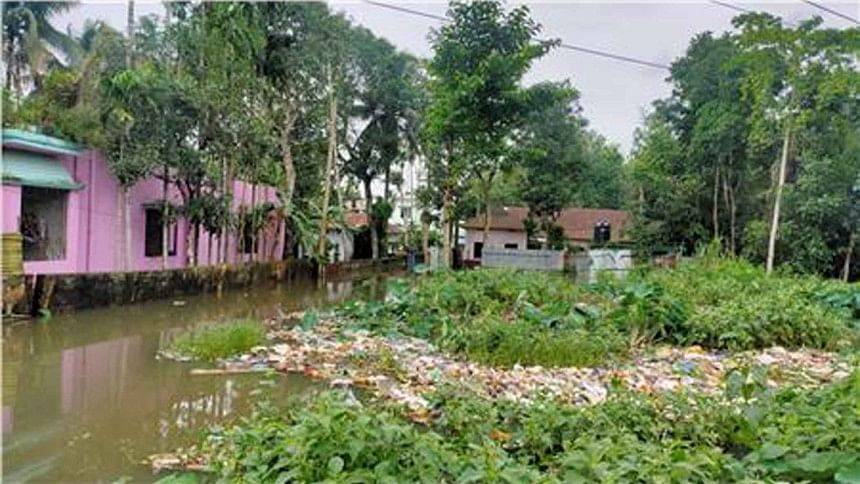 Many parts of the municipal area, including Sylhet City Corporation, remain submerged.
There are piles of garbage floating on the road's flood water with their stench in the air -- causing new suffering to the flood victims. This is the situation in most places in Sylhet division in the flood-affected areas.
This correspondent visited different areas in Moulvibazar and Habiganj in Sylhet division and found empty bottles, polythene bags, sacks of household waste, toilet waste, and tree branches floating on the side of the road. The water has turned black due to the accumulated garbage, filling the area with a putrid stench.
Dung and excrement from surrounding toilets have mixed into the water. Many people in the area have contracted skin diseases coming in contact with it.
Imon Ahmed, a resident of Kulaura Municipality in Moulvibazar, said, "I woke up from bed and saw garbage drawn into the house with the flood water. So I set up bamboo in front of the house so that the garbage doesn't get in. "
Another resident Bimol Das said the road in front of his house is full of garbage now.
"I can't even remove them until the water recedes. It smells bad all the time. I worry for my children."
Sajjad Hosain, a resident of Habiganj Municipality said, "Whenever I go to and fro from the house, I have to wade through this polluted water. For this, my whole leg is swollen and it itches a lot."
Jahangir Alam, Boropara area resident of Sunamganj Municipality, said," I'm having to cut this garbage in front of my house into pieces so that it can float away with the currents."
Sunamganj Municipality Mayor Nader Bakht said, "Now there is nothing to do with this. We're on the side of the people with relief now. If the water decreases, the dirt will also go away."
Dr Mohammad Noore Alam Shamim, assistant director (disease control) of Director of Health office (Sylhet division), said at this time of the flood, there would be various diseases due to floating garbage in the water.
"At the same time, a lack of pure drinking water causes water-borne diseases including diarrhoea, cholera, and diarrhoea. We have prepared a medical team at the union level to deal with that," he added.