Dhaka City: Air pollution rose by 13pc over 3 years
Says CPD citing 2020-2022 data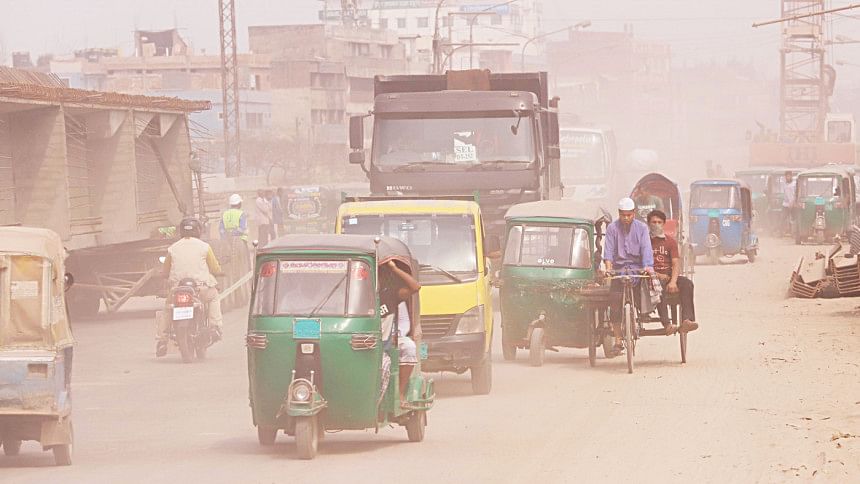 Air pollution has increased by almost 13 percent in the capital since 2020, says a study by the Centre for Policy Dialogue.
Dhaka's air quality index score rose from 145.1 in 2020 to 163.7 in 2022, adds the study released yesterday.
The study titled Reducing Pollution for Greening Cities says plastic pollution has also risen during the period.
The researchers surveyed 500 households in May and June and interviewed people about their perception of air and plastic pollution and thoughts on how to deal with the crisis.
On an average, each resident spends Tk 4,000 a year for diagnosis and treatment of symptoms thought to have been caused by polluted air.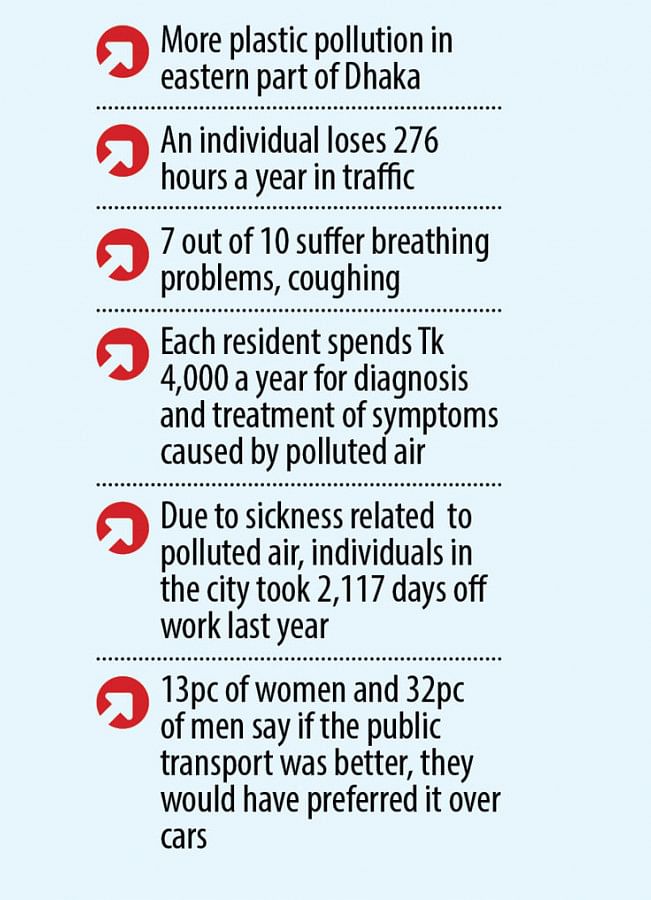 Seven out of 10 suffer breathing problems, cough, runny nose, sore throat, chest pain and eye irritation. Over 50 percent of those who fall sick are women while 20 percent are children and the elderly.
Seventy-six percent of the respondents believe air pollution has worsened in recent years.
Syed Yusuf Saadat, research fellow at the CPD, told a discussion at the Brac Centre Inn yesterday that due to sickness attributable to air pollution, individuals in Dhaka city took 2,117 days off work last year.
Seventy-seven percent of the respondents blame vehicular emission for air pollution, 10 percent blame construction work, four percent blame brick kilns, and nine percent blame burning of waste.
Thirteen percent of the women and 32 percent of men say they would have preferred public transport over cars if the system was better.
Seventy-three percent of the respondents think plastic pollution worsened in recent years; 57 percent think their neighbourhood has extreme levels of plastic pollution; 43 percent admit that they litter.
The surveyed city dwellers are ready to shun plastic if there is an alternative.
The residents lack knowledge on waste separation at households; 47 percent of the household waste is collected by the informal sector and 44 percent is collected by the city corporation employees.
CPD Executive Director Fahmida Khatun told the discussion that strict measures like a ban on plastic bags, and penalty for defaulters should be enforced.
She also recommended phasing out single-use plastic by 2028 and establishing a recycling centre.
Begum Habibun Nahar, deputy minister for environment, said everyone must play a role in preventing plastic pollution.