Air pollution: Dhaka 5th worst city in the world
Global report says 22,000 died in capital in 2019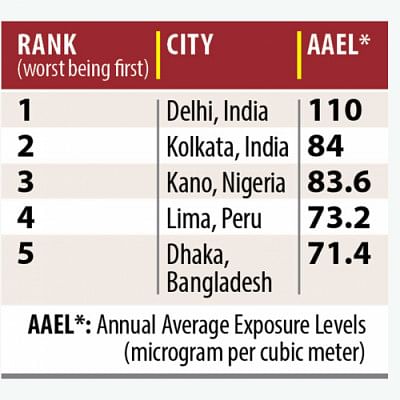 More than 22,000 people in the capital died due to air pollution in 2019, says a global report.
Dhaka is among the world's top five cities with the most poisonous air, said the report to be unveiled today by two US-based organisations -- the Health Effects Institute, and the Institute for Health Metrics and Evaluation.
The report titled "Air Quality and Health in Cities" said yearly average of particulate matter, called PM2.5, is 71.4 microgram per cubic metre in Dhaka and yearly average of NO2 is 23.6 microgram per cubic metre.
Particulate matter is the sum of all solid and liquid particles suspended in air, many of which are hazardous. This complex mixture includes both organic and inorganic particles, such as dust, pollen, soot, smoke, and liquid droplets.
The other air pollutant, NO2, originates mainly from the burning of fuel often in older vehicles, power plants, industrial facilities and residential cooking and heating. As city residents tend to live closer to busy roads with dense traffic, they are often exposed to higher NO2 pollution than residents in rural areas.
According to World Health Organisation's Air Quality Guidelines, the annual standard is 5 microgram per cubic meter for PM2.5 and 10 microgram per cubic meter for NO2.
The world's biggest cities and urban areas have some of the worst air quality on the planet, said the report which analysed air pollution and its health effects in more than 7,000 cities across the globe, focusing on two of the most harmful pollutants, PM 2.5 and NO2.
The report based on data collected from 2010 to 2019 found that global patterns for exposure to the two key air pollutants are strikingly different.
Exposure to PM2.5 tends to be higher in the cities in low-and middle-income countries, while exposure to NO2 is high across cities in high-income countries as well as low and middle-income ones, it pointed out.
In 2019, 86 percent of over 7,000 cities, included in the report, exceeded the WHO's annual standard of 10 microgram per cubic metre for NO2, impacting about 2.6 billion people.
Poor air quality in Bangladeshi cities often makes global headlines, thanks to fossil fuel combustion, biomass burning, emissions from unfit vehicles, brick kilns and massive development works.
According to the WHO, air pollution kills an estimated seven million people worldwide every year.
Talking to The Daily Star, Pallavi Pant, senior scientist at Health Effects Institute, said, "Nitrogen dioxide has been linked to asthma and other respiratory effects, and residents in cities, especially those who live close to busy roads can breathe in this pollutant.
"In Bangladesh, not just the residents in Dhaka but also those in other cities, including Sylhet, Khulna and Rajshahi, are getting exposed to poor air. Data and solutions are available today and those can be used to inform and implement air quality actions to clean up the air."
Prof Abdus Salam of Dhaka University's chemistry department said old vehicles and traffic congestion are the key sources of nitrogen dioxide, and it can be checked by using clean energy and allowing only fit vehicles on the roads.
"We know the sources of air pollution and also the solutions. What we need is a specific target and specific programmes to achieve it. But it seems that we are walking in the opposite direction when it comes to curbing air pollution," he added.