Hydroponics grass could be the answer to Kurigram's fodder crisis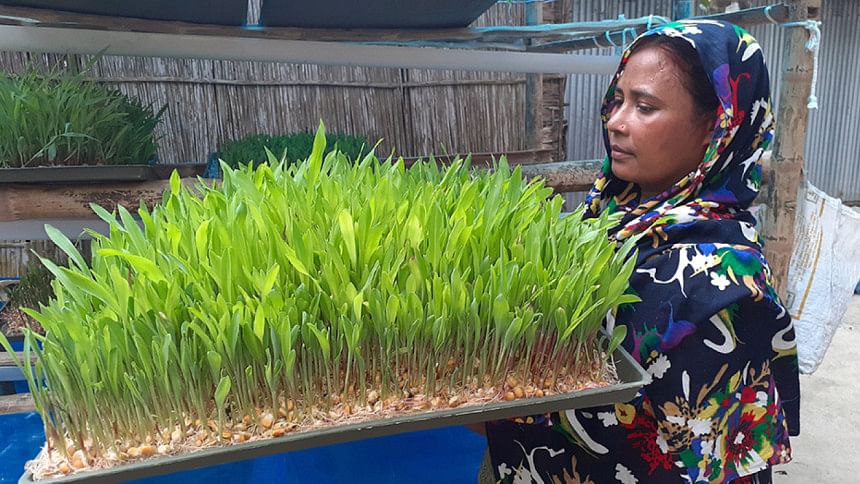 At least twenty women from Kurigram's Sadar, Ulipur, Chilmari and Rajarhat upazilas have been using hydroponics method to grow grass for the last month. Many farmers are also crowding around to see this way of growing grass without soil or land.
Experts are hoping that this could be the solution to a growing fodder crisis in the district and an option for landless farmers who are interested in cultivating grass in this manner.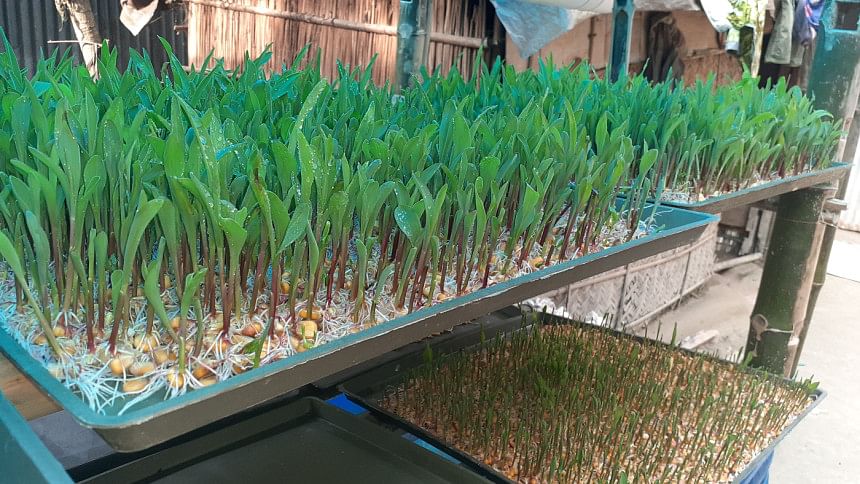 Using the hydroponics method, a farmer can produce one kg grass by spending only Tk 4.5 to Tk 5, said Nahid Hossain, managing partner and CEO of Bangladesh Hydroponic.
Grass produced in this manner is not only nutritious but cows fed with this produce 12 to 15 percent more milk as well, he said.
"Six to seven kg grass is produced from each kg of maize in about eight days using four vertical shelves in a small space. The first two days, the plates are sprayed with water spray and the remaining six days, they are given vitamin Plant Nutrient-A and Plant Nutrient-B spray," Nahid further said.
A 500ml bottle of plant nutrient mixed with thirty litres of water can be used for 24 to 30 days, Nahid said.
Dr Abdul Hai Sarkar, District Livestock Officer in Kurigram told The Daily Star that cattle rearing has increased in the district but grassland has decreased. It is not possible to overcome the fodder crisis without producing grass using hydroponics method, he said.
The cost of grass production in this manner is less than the cost of buying fodder from the market, he said.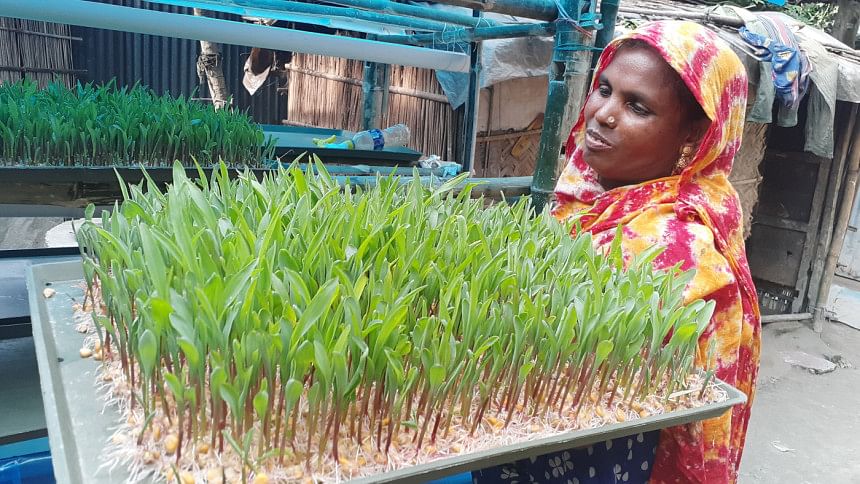 Anowara Begum, wife of flood-hit farmer Rajob Ali from Chakchakarpar village in Ulipur upazila, said she received a three-day training on hydroponics grass cultivation and is now growing grass at her home. She put up four shelves by making a loft measuring 3 feet by 6 feet.
"I put the maize seeds in a plastic tray and leave it for two days and by the end of eight days, grass has grown," she said.
Azina Begum, wife of another flood-hit farmer from Sarkerpara village in the same upazila, said at first, she could not believe that grass can be grown without any soil. "And now people from the village are coming to see me growing grass in this way. Many are also learning the method," she said.
Both her cows now get their fodder from grass grown by Azina herself.
Widowed Rahila Khatun of Saberkuti village in Kurigram's Sadar Upazila, said she is now getting five kg of grass per kg of seed but she is hopeful of getting six to seven kg later.
"Currently, I am feeding the grass produced in this way by mixing it with other fodder to my cows," she said.
The project is being implemented by a non-governmental organisation--Eco Social Development Organization (ESDO)--with the financial support of UNDP and technical assistance from Bangladesh Hydroponic.
Ahmadul Kabir Akon, regional co-ordinator of UNDP's SWAPNO project, told The Daily Star that this is being piloted currently and 20 trained female farmers are participating in this experimental work.
Arun Kumar Adhikari, co-ordinator of SWAPNO project in Kurigram, told The Daily Star that they regularly meet with farmers to learn about their results of hydroponics grass cultivation.