Green activists, civil society members urge govt to cancel forestland reserved for BFF training centre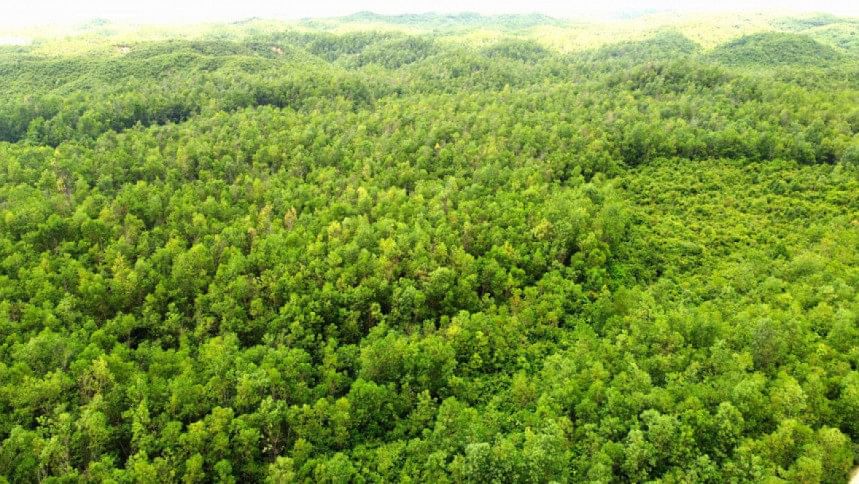 Green activists, environmental rights organisations and civil society members urged the government to cancel the forestland allotted to Bangladesh Football Federation (BFF) in Cox's Bazar's Khuniyapalong reserve forest.
Government has de-reserved 20 acres of reserve forest in Jungle Khuniypalong forest in Ramu upazila of Cox's Bazar which is home to 50 Asian Elephants categorised as critically endangered by IUCN, an international organisation working on nature conservation.
De-reserve is the process via which the special status a forestland enjoys is taken away. Government usually de-reserves forest to hand it over to individuals or organisations.
Syeda Rizwana Hasan, chief executive of Bangladesh Environmental Lawyers Association (BELA) who was part of the discussion said the land was allotted for BFF technical centre disregarding the reservations of Bangladesh Forest Department.
"We would accept it, had there not been any other land for the technical centre. Opening recreation centres in the name of training academy or rest house, guest house in Cox's Bazar's forestland has become an addiction. What will we leave behind for the next generation," she asked.
She also questioned why the technical centre needs to be built on a forestland? Government is custodian. How does the ministry of environment, forest and climate change think that it can give forestland just by signing a piece of paper.
She also inquired how the ministry of land could send a letter to MoEFCC for the forestland while hundreds of thousand acres of khasland are there to be leased out for such training centres.
"This is severe insensitivity. The concern of Forest Department is not heard, what is the use of keeping the department", she asked.
She said as a citizen of this country, people have the right to disagree with the government's development idea and reserves the right to propose alternative development idea.
Rights activist Khushi Kabir from Nijera Kori said the allotment must be cancelled to prove that government cares about the future of the next generation.
Meanwhile Iftekharuzzaman, executive director of Transparency International, Bangladesh said "It's a holy duty to run the state based on legal and constitutional framework. Allotting forestland for silly reasons is a violation of the law and constitution sending a wrong message to the masses…,"he said.
Eminent architect Mubasshar Hussain said increasing forest cover is considered development in other countries.
The organisations present in the press conference include Association for Land Reform and Development (ALRD), Transparency International Bangladesh (TIB), Ain o Salis Kendro, BELA, BAPA, Bangladesh Legal Aid and Services (BLAST), Nijera Kori, Green Cox's Bazar, Youth Environment Society, Cox's Bazar Nagorik Andolon.