Hakaluki Haor: Where poachers roam free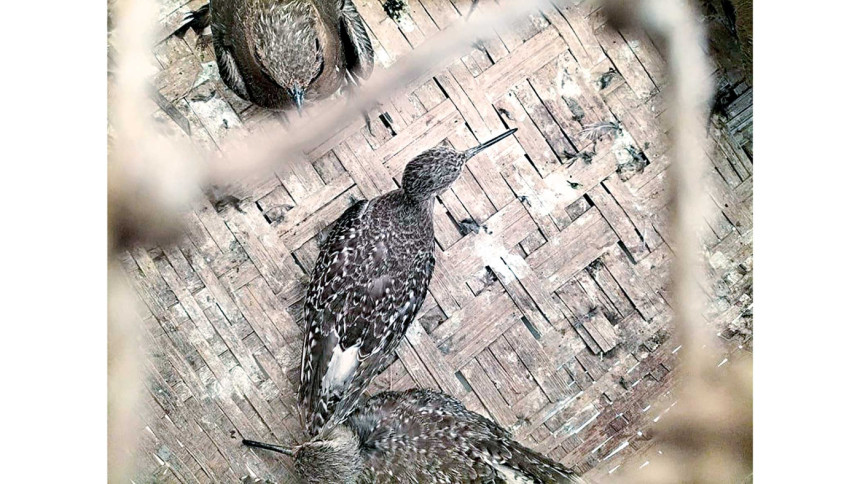 On a November afternoon several weeks back, a middle-aged man, appearing to be a fish vendor, was spotted in Kaminiganj Bazar area of Moulvibazar's Juri upazila.
But after peeking through the net covering of the bamboo basket he was carrying, over a dozen of live migratory birds were found inside, said Saddam Mia, a resident of the area, which is in close proximity to Hakaluki Haor -- one of the country's largest marsh wetlands and an Ecologically Critical Area.
Hakaluki Haor is spread out across Juri, Kulaura and Barlekha upazilas of Moulvibazar, and Golapganj and Fenchuganj upazilas of Sylhet.
Poaching and illegal trade of migratory birds have been on the rise in areas that surround large waterbodies such as Hakaluki Haor, as both poachers and sellers are increasingly adopting innovative and deceptive techniques to catch and sell the birds.
This correspondent came across one such illegal bird seller recently in Kaminiganj Bazar, near the BGB camp. 
In his basket, there were 12 brownish migratory birds with long and sharp beaks, resembling common snipes. Asked, he said he bought them from hunters who caught the birds by setting traps near the haor. He said he had already sold 13 that day. 
The seller left the spot hastily when this correspondent started taking snaps of the birds.
Several poachers as well as locals, requesting anonymity, said migratory birds are quite popular among villagers, and each bird sells between Tk 300 and 500, depending on size.
Bird trader Sadek Mia said a huge number of birds visiting the haors are ensnared every day and sold to locals in surrounding areas.
To attract the birds, the poachers tie down a live wild bird beside a trap in a bush in the haor area and place a digital device that continuously plays previously recorded audio of migratory birds chirping while they wait after nightfall.
By midnight, a good number of the birds are trapped and later taken away by the poachers, Sadek explained.     
Abdul Karim Kim, general secretary of Bangladesh Poribesh Andolon's Sylhet chapter, said various species of migratory birds or wild birds from different parts of the world start arriving at the haor around winter.
The number of birds in and around Hakaluki Haor has been waning in recent times, as an increased number of poachers have been using pesticide-soaked paddy to poison the birds, while many others have been catching them with traps, he added.
A joint bird census -- conducted on February 24 and 25 in 43 beels of the haor -- by International Union for Conservation of Nature and Bangladesh Bird Club counted 24,551 birds belonging to 48 species.
In 2020, the bird count was nearly double -- 40,126 birds belonging to 53 species.
The nature and biodiversity in the haor area are under serious threat, as hunting and selling of migratory birds have been going on unabated there, primarily due to people's ignorance and greed, acknowledged Rezaul Karim Chowdhury, divisional forest officer of Wildlife Management and Nature Conservation Division in Sylhet.
Illegal wildlife trade amounts to about Tk 10 crore annually in Bangladesh, forcing many of the country's wild animals and birds to go extinct, he also said.