Barbet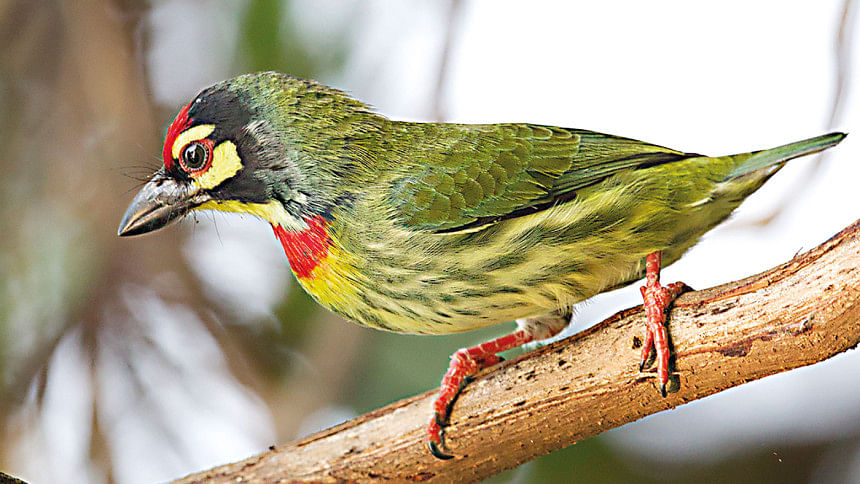 It was hypnotic: a persistent tunk-tunk-tunk sound with a muted texture, like a blacksmith tapping a metal pot with a hammer, its rhythm precise as a metronome. I became aware of this sound outside on a morning several years ago. It was soft enough to blend into the city's background noise but once my ear latched on to it, I couldn't shake it off. Standing in the balcony I tried to pinpoint its location. It was emanating from the grizzled old Koroi tree that stood across the street. I eventually spotted the source: a strikingly colourful sparrow-sized green bird perched on a branch. It had a crimson forehead, yellow and red throat, and bright yellow patches above and below its eyes.
At that time I was just entering the world of birds so it took me a while to identify it: a Coppersmith Barbet. It lives on plant matter, most notably figs of banyan trees, but it will also take moths or flying termites. Excavating nest holes as deep as thirty inches inside trunks, it lays 2-4 eggs. Breeding takes place between November and June. The bird is found in wooded areas, parks, deciduous forests and urban gardens.
Barbets comprise eighty-two species of birds spread over parts of Asia, Africa and South America. They get their name from the bristles that grow around their beak and chin. These colourful birds are related to toucans of South America. The Coppersmith Barbet I saw is one of five barbet species seen in Bangladesh all year. The others are Lineated, Blue-throated, Blue-eared, and Great Barbet.
I have seen the Lineated Barbet in rural areas around Dhaka – for example, Purbachol and Keraniganj -  as well as in our protected forests. Its neck and head are covered by brown and white stripes; the rest of its body is plain green. Bulbous eyes with yellow circles around them and a disproportionately large pink beak give it a goofy, comical appearance.
The Blue-throated Barbet, on the other hand, is elegant with a blue face and neck and red patches on top of its head. I have seen it in our forests, but never in urban areas. The tower at Satchori National Park is a good location to watch for it. Most of the time, its green colour allows it to camouflage effortlessly in the trees, but in spring, it becomes more conspicuous as it looks for a mate.
Our other two barbets are less common. The Blue-eared Barbet, which I saw once in Rema-Kalenga Wildlife Sanctuary, looks a bit more exotic than the Blue-throated Barbet, with a blue throat and three distinct red patches surrounding the ear which is covered by a circle of blue. The Great Barbet, which happens to be the largest barbet in the world, is a multi-coloured bird the size of a crow. It is very rare in Bangladesh and seen only in higher altitude forests of Chittagong Hill Tracts.
Like other fruit-eating birds, barbets help the environment by spreading seeds in the forest. While our barbets are not particularly endangered, they do face loss of habitation as trees and forests are cut down. If you have one or more large trees – particularly banyan or Koroi – nearby. You might keep an eye out for these pretty birds.
facebook.com/ikabirphotographs or follow "ihtishamkabir" on Instagram.