No alternative to adjusting fuel prices every month: Nasrul Hamid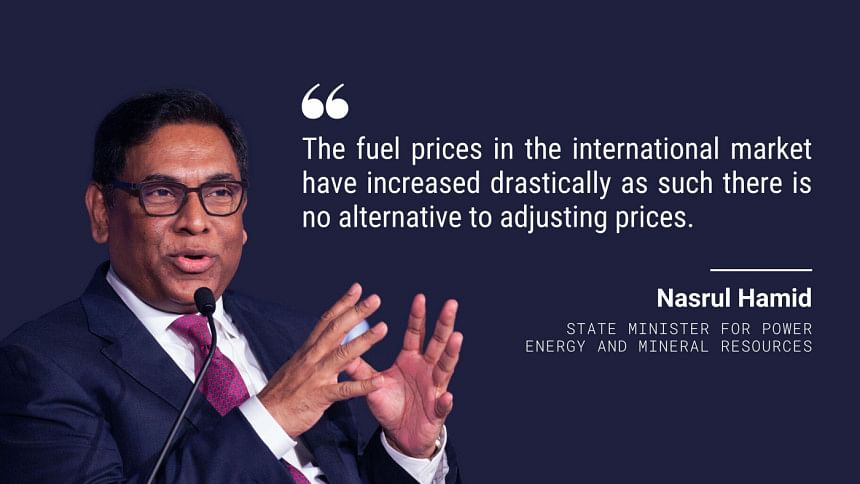 Nasrul Hamid, state minister for power, energy and mineral resources, said electricity prices would be adjusted each month based on worldwide fuel prices.
The state minister spoke to The Daily Star Bangla section's Editor Golam Mortaza after news broke this morning that the government was raising electricity prices.  
When asked whether "adjustment" meant increase in prices, the state minister said, "The fuel prices in the international market have increased drastically as such there is no alternative to adjusting prices."
Earlier this morning, a notice issued by the ministry this morning said electricity prices at the retail and wholesale levels have been increased. The retail prices were increased by 5 percent for the second time in less than a month.
"We will adjust electricity prices every month. For the month of February prices have been increased by eight percent at the wholesale level and five percent at the retail level," the minister told The Daily Star in response to a question about the latest hike in electricity prices.
Pressed further about the issue, he said, "I did not say the price will be increased, I said adjusted. Which means the price may decrease or increase. Basically, the price will be adjusted based on the fuel price in the international market. We will come out of subsidy, that is the main goal."
For the full Bangla interview, go to বিদ্যুৎ ব্যবহার বৃদ্ধির অর্থ তার আয় বাড়ছে: নসরুল হামিদ