New deal signed with Qatar to import up to 1.8 MTPA LNG for 15 yrs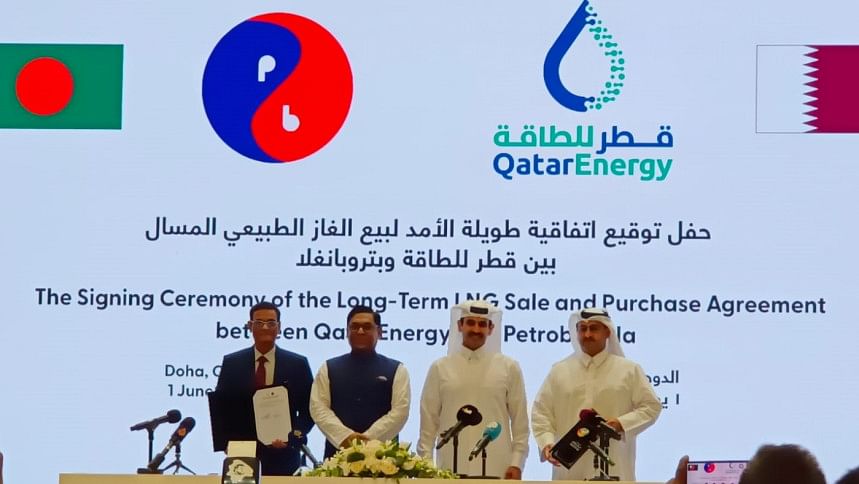 Bangladesh today signed a 15-year agreement with Qatar for importing up to 1.8 million metric tonnes of liquefied natural gas (LNG) per annum (MTPA).
The new LNG Sale and Purchase Agreement (SPA) with Bangladesh Oil, Gas, and Mineral Corporation (Petrobangla) and QatarEnergy's LNG trading arm, QatarEnergy Trading, was signed at QatarEnergy headquarters in Doha.
As per the new deal, Bangladesh will get up to an additional 1.8 MTPA of LNG, which will start in 2026.
Executive Vice President of QatarEnergy Abdulla Ahmad Al-Hussaini and Chairman of Petrobangla Zanendra Nath Sarker signed the deal on behalf of their respective sides.
State Minister for Power, Energy, and Mineral Resources of Bangladesh Nasrul Hamid and Qatari Minister of State for Energy Affairs, and also the President and CEO of QatarEnergy, Saad Sherida Al-Kaabi witnessed the agreement signing.
Bangladesh already has a deal with Qatar which was signed on September 25, 2017, for a 15-year period, providing a supply of 1.8-2.5 MTPA of LNG.
On the occasion, State Minister Nasrul Hamid said, "I believe this support of Qatar will help bolster our fastest-growing economy. The world is facing an energy crisis during this volatile situation of the Russia and Ukraine war. We hope to overcome the upcoming challenges by meeting energy demands."
He expressed his gratitude and thanks to the Emir of Qatar Sheikh Tamim bin Hamad Al Thani and the Prime Minister of Bangladesh Sheikh Hasina for their support to do this great job.
Nasrul Hamid expressed his special appreciation to the Qatari state energy minister for his continuous support in signing the LNG SPA for an additional 1.8 MTPA.
With sincere efforts of the officials from QatarEnergy, Petrobangla, and RPGCL Bangladesh and Qatar successfully signed the long-term agreement in ensuring the LNG, he said.
"This, indeed, is another milestone in the strong bilateral relationship between the two friendly countries having a long bilateral tie based on mutual respect, shared values, common religious ground, culture, and tradition," the state minister added.
Regarding the current scenario of Bangladesh's energy sector, the state minister said, "As the Bangladesh economy grows and per capita income increases, the demand for energy is rising rapidly. The current electricity generation capacity stands at 25,284 MW."
"The government has set a target to generate 40,000 MW of electricity by 2030 and 60,000 MW by 2041. Electricity coverage throughout the country has reached 100 percent. Bangladesh has emerged as one of the fastest-growing economies globally. As a relatively cleaner fuel source, LNG is a priority to meet the increasing energy demand. Importing LNG will help fulfil the national gas grid network established across the country," he added.
In his remarks during the signing ceremony, Minister of State for Energy Affairs and President and CEO of QatarEnergy Saad Sherida al- Kaabi said: "Today, we are proud to be the largest LNG supplier to Bangladesh and Petrobangla by a large margin, delivering more than 3.5 million tons per annum from Qatar to Bangladesh. These supply arrangements reinforce our unwavering dedication to safeguarding the energy security of valued customers like Bangladesh and delivering the reliable energy they require for socio-economic development and prosperity."
He thanked works of both sides for their dedication to reaching this agreement maintaining teams, adding: "I would also like to express our gratitude to His Highness the Amir, Sheikh Tamim bin Hamad Al Thani, for his wise leadership and his continued guidance to and support of the energy sector."
Responding to a question Al-Kabbi said, "Qatar has never ever broken an agreement. Whatever we have made an agreement with Bangladesh we will never break it."
He said with this new SPA, QatarEnergy reaffirms its position as the LNG supplier of choice for its partners in the South Asia LNG markets. Qatar currently delivers more than 3.5 million tonnes per annum of LNG to Bangladesh.
Already Bangladesh has a LNG SPA deal which was signed on September 25, 2017, for a 15-year period, providing a supply of 1.8-2.5 MTPA of LNG. From the start of deliveries on September 9, 2018, until May 31, 2022, Petrobangla has received 11.746 million metric tonnes of LNG through 191 LNG cargoes successfully.