Gas crisis hits Ctg as floating LNG terminals shut in Moheshkhali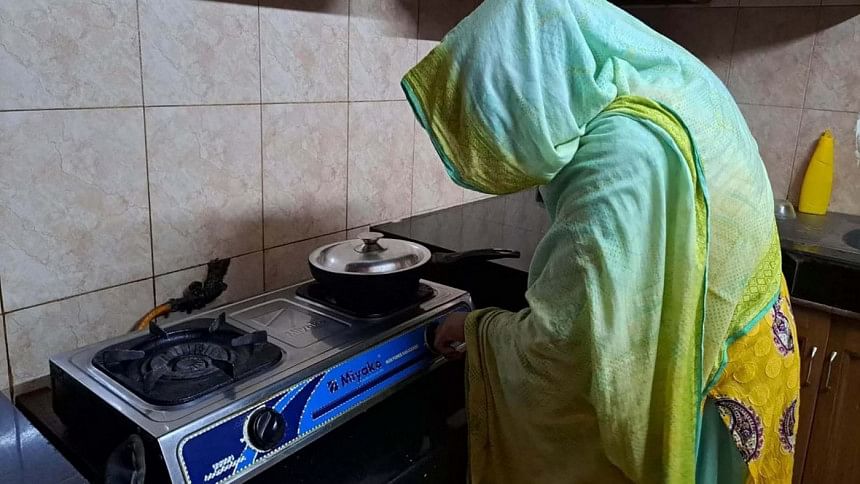 Many households in Chattogram today couldn't light their stoves since morning as the government suspended gas supply from two floating LNG terminals in Moheshkhali since 11:00pm last night due to Cyclone Mocha.
Not only households but also CNG pumps and industrial plants were experiencing disruptions in gas supply.
Gas pressure was also very low in various CNG pumps in the city, reports our Chattogram correspondent.
"When I woke up in the morning, I tried to light the stove but couldn't. I have to prepare food for my three-year-old baby. I don't know what to feed him," said Shuvescha Ghosh, a resident of Askar Dighir Par area in Chattogram.
In Jamal Khan area, at 8:00am, a crowd of people were seen in front of various hotels and restaurants. Everyone came to buy food for breakfast.
One of them, Romel Barua said that since there was no gas in the kitchen stove, his wife was not able to prepare breakfast at home, so he was buying paratha, dal, and tea from the restaurant for everyone in the house.
Sohel Ahmed, a resident of Hem Sen Lane, was buying roti and vegetable curry at Dastgir Hotel on Momin Road.
"I have no idea how the next meals will be prepared at home. No one can tell when the gas supply will resume," he said.
Contacted, Deputy General Manager (Maintenance) of Karnaphuli Gas Distribution Company Limited (KGDCL) Mizanur Rahman said the two floating LNG terminals at Moheshkhali in Cox's Bazar have been shut down since 11:00pm yesterday due to the impending cyclone.
This situation may continue till tomorrow (Sunday) night, he said, adding, "But we are trying to procure some gas from alternative sources to maintain normal gas supply at least to households."
Raees Uddin Ahmed, general manager of Engineering Services Division at KGDCL, told The Daily Star that the total daily demand of gas in Chattogram is 300 mmcf and all of it is supplied from the LNG terminal.
No gas is supplied to Chattogram from the national grid, he said, "But now we are trying to talk to Petrobangla to get some gas from the national grid so that at least the domestic demand can be met."