"We don't want relief materials; we want a dam to prevent erosion"
Say erosion-hit people of Kurigram in a human chain programme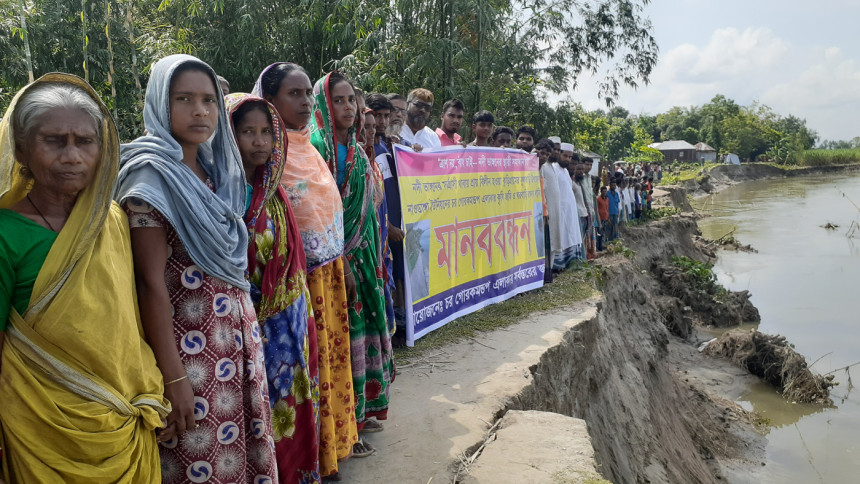 Several hundred people, who were recently affected by erosion of the Dharla river, formed a human chain for an hour on the river bank in Phulbari upazila in Kurigram this (September 11, 2022) noon demanding a dam to prevent erosion.
 There was one slogan on everyone's lips. "We don't want relief materials, we want a dam to prevent erosion. If the dam is built, the erosion by Dharla River will be in check and all of us will survive,' they said.
During the human chain at Gorokamandal area under Naodanga union, erosion hit farmer Aftar Ali (56) said his family consisting of five members were doing well and they did not have much shortage. But two weeks ago, his homestead and three bighas of arable land were washed away by the Dharla River erosion. They are now living on government road.
Aftar Ali also said he cannot afford to buy land and build a homestead.
He said he never thought he would become landless due to the erosion of Dharla River.
"How can we survive? Our homestead, arable land has been washed away by Dharla River. How will I run my family," he said.
Erosion-hit Maleka Begum (46), who took part in the human chain, said the erosion of Dharla River has intensified.
"For the past three weeks, homesteads, arable land, orchards and infrastructure have fallen into the Dharla River due to erosion in Gorokamandal area.
After losing their homestead to the river, she and her family took shelter at their relative's house, said Maleka.
Ayez Uddin, a union parishad member, said many homesteads, about half a kilometer of road and 300 bighas of arable land of this village have been lost to Dharla River erosion.
Now about 300 homesteads, several hundred bighas of arable land, a government primary school, two madrasas, four mosques and a government housing project are under further threat of erosion, he added.
The UP member said "We are in touch with the Water Development Board authorities but are not getting any response."
Abdullah Al Mamun, executive engineer of Kurigram Water Development Board, said the areas affected by erosion have been inspected. A letter has been sent to the higher authority seeking fund allocation to prevent erosion.
Necessary measures will be taken to prevent erosion immediately after getting the allocation, said the official while talking to The Daily Star.