Pirojpur yet to get adequate protection 15 years after Sidr
Fifteen years have gone by since Cyclone Sidr ravaged the coastal belt of Bangladesh. Coastal districts of Pirojpur, Bagerhat, Barishal, Patuakhali, Khulna and Satkhira were among the worst affected.
Sidr is considered among the 10 fiercest cyclones that hit the region of Bangladesh in 131 years between 1876 and 2007.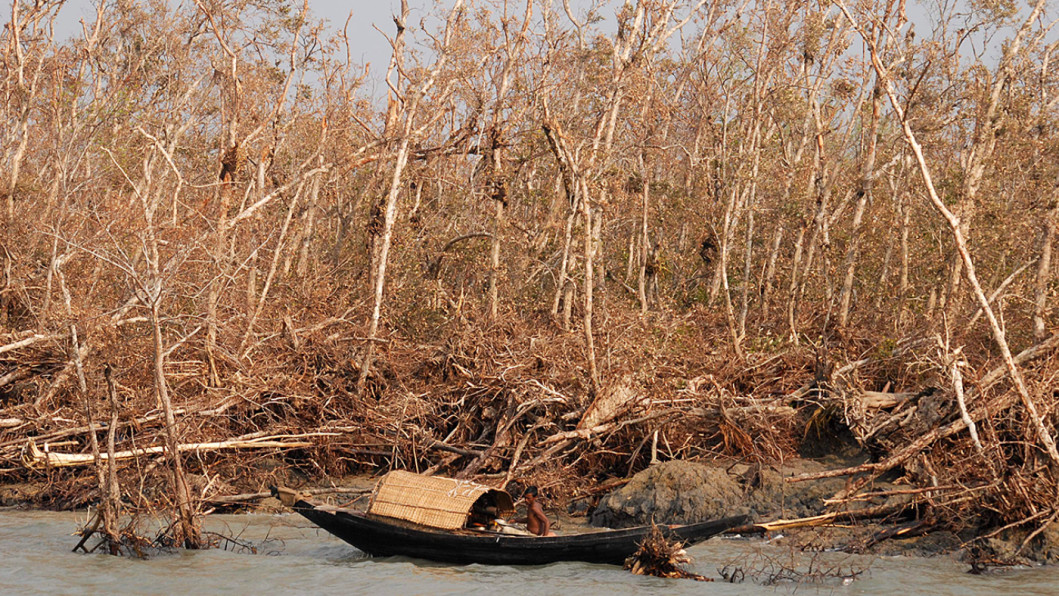 In Pirojpur, locals still carry scars of Sidr's impacts. Making landfall on this day in 2007, Sidr wreaked havoc on their life and livelihoods. Those who lived on the riverbanks were worst- ffected as high tide flooded their homesteads.
A decade and a half later, a visit to the area brought old fears to the forefront.
"It started raining from the afternoon of November 7. The intensity of rain continued to increase as night fell," recalls Md Habibur Rahman Howlader of Togra village, situated by the Kacha river in Pirojpur's Indurkani upazila.
Howlader says most of them did not imagine the cyclone would be so devastating.
"So, many of us did not go to the cyclone shelter," he said.
When heavy wind started to blow and high tide inundated the area, many began to rush to the cyclone shelter. But it was too late by then as water was everywhere, roads were submerged, homesteads inundated and there was little scope to make it to the shelter.
Another local of the same village, Abdus Salam, recounts that on the way to the cyclone shelter he saved six people from drowning.
"Eleven people from our village died in the devastating cyclone," he said.
"As we had no experience of battling anything like Cyclone Sidr before, we did not pay much heed [to it's dangers]," said another local Md Shahidul Islam. Locals say they now make sure to evacuate to cyclone shelters or move to safe places after recieving warnings about cyclones.
Locals, however complained that even though 15 years have passed since the devastating Cyclone Sidr, not enough cyclone shelters or embankments have been constructed in the area to meet their needs.
"Even now our village floods during normal tide," said Rafikul Islam. When cyclone or flood hits the area, they cannot get out of the house as the whole area floods.
"If there are embankments everywhere, we could be saved from the flood," Rafikul says.
Even though some embankments have been constructed in their village, Rafikul complained that they are of very poor quality and not high enough.
"There is only one cyclone shelter in our village and it is not enough to accommodate the nearly 1,000 families that have to rely on the shelter," said another local Abdur Rahman.
Md Karuzzaman Talukder alias Shawan, union parishad chairman of Parerhat union of Pirojpur's Indurkani upazila, said his union is on the bank of the Kacha river.
"But there aren't enough cyclone shelters," he said. He contacted the authority concerned several times but there has been no progress in this case.
Mahbube Moula Md Mehedy Hasan, executive engineer of Water Development Board (WDB) in Pirojpur, said they have submitted four development project proposals (DPP) with the higher authority for constructing an embankment.
"If the DPPs are passed, around 20 kilometres of riverbank protection dam will be constructed.
"We are trying to make 144km of embankment by giving the highest priority, especially the most vulnerable portion from Indurkani to Hulerhat beside the Kacha river," says Mahbube Moula.