Floods over, not the struggles
Having lost homes and crops, Sunamganj villagers suffer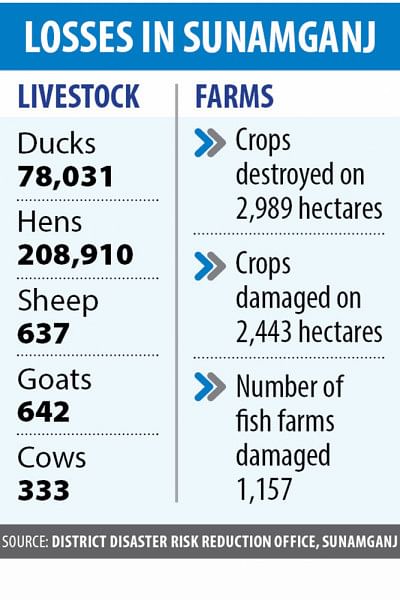 It has been around a month since flood waters began receding across Sylhet division.
However, people there are still suffering.
"My house was just there…" Rowshan Ara Begum pointed towards what is now all river waters.
Her homestead, on an embankment by the Khasiamara river, was washed away due to flash floods and erosion on June 17.
Rowshan, aged around 50, along with many homeless villagers of Zirgaon, rushed to the riverbank upon hearing that people from Dhaka were on their way to the village with help.
Zirgaon is located at the foot of the Khasi hill, near the river, in Laxmipur union of Sunamganj's Dowarabazar upazila.
"Now, there is no sign that a house once stood there," she said.
Describing the night she lost her home, she said, "I was awakened around 1:00am by my neighbour who was trying to alert me to an onrush of flood water.
"I rushed out of the house with my youngest son – eight-year-old Zaber. But the current was so strong that we were pushed into a lemon bush and then a bamboo grove."
The water increased so fast that it began flowing at neck level within minutes. Rowshan, with her son in one arm, used the other to grab onto a bamboo stick.
They had to wait there like that for a few hours.
"Two neighbours carrying torches noticed and rescued us. I don't even know how much time had passed by then."
The next day, everything Rowshan owned was already under water.
She and her family of four are now living with their relatives.
After record-breaking rainfall in Meghalaya, water from the upstream caused fierce currents in the Khasiamara river, resulting in the destruction of embankments and homes.
Visiting the village, this correspondent found that people of at least 19 villages, who used to live on the riverbanks, have lost their homes to erosion.
At least 700-800 houses of the union were completely damaged in the consequent floods, authorities concerned said.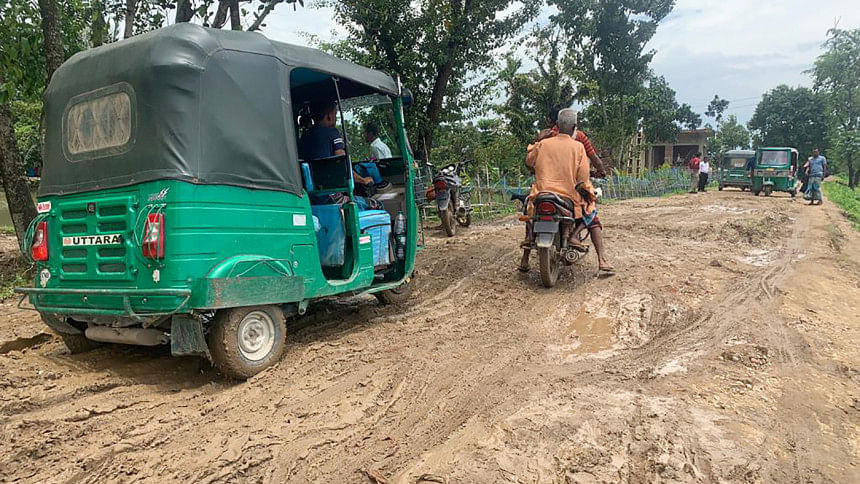 Most of the families of the village, who depend on farming, have lost their paddy and seeds.
Arable lands have been covered in sand after the recession of water, and for this,  farmers will find it difficult to grow rice in the coming seasons.
Fazlul Haq, a farmer, said he cultivated Aus before the flood hit the village.
"We have around 120 decimals of land. Last year, I was able to harvest 32 maunds of rice. But this year, the flood destroyed all my crops."
Zahirul Haq, chairman of the union, said that out of 24 villages there, 21 were completely submerged under four to five feet water.
Arable lands were the worst affected.
"A few thousand acres [of arable land], where people grew paddy just last year, now look like a desert," he said.
The livelihoods of hundreds have been washed away in the floods, and there is no guarantee when the farmers will be able to farm again, authorities said.
A total of 32,000 people live in 24 villages of the union.
Most of them are now dependent on government relief as they have lost all their grains and belongings.
Zahirul further said, "I have so far distributed eight tonnes of rice among the villagers. But they need more assistance for rebuilding their houses and also for livelihood support."
The road from Dowarabazar to Boglabazar in the union is too damaged for vehicles to pass through. Only CNG-run three-wheelers and motorbikes can manage to navigate it. 
Recently, the Sunamganj district administration conducted a damage assessment in 11 upazilas. They estimated Tk 1,708.68 crore worth of destruction due to the floods till July 6.
Zahangir Hossain, Sunamganj's deputy commissioner, said they have listed 58,000 farmers in the district who are to get 20kg fertiliser and 20kg seeds each to help start cultivation once the lands are ready.
Those who have lost their homes will get corrugated tin and cash so they can repair their houses.
"We are already in the process of the first phase of distribution."
Arif Abdullah Khan, programme specialist of Disaster Resilience of the UNDP, who recently visited the flood-affected areas in Sunamganj, said this flood has left a multi-sectoral impact.
"We need a comprehensive assessment and coordinated recovery plan with short- and long-term approaches, along with financial strategies … We also need special focus on repairing damaged houses and infrastructure."