Floods in northeast: Crops damaged, fish farms washed away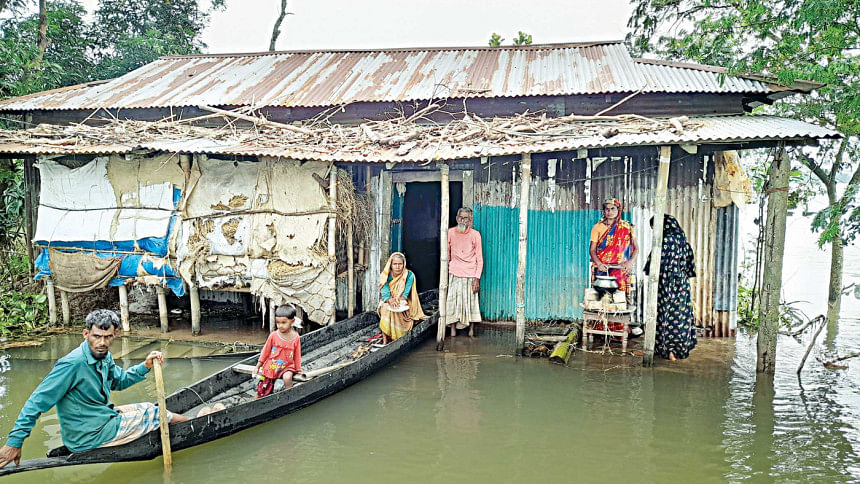 With rivers in Sylhet and Sunamganj still flowing above the danger level, fisheries and crop farms have been bearing the brunt.
Thousands of fish farmers have lost their fish, while hundreds of farmers lost their crops.
At least 8,772 fisheries, including ponds and hatcheries, have been washed away, while 2,534 hectares of Boro are also under water.
On top of these losses, 1,674 hectares of Aush were completely damaged, along with 1,541 hectares of vegetables and 75 hectares of peanuts.
Monowara Begum of Azampur village in Dowarabzar upazila in Sunamganj said, "I spent Tk 20,000 on peanut farming after taking a loan from an NGO. Now all the peanuts are damaged in the floods and I don't know how to repay the loan."
For Shafiqul Islam in Shaktiarkhola of Sunamganj's Bishwambarpur upazila, it's a double blow. "My Boro harvest has been damaged in the floods, while the fish in my pond has washed away. Now I have nothing left."
In Sylhet district, 8,322 fisheries are currently submerged in 11 upazilas. The fish farmers are fearing losses worth Tk 674 crore.
Md Abul Kalam Azad, district fisheries officer in Sylhet, said, "Fish farmers in Zakiganj, Gowainghat and Biswanath upazilas have been suffering the most. We are now expecting huge losses, which are increasing over time."
The damage to fisheries is relatively less in Sunamganj.
After a blow to the Boro harvest due to flash floods last month, a fresh blow hit the farmers just a couple of days away from harvesting the crop.
In Sylhet, 1,704 hectares of Boro were flooded, while in Sunamganj, it was 829 hectares.
Aush growers have also been facing losses as 1,600 hectares were damaged in Sylhet, along with 72 hectares of saplings and 20 hectares of freshly cultivated paddy in Sunamganj.
Meanwhile, the water levels in the Surma and the Kushiyara receded but were still  above the danger marks.
The Surma was flowing at 83cm above the danger level at Kanaighat point in Sylhet at 3:00pm, after going 15cm down on Friday.
At the same time, it was flowing at 17cm above the danger level (21cm down from Friday) at Sylhet city point and 1cm above the danger level at Sunamganj town point (15cm reduced from Friday).
The Kushiyara was flowing at 151cm above the danger level (18cm lower than Friday) in Sylhet's Zakiganj upazila's Amolshid point and 54cm above the danger level (4cm lower than Friday) at Beanibazar upazila's Sheola point.
The Someshwari in Netrakona's Kalmakanda at the same time was flowing 15cm above the danger level.
Meanwhile, the water of the Jamuna in Manikganj's Aricha point has increased 34cm in the last 24 hours and was flowing 250cm below the danger level at 3:00pm yesterday, said Faruk Hossain of Water Development Board in Manikganj.