Floods in northeast: Cries for relief intensify
Water levels slightly reduce in the Surma and Kushiyara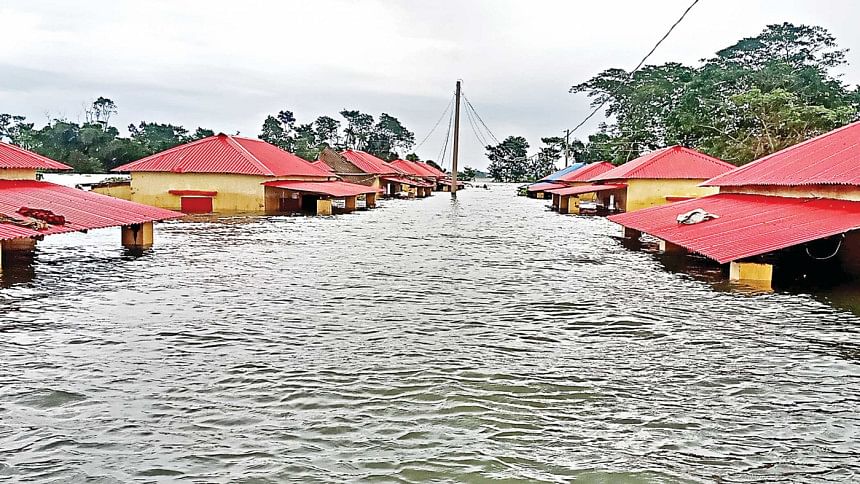 With the weather forecast indicating deterioration of the flood situation in the north-eastern region, the demand for relief is increasing in the affected areas of Sylhet and Sunamganj.
The flood victims say they are facing difficulties in getting relief materials as those reach them after exchanging several hands. Some of them say they have not received any relief.
"For the last three days, we are marooned. Whenever we see a boat approaching our village, we rush to get relief materials. But we are yet to receive any government relief," said Sazzad Miah, of Narshingpur village in Sunamganj's Dowarabazar upazila.
Jashim Miah, of Lalpur village in Sunamganj Sadar upazila, said, "As the overflowing Surma inundated our house, we are in dire need of food and freshwater."
Contacted, Abdus Sahid, chairman of Dowarabazar Sadar union, said after distributing relief among the people at flood shelters, they do not have sufficient stock to distribute among the affected villagers.
The chairman added that he sought more relief goods from the upazila administration.
According to the District Relief and Rehabilitation Office in Sunamganj, 140 tonnes of rice, 2,000 sacks of food and Tk 12 lakh has been allotted and sent to five flood-hit upazilas as of yesterday afternoon.
Shafiqul Islam, the district relief and rehabilitation officer, said, "We send the allotted relief goods to the upazila administrations that hand these over to union parishad chairmen. Union parishad members then distribute the materials."
"Relief materials will reach everyone as the distribution channel is working ... ," he said, adding that 17 flood shelters in the five upazilas are now occupied.
Relief distribution in Sylhet is not going smoothly. All 13 upazilas of the district are hit by floods.
A total of 305 tonnes of rice, 3,205 sacks of food and Tk 15 lakh have been allocated in the district.
Flood victims have taken shelter in 95 centres, said Nurul Islam, the district relief and rehabilitation officer.
Faruque Mahmud Chowdhury, president of Shushashoner Jonno Nagorik (Shujan), Sylhet chapter, said, "For such a disaster, we have a ministry that must have a plan to handle the situation. But we have observed that it is always tainted by corruption."
"We demand transparency be ensured in relief distribution and the flood-affected areas be declared "distressed" areas," he said.
In another development, a portion of a levee on the bank of the Kushiyara broke right at the estuary of the Barak, the Surma and the Kushiyara in Amolshid area in Sylhet's Zakiganj upazila early yesterday.
Mahfuzur Rahman Bhuiyan, assistant engineer of Water Development Board in Zakiganj, said nearly 30 metres of the river protection dam was damaged due to strong currents in the Surma and the Kushiyara.
However, water level of the two rivers slightly went down at a few points in the 24 hours prior to 3:00pm yesterday, said the Flood Forecasting and Warning Centre (FFWC).
In its yesterday's report, the FFWC stated that the flood situation might improve in Sylhet district in next 24 hours from this morning, but some other rivers in Sunamganj, Netrakona and Habiganj might be flowing above the danger level.