Floods displaced 5 lakh people in the northeast
Study finds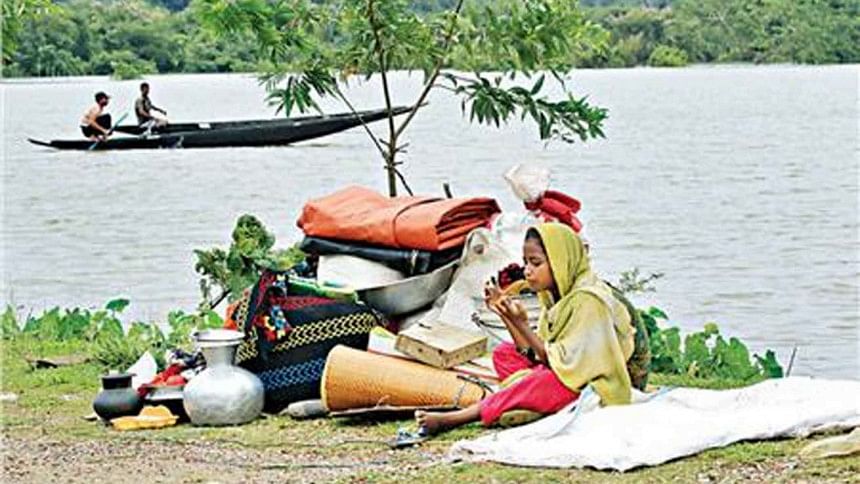 Nearly five lakh people have faced temporary displacement during recent floods in Sylhet, Sunamganj, and seven other northeastern districts, said a report by a platform for government and non-government humanitarian agencies.
The devastating flash floods affected about 72 lakh people, damaged crops on over 83,000 hectares, and washed away 4,056 farm animals, said the Needs Assessment Working Group (NAWG).
The report titled, North Eastern Flash Flood, May-June 2022: Key Immediate Needs and Situation Analysis, said the internally displaced population were in need of immediate food, water and cash support.
Animal fodder and emergency livelihood support is required for those who are not able to engage in income-generating activities, it added.
Safe drinking water, disinfection of water sources and emergency repair or replacement of latrines and tube-wells are needed to avoid an outbreak of water-borne diseases, it said.
Besides Sylhet and Sunamganj, the assessment report covered Habiganj, Moulvibazar, Brahmanbaria, Kishoreganj, Sherpur, Mymensingh and Netrakona districts.
On May 18, flash floods damaged mostly crops and food storages while on June 17 and the following days, floods washed away homes and cattle and the remaining food storages.
The recent floods caused by heavy rains in the northeastern region and upstream Indian states of Assam and Meghalaya inundated 72 percent area of Sylhet division, including 89 percent of Sunamganj.
Abdus Salam, a farmer in Dakkhin Bardal village of Tahirpur, Sunamganj, told this correspondent that his paddy fields, ready for harvesting, went under water in May while the latest flood damaged everything he had.
"It made me homeless and penniless. My house and cattle were washed away. I have never seen such a devastating flood in my life," the 65-year-old farmer said.
Abdul Manan, a 55-year-old of Laki village in Gowainghat, Sylhet, said, "I have lost everything in the floods this year. I don't know how I will survive."
Kaiser Rejve, co-chair of NAWG, said the damage caused by the latest round of floods will be very high.
"What we are estimating now is a primary assessment. It will take a few more days to find out the exact extent of damage. There will be dire long-term consequences of the flood," Rejve observed.
As the water recedes, waterborne diseases are likely to break out, causing the people to suffer even more.
In many affected areas, a trail of devastation has been revealed after the waters receded, the report said.
NAWG in its previous report said that the flood in May impacted around 12 lakh people in the region and caused a loss of 78 percent of the food stock.
Contacted, Atiqul Huq, director general of the Department of Disaster Management, said the loss from this month's flood could be colossal.
"I cannot tell you exactly how devastating the impact of the latest flood will be on the livelihood because the water has not completely receded everywhere. We are collecting information and it will take some time," he said.
The DG said special attention is being given to the flood-affected areas, especially areas in Sylhet, Sunamganj and Netrakona.
"We will take short and long-term programmes after completing the assessment on all the 17 flood-affected districts," he added.