As flood worsens, many parts of Sylhet, Sunamganj without electricity
People in Sylhet and Sunamganj have been experiencing a power outage since yesterday (June 16, 2022) following heavy floods caused by upstream water and heavy rainfall in the districts.
According to the Power Development Board in Sylhet divisional office, at least 1.8 lakh consumers are without electricity in different upazilas of Sylhet and Sunamganj, including Sadar upazila of Sylhet, South Surma and Chhatak upazilas of Sunamganj, and Sylhet metropolis and its surrounding areas.
Meanwhile, at least 82,000 customers in some upazilas, including the flood-ravaged Gowainghat and Companiganj in Sylhet under Palli Bidyut Samity, are without electricity.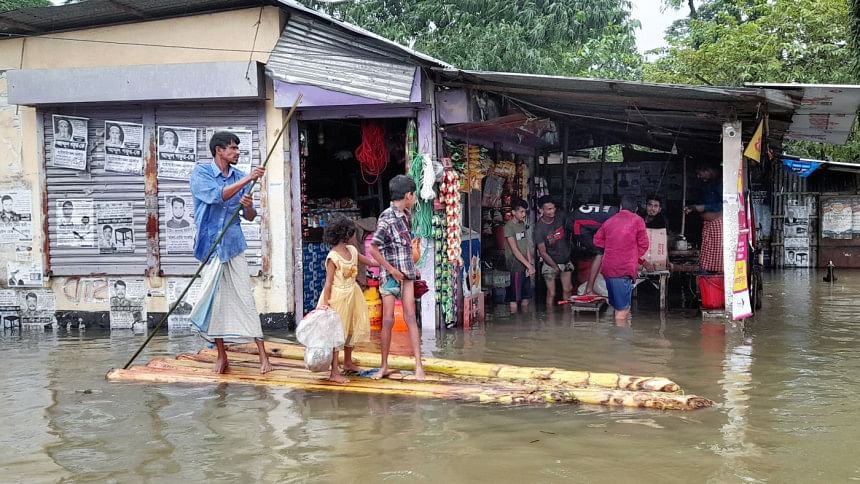 Residents in almost all upazilas in Sunamganj under Palli Bidyut Samity are without electricity, according to the Palli Bidyut Samity office.
Md Arafat-al-Majid Bhuiyan, sub-divisional engineer of Power Development Board in Sylhet told The Daily Star that the power supply in Sylhet and Sunamganj districts has been severely affected by the floods. Large areas of the two districts are now without electricity.
He also said the rest of the areas of the district, including Sylhet city, may be cut off from electricity connection any time as the water at Kumargaon power plant, on the outskirts of Sylhet city, is increasing.
Heavy flooding in Sylhet and Sunamganj has left several lakh people marooned.
Sylhet district's Gowainghat, Kanaighat, Companiganj, Jaintapur, and Sylhet Sadar upazilas are the most affected along with parts of Sylhet city that lies beside the Surma river.
Sunamganj town is among the worst hit as almost all areas in the town have been flooded along with low-lying areas of Chhatak, Dowarabazar, Sunamganj Sadar, Bishwambarpur and Tahirpur upazilas.
According to the Flood Forecasting and Warning Center, at 9 am today (June 17, 2022), the Surma river water is flowing 108 cm above the danger level at Kanaighat point in Sylhet, 70 cm above the Sylhet city point and 120 cm above the Sunamganj town point.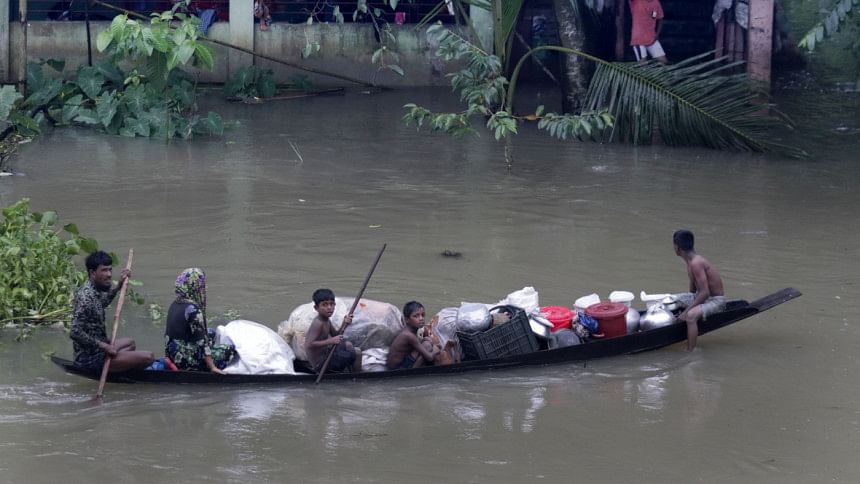 The Sarigowain river is flowing 23 cm above the danger level at Sarighat in Jaintapur upazila of Sylhet while Puratan Surma river is flowing 2 cm above the danger level at Dirai in Sunamganj.