Fallout from floods: After rice, vegetables slipping out of reach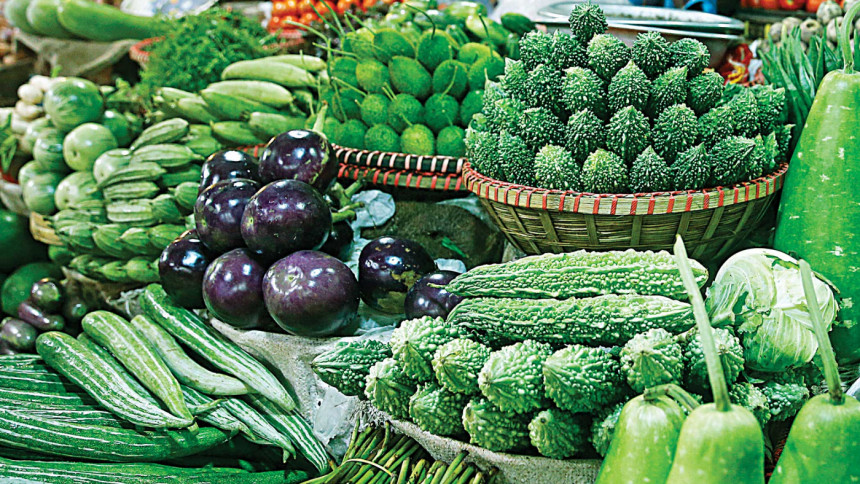 City dwellers are suffering as vegetable prices at kitchen markets across the capital have doubled in the fallout from the worst flood in the country since 2004.
According to the agriculture ministry, around 2,54,251 hectares of croplands have so far been damaged.
The floods came at a time when the Boro rice had already been harvested and farmers had planted vegetables.
This hike in vegetable prices comes as a double blow to consumers while the food inflation is at its highest in the last eight years, according to the Bangladesh Bureau of Statistics.
This means that prices that were already at their highest have gone higher.
Our correspondents visited the kitchen markets of Shewrapara, Kazipara, Senpara and the wholesale markets of Karwan Bazar, and found that green chilli was being sold at Tk 120, two times the price last week.
Similarly, the prices of leafy greens have also doubled.
Palong shaak (a spinach variant) now costs Tk 25 – double of what it used to. Prices of other spinach variants, like laal shaak (red spinach), have also gone up by 50 percent.
A whole 20 taka increase per kilogram was stamped upon the price tags of summer vegetables like bitter melons, long beans, eggplants, okras and luffas.
Potatoes are fondly called the "poor man's vegetable" because of their affordability.
In middle-class kitchens, it is a practice as old as time to add potatoes in dishes to bulk up the meal without compromising on affordability.
The price of this poor man's vegetable has also increased from Tk 25 to Tk 35-40.
With the import of onions being at a stalemate for the last two and a half months, locally produced onions were already being sold at Tk 36 wholesale and Tk 45 at retail.
At the retail end, this has gone up by Tk 15 in just one week.
In May, food inflation had rocketed to 8.3 percent -- an increase of more than two percentage points from April's 6.23, and also the highest since May 2014.
This was led by increased prices of wheat, pulses, fish, beef, and cooking oil prices.
In the kitchen market near the Shewrapara bus stand, a vegetable seller named Mamun, popularly called "Vegetable Mamun", said his customers are coping with the rising prices by buying everything in fewer amounts.
"Very few people are buying a whole kilogram of vegetables now."
His is the only shop in the vicinity that is stocking up on tomatoes.
Being a winter vegetable, tomatoes are now sold at Tk 250 per kg.
Mamun's shop has a measly five kgs of it. He says those are for his "richer customers".
"Tomatoes will be out of market in a few days," he added.
If vegetables are out of reach, fish is even more so. As "ghers" or aquaculture projects have been washed away by the floods, the farmed fish supply in the market has dwindled.
This has put pressure on the existing supply of fish, including the river- or sea-caught varieties.
Not a single type of fish can be found for less than Tk 500 per kg -- putting this essential protein out of the reach of those whose wallets are stretched thin.
The story does not end.
There are fears that these prices will increase further as a fuel price hike is on the books.
Economists fear this would have a clear effect on market prices due to a rise in transport costs.