Ratnai Bridge
A disaster waiting to happen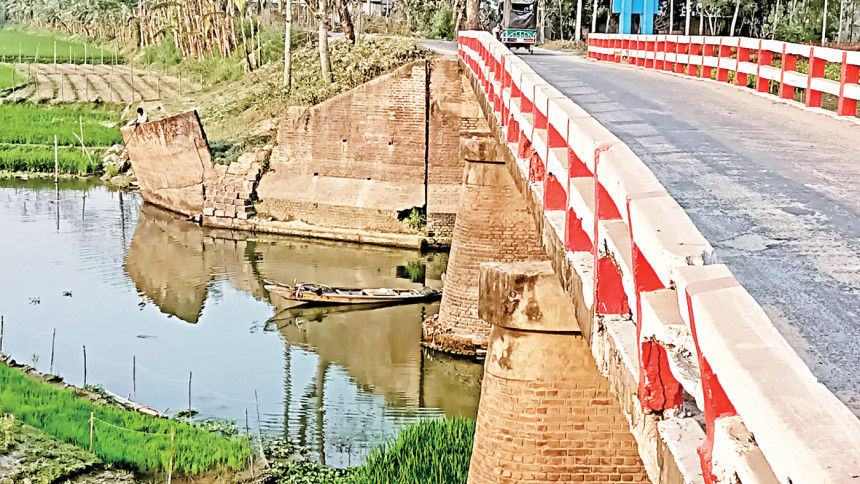 The Ratnai Bridge on Lalmonirhat-Mughalhat road in Durakuti area of Sadar upazila has turned risky as it has tilted on the west end.
The bridge over the Ratnai river may collapse at any time and cause major accidents.
Locals said the bridge has been lying in a precarious condition for long and there have been no visible steps from the Roads and Highways Department (RHD) yet. Two years ago, the 20-kilometre stretch of the road was widened and revamped spending Tk 28 crore.
But the risky bridge was not repaired or replaced with a new one to facilitate the movement of heavy vehicles. Currently the road is off limit to heavy vehicles.
Shaha Alam, a businessman from Mogholhat area, said as trucks cannot cross the bridge they have to bring goods on light vehicles increasing the transportation costs.
Chairman of Mogholhat Union Parishad Habibur Rahman said that Ratnai Bridge is very old. It should have been declared abandoned long ago. The pillars of the bridge are now in grave danger.
The authorities concerned have been contacted on several times but no solution has been found so far, said the chairman.
Khalid Saifullah Sardar, executive engineer of RHD in Lalmonirhat, said they have got the approval and funding for the construction of a new bridge over the river at Durakuti point.
The construction work of the new bridge will start by September this year, he added.