Activists vow to pursue move against Rampal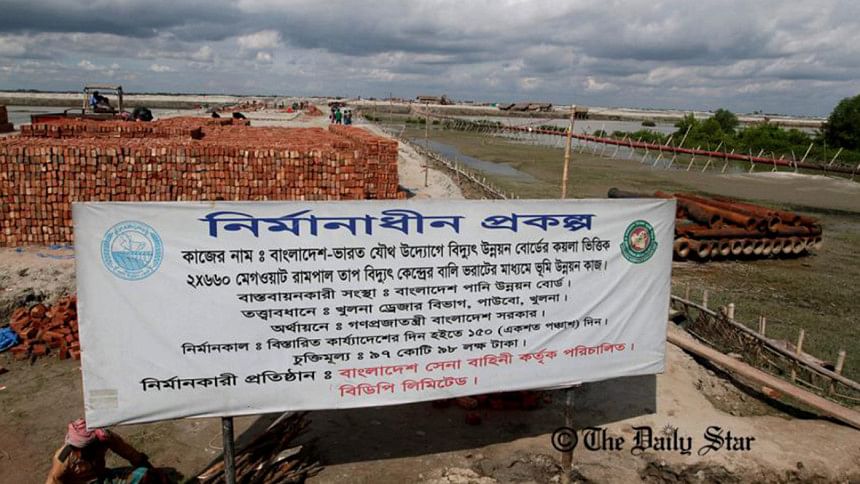 Activists parading to save the Sundarbans today vowed to continue their movement against Rampal coal-fired power plant near the world's largest mangrove forest.
National Committee to Protect Oil, Gas, Mineral Resources, Power and Ports made the declaration today and hoped that it will get sharper and popular along the way.
"The movement will continue until the interest of the people is protected," said Sheikh Muhammad Shahidullah, convener of the committee, in a press conference.
The press briefing, held in Dhaka, came days after Prime Minister Sheikh Hasina reaffirmed her resolve to go ahead with Rampal and came down heavily on protesters.
READ MORE: Sundarbans to stay safe, PM says
Reading out a statement, Prof Anu Muhammad, member secretary of the committee, said pollution of land, water and air of the Sundarbans is unavoidable with Rampal.
The committee also ruled out any affiliation with BNP in the future – referring to BNP's support in the movement against Rampal power plant.
When asked whether the committee would agree to sit with the prime minister, Anu Muhammad said they are willing if the government considers scrapping the project.
A Bangladesh-India joint venture company signed an agreement with India's state-run Bharat Heavy Electricals Ltd on July 12, paving the way for construction of the much-debated power plant.
The construction is set to start within three to four months and the plant is scheduled to go into commercial production by July 2019.
Environmentalists have been up in arms about the power plant because of its proximity to the Sundarbans, the world's largest mangrove forest and a Unesco World Heritage Site.