Watching myself on screen often bores me: Siam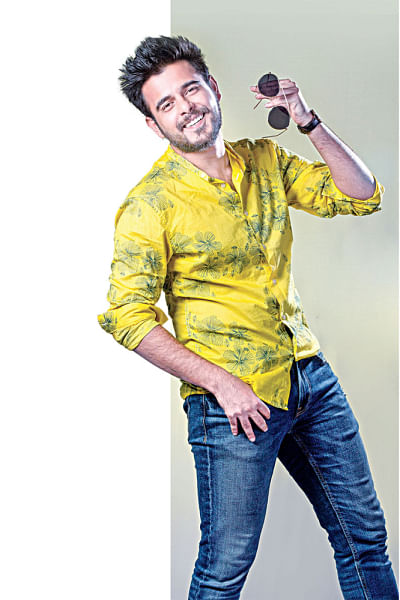 Over the years, celebrated actor Siam Ahmed has garnered his career with a multitude of hit films. In a short span of time, his unparalleled performances and charm won over audiences. In a recent conversation, Siam gets candid about his expectations, upcoming releases, and more.
"Bishwoshundori" was widely appreciated, with 115 days of screening during the pandemic. Did you expect such a response?
Absolutely not! We are grateful to the audience for it, especially at a time when people were not confident about going out to theatres for watching movies with their families and loved ones.
You are starring in 6 of the many big-budget films that are up for release.  Are you expecting a tough fight from your competitors at the box office?
Not really. We are all colleagues. I am as excited for their films as I am for my own. I believe that if we support each other, the audience will support our good work and industry. I have wrapped up the dubbing for "Mridha Bonam Mridha" so far.  Rest of the films, "Operation Sundarban", "Adventure of Sundarban", "Shaan", and "Paap Punno" are on the waiting list. Some of the post production are yet to be finished, while "Ontorjaal" is still being shot. We have our fingers crossed for the audience's response.
You made your OTT debut with "Morichika".  How was the experience?
OTT platforms are a dynamic zone, where we have much more to offer to the audience. Yet, I believe the big screen experience will always stand out. Although my schedules are booked until March, I look forward to challenging stories on OTT platforms.
How would you critique yourself as an actor?
Watching myself on screen often bores me. Usually, I feel that I should have put in a bit more effort, or convinced the director to let me do a scene in a different way. My best is yet to come!
Recently, Shapla Media's owner Selim Khan called you a 'superstar' and said that your future is bright. Any comments on that?
Well, I think I do not deserve such a huge title yet! However, if he really meant it and watched my work, I am grateful. That being said, I don't want to be in any sort of controversy, where my senior colleagues will be disrespected. I request everyone to keep this in mind.
You are starring in Raihan Rafi's film "Rasta" where you were given a remuneration of BDT 1001. We want to know the story behind this.
It is just an auspicious beginning. I have worked in two back to back films with Rafi. He is more than a brother to me. In fact, I am excited to work with the team once again. It is about a current issue, with a heavy, drama-based plot. We are still working on the script. We hope to begin the shoot from January.