'She doesn't know how to act, they said'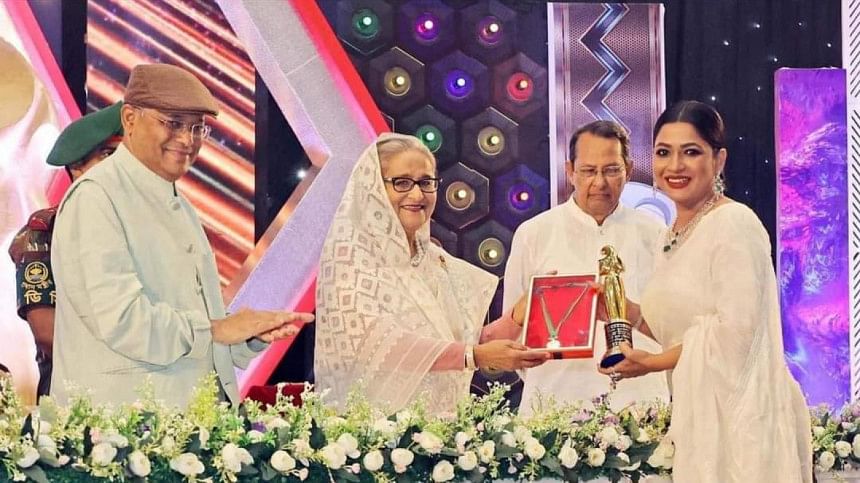 Actress Azmeri Haque Badhan recently won the National Film Award for the first time in her career. She jointly received the 'Best Actress' award for her performance in "Rehana Maryam Noor". 
In a candid interview with The Daily Star, Badhan shared her feelings on the day of the National Film Awards, what her one and only daughter thought about her milestone and a time when some of her colleagues doubted her ability.
How were you feeling on the morning of the National Film Awards ceremony?
I was extremely restless since that morning. It's hard to explain, but I was feeling a little different. Those organising the event were calling me so that I would be at the venue by 1 pm. I was feeling a little nervous at that moment, but I can't tell you why I felt that way.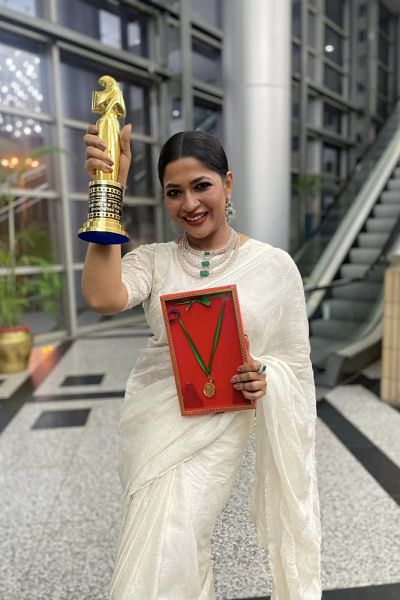 Did you get to talk with the Prime Minister on the day you received the award?
There was not a lot of time to talk during the event. We did get some time when all of the awardees took a photo with the Prime Minister. It was then that I requested her to watch "Rehana Maryam Noor". I told her that while she might not have heard much about the film, that she might really enjoy it once she watches it. I also requested the Minister of Information and Broadcasting to arrange a screening of the film for the Prime Minister. She told me that she wants to watch our film, so this was a wonderful moment for me.
What did your daughter have to say about you receiving this award?
My daughter was overjoyed! She loved that everyone was wishing her mother. My daughter is now 12, so she will remember all of this. My daughter is very astute about who likes her and who doesn't. She even understood when I was interacting with people who dislike me.
Do you still feel the character of "Rehana Maryam Noor" is somewhere inside of you even after all this time?
A few days ago, during a screening of the film, I was breathing with every breath that Rehana was taking in the movie. I once again went through all the journeys that Rehana endured. I still feel the same level of emotions whenever I watch the film.
While I am sure you were happy to have won the award, did you remember any of the insults and disrespect that you encountered on your long journey in acting?
Many of my colleagues, directors and producers, along with many others, have said that "she doesn't understand acting". These words only felt momentary at that time. I have received the Asia Pacific Screen Award for 'Best Actress'. Only Manoj Bajpayee, Nawazuddin Siddiqui and a few others have received this prestigious award from India. When I received the Asia Pacific Screen Award, I had replied to the insults. It took me a lot of hard work, and honesty to go through that journey. So, now I don't remember all of these insults anymore.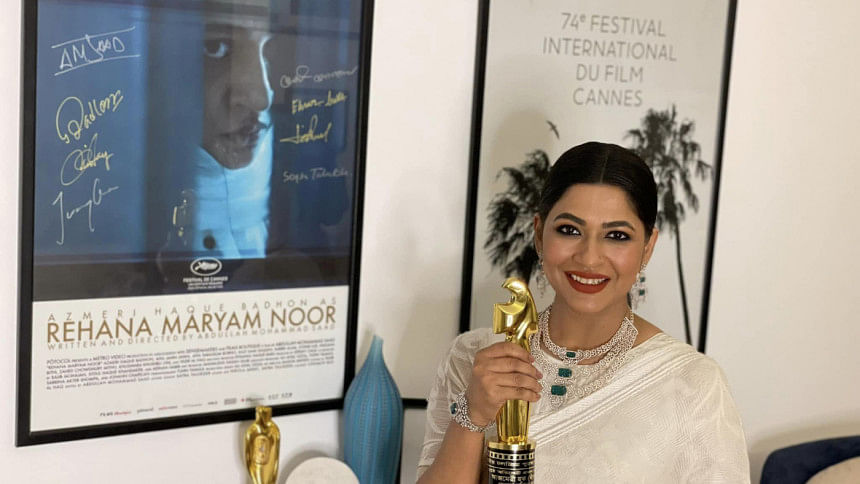 Is there anything else you want to say about the National Film Awards?
I am honoured and delighted to have received the 'Best Actress' award. But my heart is filled with sadness, because I thought we would receive even more honours in other categories in the National Film Awards. So, I am sad and ashamed.