Shakib unveils another new look with second 'Priyotoma' poster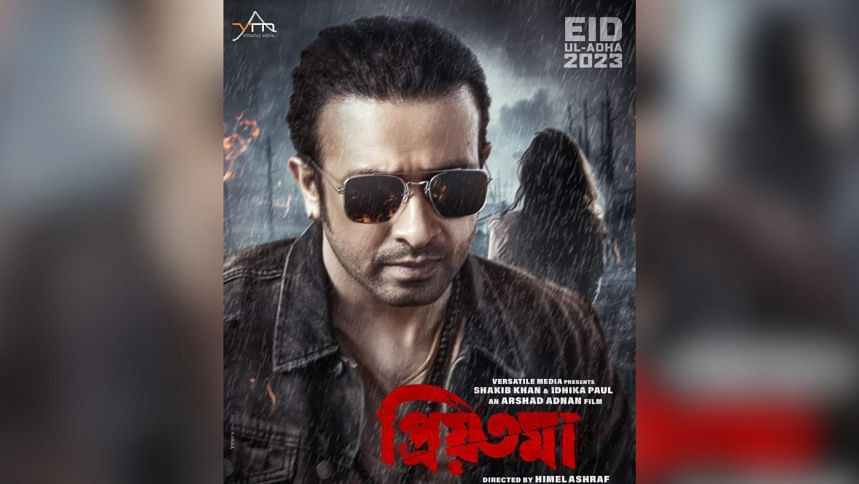 When the first look for Shakib Khan's upcoming film, "Priyotoma", was released earlier in May, fans were thrilled at the new avatar of Shakib Khan. Directed by Himel Ashraf, the film pairs up Shakib Khan with the Kolkata's Idhika Paul.
The first look, which was released in the form of a poster, was released on May 10. In the poster, Shakib Khan was seen in a brand new rough avatar with long hair, long beard and a tough expression donning his face.
Recently, a second poster for "Priyotoma" was released, which showcased Shakib in another avatar. Here the actor could be seen with a completely different look. His hair appears shorter and his beard is gone, replaced only by a little stubble. Shakib is wearing glasses, but the serious look on his face will leave many wondering just what this film will bring to the table.
"Priyotoma", which is a romantic-action drama, is being produced by Arshad Adnan, owner of Versatile Media. Meanwhile, the script of the film has been written by Faruk Hossain.
After the massive success of the Shakib starrer film, "Leader: Amie Bangladesh" last Eid-ul-Fitr, fans are eagerly waiting for the Dhallywood star's latest project, "Priyotoma", which is expected to be released this Eid-ul-Azha.