Seven BACSAS members honoured for contributions to Liberation War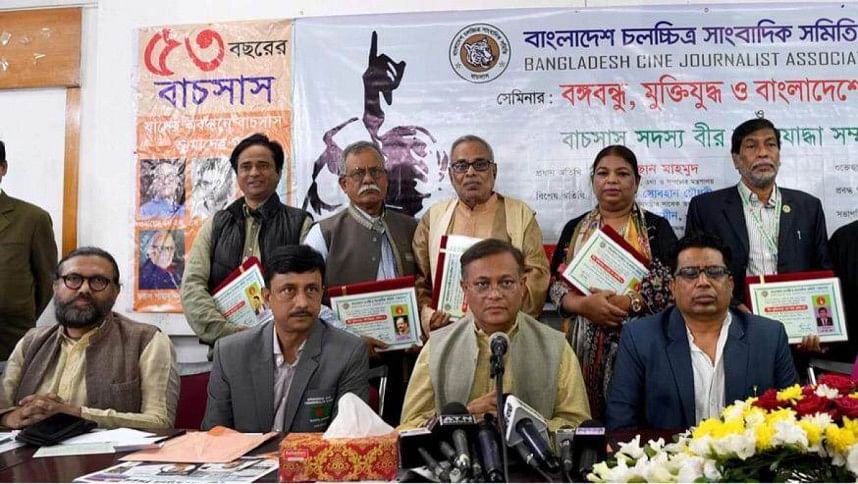 Seven members of Bangladesh Cine-Journalist Association (BACSAS) have received the 'BACSAS Bir Muktijoddha Sommanona 2022' for their active participation and contribution to the Liberation War of Bangladesh.
Journalists Atahar Khan, Salimullah Saleem, Mainul Haque Bhuiyan, AZM Rahagir, LA Sarkar Bachchu, Barun Shankar and SR Reza have received this prestigious award. The award ceremony took place on Tuesday, December 27, at 4 pm in the VIP auditorium of the National Press Club.
A seminar on Bangabandhu, the Liberation War and Bangladeshi films was also organized by BACSAS members of Bir Muktijoddha Sommanona 2022.
Honourable Minister of Information and Broadcasting, Hasan Mahmud, MP, presented the awards to the seven members. Former Media and Information Affairs advisor to the Prime Minister and Editor of the Observer, Iqbal Sobhan Chowdhury; Jatiya Press Club President, Farida Yasmin and Bhorer Kagaz Editor, Shyamal Dutta were also present as special guests on the occasion.
At the end of the award ceremony "Ekjon Durbol Manush"—an Impress Telefilm movie--a Liberation War based-film on Dr Muhammad Zafar Iqbal's story and directed by Raju Alim was screened at the event.